Stephanie "Steffy" Forrester (formerly Spencer) is a fictional character on the American soap opera, The Bold and the Beautiful. She is portrayed by Jacqueline MacInnes Wood.
Biography
Steffy and her fraternal twin sister Phoebe were born to Taylor Hamilton and Ridge Forrester. She was named after her paternal grandmother, Stephanie Douglas. She has an older brother named Thomas and she has a younger half-brother named R.J from Ridge Forrester and a younger Legal Maternal half-brother named Jack Marone from Brooke Forrester. Steffy has one daughter, Kelly Spencer and a deceased son Aspen Forrester-Spencer both with Liam Spencer. She is currently expecting her third child with the father, which is her new lover John "Finn" Finnegan.
Early Teen Years
In 2002, Taylor was "killed" in an altercation with Sheila Carter. After a period of mourning, Ridge remarried Brooke Logan. Brooke and Taylor are enemies and fought over Ridge for many years. They didn't know that Taylor's former husband, Prince Omar Rashid of Morocco replaced Taylor's body with a wax dummy and healed the real Taylor at his palace. When Taylor reappeared in 2005, Ridge returned to her, reuniting his children with their mother. The following year, Taylor revealed that long ago she had slept with James Warwick, which torpedoed her marriage to Ridge. Steffy and Phoebe left to attend boarding school in London, although Phoebe returned by herself in 2006.
Return to L.A. in Adulthood
In 2008, Steffy arrived home determined to work her way up at Forrester Creations . She started in the shipping department, where she met Marcus Forrester. When Donna Logan took over at Forrester, Steffy dug up dirt and found out that Donna was Marcus' birth mother. Though Ridge disapproved of Steffy dating Donna's son, things went well until Rick Forrester got control of the company himself and sent Marcus to Forrester International so Steffy would be available.
Romance with Rick
Rick had been dating Phoebe but slept with her mother Taylor. Phoebe found out and became enraged leading to an angry confrontation in Rick's car. Phoebe lashed out at Rick and the car crashed causing Phoebe's death. Ridge, who didn't like Rick from the beginning, was enraged and blamed Rick for Phoebe's death. Steffy also blamed Rick initially, but bonded with him over their shared grief eventually leading to a kiss. Marcus returned and wanted to marry Steffy who, by that time, was more interested in Rick. When the secret relationship was exposed, Ridge fumed because of Rick's part in Phoebe's death, and Steffy found the entire family against her including her brother Thomas who almost killed Rick in an explosion that was meant to scare him. Steffy agreed to marry Rick, but he resented Ridge's treatment of Brooke over the years and only proposed to Steffy to hurt Ridge and ruin his marriage to Brooke. Rick boasted about it to Ridge who was secretly recording the conversation. Steffy dumped Rick after hearing it but briefly took him back before finally realizing that their relationship would never withstand all the family opposition. Marcus later tried unsuccessfully to revive things with Steffy.
Attempts To End Bridge/Tridge Love Triangle
Steffy was thrilled when Ridge ended up going back to Taylor on his own. But as their wedding approached, Steffy faked text messages to Brooke to make sure the marriage happened. Brooke found out and stopped the wedding, cementing her place as Steffy's enemy. Steffy was attracted to Owen Knight, who was married to Jackie Payne. Owen was tempted by Steffy's overtures, but remained faithful to Jackie.
Dalliance with Bill
Bill Spencer Jr. acquired Forrester Creations and Steffy became intrigued by the older man. Steffy earned a promotion to Head of Public Relations. Bill was engaged to Katie Logan, but had an undeniable attraction to Steffy and didn't mind when she kissed him. Steffy was disappointed when Bill married Katie and outraged when he made her CEO of Forrester. When Katie gave her sisters leadership positions in the company, Steffy launched an all out war against the entire Logan family. Using the attraction between herself and Bill she arranged a seduction and swiped Katie's engagement ring from Bill's bedroom before any lovemaking could take place. Steffy threatened to tell Katie how she got the ring if Bill didn't sign the company over to her. Steffy edged the Logans out by dividing the company's stock equally between Ridge, Stephanie, Eric Forrester and Taylor.
Exposing the "Broliver" Scandal and Rivalry with Hope
Stepping up her battle against the Logans, Steffy tried to seduce Oliver Jones, the boyfriend of her step-sister, Hope Logan. Oliver didn't bite, but Steffy did manage to publicly embarrass Hope at a showing for her Hope For The Future fashion line by rigging the sign to read "Ho" For The Future. When Oliver inadvertently videotaped Brooke's daughter, Bridget cheating on her husband, Steffy wanted to use the footage to hurt Brooke's family, but Oliver talked her out of it. Instead, Steffy went for the jugular after Brooke "accidentally" had sex with Oliver at Hope's graduation party, where everyone wore masks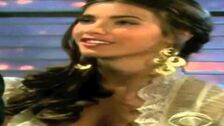 Steffy told Brooke she wouldn't go public about the tryst if Brooke left Forrester and sent Hope away to college. Oliver also had to date Steffy. Brooke diffused Steffy's bomb by telling Ridge about Oliver herself. A forgiving Ridge forced Steffy to craft a video tribute to Brooke. Computer tech Liam Spencer mistakenly recorded Steffy talking to Ridge about Brooke's betrayal. Justin Barber, Liam's boss at Spencer Publications, coerced Liam into augmenting Steffy's video with the recording, betting that Brooke's latest scandal would help sell magazines. Ridge fired Steffy when the video went public, but Steffy got Liam to help clear her name. Taylor demonstrated her faith in her daughter by gifting her with her 25% share in Forrester. Angry with Ridge, Steffy momentarily considered selling her stock to Bill, who still wanted the company.
Thomas' interest in Brooke
Steffy transferred to Forrester International after making a few moves on Liam, who had started dating Hope. Steffy came home with Bill Spencer on her mind. She recalled their flirtations and declared that she was a better match for Bill than Katie. Steffy claimed to understand Bill's motivation after saving Amber Moore from Bill's murder plot, which prompted Katie to walk out. Later, she desperately asked Bill for help when Thomas went missing at sea. Bill declared his love for Steffy after the rescue brought them closer, but he refused to leave Katie. Steffy was overjoyed when Ridge divorced Brooke and planned to remarry Taylor upon learning that Thomas and Brooke had sex on a deserted island while hopped up on psychedelic berries. Ridge later returned to Brooke when it turned out Thomas lied about the encounter because Stephanie promised him her stock.
The Beginning of "Steam"
Feeling abandoned, Steffy sought comfort in Bill's arms. Bill promised to leave Katie, but Katie had a heart attack when Taylor exposed the affair. Devastated when Bill decided to stay with Katie, Steffy slipped in her bathtub and almost drowned. She was saved by Liam (who had stopped by to return his key) and developed an attraction to him. As time wore on, Liam and Steffy developed a mutual attraction towards one another that blossomed into love. Liam found his relationship with Hope less than fulfilling considering her obsession with being a "role-model" for abstinence and remaining celibate until marriage, something Liam did not agree with. Liam, who was growing increasingly more sexually frustrated, found spending time with Steffy refreshing and fulfilling. He enjoyed being able to have a stimulating relationship with a woman that was both emotionally rich and had the possibility of physical intimacy, though he decided to stay committed, at least physically, to Hope. One day Liam gave into his feelings and kissed Steffy which Hope saw. Hope left her engagement ring on Liam's mantle and broke up with him via cellphone. Liam found the ring and proposed to Steffy. Sick of Hope's immaturity and taking her desire for Liam into her own hands, Steffy decided to take Liam for herself and accepted. They spent their first night together. Steffy offered to let him out of the engagement, but Liam refused. Steffy went to Bill to tell him about the engagement,he he arranged a trip to Aspen, Colorado for her and Liam. Hope found out and followed. Hope was locked in a gondola above a ski slope, planned by Bill and Steffy and was forced to watch Steffy and Liam exchange vows. Sensing that Liam was still undecided about his feelings, Bill sent him and Steffy to Cabo San Lucas. Coincidentally, Hope (who had been spending time with Thomas) ended up at the same resort. Steffy and Thomas worked to keep Liam and Hope from seeing each other, but the attempt backfired, leading to an ATV chase in which Steffy was seriously injured. At the hospital, Liam wanted an annulment when a guilt ridden Steffy confessed her deceptions in Aspen and Cabo. Bill faked Steffy's MRI so it said she had a blood clot that could become fatal under stress. Liam felt obligated to stay with Steffy, but Katie got suspicious and eventually uncovered Bill's machinations. Steffy was horrified that Bill would make her parents think she was going to die. She held out for a proper divorce from Liam, feeling an annulment would invalidate her genuine love for Liam. Mch to Hope's chagrin, Liam agreed. They also continued to grow closer.
Skiing Accident
Rick tried to used his past with Steffy and manipulate her into signing the annulment papers. Steffy outsmarted Rick and instead wrote "loser" in place of a signature, halting Liam and Hope's wedding. Steffy was sure Liam would be back if she waited it out. Steffy created a ski line and attended Aspen's Fashion Week, which also brought Liam out to cover the event. Hope made the trip as well, but she was abusing anti-anxiety medication in order to be with Liam and was so strung out when she went skiing that she crashed into Steffy and left her on the trail. Liam was furious and stayed by Steffy's side in the hospital where she had a change of heart and signed the annulment papers. When Liam tore them up, ad kissed her, Steffy realized she still had a chance, and they continued grow close. Liam invited Steffy over the night the the six month divorce wait was up, but Hope Hope called wearing a wedding dress, and Steffy ultimately told Liam to marry Hope.
Hope and Liam's Invalid Wedding
Having forged a tentative truce with Hope, Steffy hesitated accepting an invitation to Hope's wedding in Puglia, Italy. Bill realized that Liam still had unresolved feelings, and hinted the tide could turn in Steffy's favor, so Steffy attended. Steffy was at Liam's side when he found a note that implied Hope had jilted him, so Liam kissed Steffy and prepared to go away with her on the Spencer jet. Hope later returned and explained that the appearance of her estranged father, Deacon Sharpe, had delayed her. Steffy watched the ceremony from afar, but slipped and fell into the Adriatic Sea. She was furious when she discovered that Bill had sprung Deacon Sharpe from jail in an attempt to push Liam back toward Steffy. An iPad had accidentally recorded video of Liam and Steffy making out in Italy. Steffy deleted it but first e-mailed a copy to herself. One day Hope saw the video and declared she hated Steffy before insisting on a fresh wedding to Liam. The night before the ceremony, Liam hung out with Steffy, having followed her to a him to a club, and had a great time together. They woke on the roof of the club, and Liam was sporting dyed hair and a tattoo. Steffy dropped off the very late and hung-over Liam at the wedding venue. Hope heard the motorcycle and realized Steffy had delivered Liam, and then after seeing him, she called off the wedding and dumped him. Bill angrily advised Liam to forget her after Liam humiliated himself by begging, and he sought out Steffy, who he viewed as his best friend. Steffy took him to a bungalow on Brooke's property where she had spent time with Ridge as a child to talk. After talking, Steffy and Liam made love which Donna Logan saw and reported back to Bill and Brooke.
Steffy's Pregnancy
Steffy and Liam's flight to Hawaii was diverted to Aspen when Bill and Brooke needed the Spencer jet to look for Katie, who had disappeared during a bout with postpartum depression. Steffy helped Liam look after his new baby brother, Will. When it was evident Katie wasn't in Aspen, Steffy and Liam found time to go parasailing together. Returning to Los Angeles, Liam asked Steffy to move in with him. Steffy agreed, but kept her penthouse loft in an effort to maintain some independence. Ridge, who had relocated to Paris, wanted Steffy to visit. Steffy and Liam made love and Steffy later found out she was pregnant. Steffy rushed to tell Liam but spied Liam kissing Hope in their bedroom. When Taylor found her pregnancy test, Steffy swore her mother to secrecy. Liam and Steffy were happy together until Hope saw them at a party for Stephanie, and got jealous.
Hope went to Liam and Steffy's home, began throwing Steffy's belongings around, and demanded that Liam leave Steffy because they are destiny. Steffy came home but saw them kissing through the window and left. Steffy told Liam he could use the time she was away to explore his residual feelings for Hope, as long as he didn't cross the line. When Steffy flew home to tell Liam about their baby, she decided to keep mum after Liam asked for more time to decide between she and Hope and asked Steffy to move out. Later, during a heated argument with Hope- Hope shoved Steffy into a desk causing her to hit her belly on it.
2nd Marriage to Liam 
When Taylor accompanied her to her sonogram, Steffy's unborn child did not appear to be harmed. Steffy and Taylor found out that Brooke had planned an ambush wedding for Hope and Liam, which Steffy stopped with the announcement of her pregnancy. Brooke, of all people, accused her of lying then Steffy silenced her with her sonogram. When Liam chose to make a home with Steffy and their baby, she offered to let Liam go if he wasn't absolutely sure. Steffy was thrilled when Taylor announced that Eric had agreed to have the wedding in the Forrester courtyard. Unlike Steffy's Aspen wedding to Liam, Steffy's family was in attendance (except for Ridge). Steffy shocked them all by riding up the aisle on a motorcycle, wearing a black dress/suit ensemble that she had gotten Eric to design. Liam surprised her by having her "all-time favorite" singer, Julia Michaels, perform at the reception. Steffy then correctly guessed that Liam had arranged for their honeymoon to be in Aspen, and she and Liam even considered naming their child Aspen in honor of their favorite place.
Tragic Miscarriage
Liam and Steffy gleefully bought baby clothes and picked out colors for the nursery. She then paid a visit to Thomas, who had moved into Taylor's old beach house with Oliver. Steffy told Thomas how happy she and Liam were, unaware that a tearful Hope was within earshot. She empathized with Hope and was so moved when Hope broke down and admitted she was happy for Steffy that she hugged her rival. Not wanting to keep Liam waiting, Steffy decided to dodge a traffic jam by riding her motorcycle home though she had promised Liam she wouldn't ride while pregnant. A car darted in front of her which caused her to wipe out. Having suffered another concussion (on top of the concussions she'd had before), Steffy didn't remember being pregnant. But with Liam's coaching, she put the pieces together and was horrified to learn she had lost their baby. As Steffy slid into a deep depression, Taylor begged her not to blame herself for riding the motorcycle. She took a baseball bat to the bike and latched on immediately when Taylor suggested that Steffy and Liam have another baby.
Infertility
Katie was badgering Steffy to leave Hope and Liam alone which led Steffy to faint so Katie took her to the hospital to see Dr. Caspary. Steffy was told a botched D&C procedure had rendered her unable to have more children. She refused to tell Liam about her infertility and swore Katie to secrecy. After spending the night alone in her loft to think, Steffy announced she was moving to Paris and told Liam she wanted a divorce, cryptically insisting that Hope could give him something she couldn't. In Paris, Steffy ignored Liam's voice mails and texts and was surprised weeks later when Liam showed up on her doorstep wanting answers. Steffy eventually broke down and admitted she couldn't conceive again, but rejected Liam's suggestions of adoption or surrogacy. Steffy stood her ground about him returning to Hope. As Liam left, Steffy thought better of it and tried to catch him in the hallway, but she was too late.
Later, she notified Liam by e-mail that she would only accept a divorce and not an annulment, meaning Liam (who had moved on with Hope) would have to wait six months before marrying her. Steffy continued to communicate with Liam, ultimately changing her mind and agreeing to his request for an annulment so he could wed Hope.
Fertile Again and Persuaded by Quinn
Steffy returned to L.A. for a doctors appointment and came to see her grandfather Eric again where she met Quinn. Quinn gets a smile to see Steffy. While Steffy was getting on her plane to fly back to Paris, Quinn told Eric she'd meet at Forrester International in Paris and catch the flight with Steffy.  Quinn arrives on the jet and convinces Steffy to break up Hope and Liam. Quinn continues to persuade Steffy to go back to Los Angeles and reunite with Liam so Hope can be with Wyatt, but Steffy shows no interest of going back and Quinn is told of how Steffy tragically miscarried Liam's child after a motorcycle accident. Once settled in at Forrester International, Quinn overhears Steffy on the phone with Dr. Caspary in which she informs Steffy that after several medical procedures is finally able to conceive a child to full term. Quinn again tries to convince Steffy that she should go back and reunite with Liam as well as deliver the news that she is able to conceive again. Steffy once again shows no interest of going back to Los Angeles, but can't hide her feelings she still has for Liam. Liam also gave Hope an ultimatum and she chose to be with Liam and Liam made her cut ties with Wyatt and Quinn from Forrester. Eric disagreed with this after Quinn put her spin on the whole situation.
Quinn convinces Steffy to go back to L.A. and to meet with Liam in the cabin. Quinn leaves a note in Hope's bedroom before her wedding with Liam that Liam wanted her to meet him in the cabin despite tradition. Steffy backed away when Liam saw her through the window and he brought her in to talk. Steffy told Liam the great news in which he was happy for her. Hope trailed down and saw them talking and called off the wedding running off. Hope flew to Hawaii with Wyatt and rehired Quinn Artisans Jewelry. Hope remained loyal to Wyatt and Steffy flew back to Paris. Ridge and R.J. then moved back to L.A. shortly after. Hope later marries Wyatt in Milan, when Hope was supposed to marry Liam in Paris, but Quinn pushed Ivy Forrester into the Seine, forcing Liam to save her, and be too late in meeting Hope. Hope miscarried Wyatt's baby and said goodbye to Liam & telling him she would always love him & explaining she was not being able to stay in LA because of all the pain she had incurred there especially the miscarriage so she left for Milan to be with Brooke, and Wyatt later did the same but Hope told him to go back to LA which he did. Liam shortly thereafter started a relationship with Ivy.
Return to L.A. and Controlling Forrester Creations
Forrester Creations was at war with Rick as CEO after Caroline and Ridge's affair. Liam told Bill he wants to take over Forrester Creations. Bill asked Liam how is he going to do that and Liam stated he was married to her. Bill was thrilled Liam wanted to use Steffy and Liam stated she's in L.A. because he followed her online post. Liam called Steffy and explained he wanted to meet with her and Steffy stated at his house. Steffy appeared at Liam's remembering all the great memories they've shared. Steffy asked if he missed her and he stated how could he. Liam asked Steffy if her and Ridge are still talking and she didn't reply but stated she talked to Hope. Liam asked how she was and Steffy stated some topics don't come up. Steffy then stated she never replaced that motorcycle. Liam and Steffy continued to talk and laugh. Liam explained he wants to take over Forrester Creations with her. Bill owns part of the company and Steffy and Thomas own a part that combined equals 30%. Liam told Steffy together they can take over Forrester Creations. Steffy was hesitant. Steffy and Liam reminisced about all their memories and hugged on the couch when Ivy came home from shopping. Ivy was a bit jealous and Steffy excitedly greeted Ivy who was equally happy to see her. Before Steffy left, Liam told her to keep it in mind which she agreed to. Liam and Bill got Wyatt in on the plan but were shocked he quit after Rick gave him attitude. Liam and Bill explained the plan and made Wyatt ask Rick for his job back. Steffy told Liam she couldn't do it. Liam convinced her she's strong, and independent, and a fighter! Steffy admit she can't come to work seeing him every day with Ivy, and he's doing this for Ivy not her! Steffy admit she's still in love with him! Liam stated he's moved on to Ivy and Steffy refused to go through with it. Liam told Ivy about the plan and the fact that Steffy's still in love with him. Ivy supported the plan. Liam told Bill that Ivy's on the plan and Bill got enraged that Liam tell another Forrester. Ivy told Steffy she supports the plan and wants her to control Forrester Creations. Steffy stated her father might still want to run the company and Caroline and Ridge might even be enough to motivate her. Ivy asked if there was another roadblock. Steffy stated the fact that she's still in love with Liam. Steffy stated all their history and she left after the miscarriage. Steffy insisted if she comes back, she comes back to it all. Steffy then congratulated Rick on his CEO position. Bill convinced Liam to dump the plant and go back to Steffy, the woman he was always meant to be with. Steffy then warned him she likes that chair.
After Ivy left Liam's beach house, he called Steffy to meet him there. Steffy arrived at Liam's in a skimpy bikini and a towel around her waist which she took off. Liam was very attracted and Steffy stated she misses LA'S water so much. Paris only has one river, which nobody swims in, well except for Ivy. Steffy kept trying to convince Liam to go swimming in the ocean even when Liam stated how cold the temperature was but they decided to go have fun. They came back from their swim, Liam stated how much he misses her, and Steffy kissed Liam. Steffy explained if he wants to run Forrester with her, they have to be lovers. Liam tried explaining to Steffy he's in love with her cousin. Steffy explained she can't do this without their relationship and Liam stated any man would want to be with her. Steffy kissed Liam on the couch and then laid him down and made out with him on top of him when Ivy arrived in the doorway. Ivy hid to the side and eavesdropped. Liam turned her down because of Ivy. Steffy was adamant about the deal but Liam stated they can do this another way. Ivy talked to Liam about what she overheard and Liam stated he loves her. Ivy had words with Steffy. Steffy explaining she and Liam have history, and Ivy explaining she thought Steffy would be a fun person to hang out with coming back to L.A., but this was unbelievable. Ridge tells Steffy that Liam told him the plan about Forrester. Liam told Ridge that Bill would sell his shares to him, so Bill would have no part of the company. Ridge stated Steffy still loves Liam and she admit she does. Ridge's main concern was the plan would be putting Eric out of business. Steffy stated it's the only thing to do with Rick. ridge stated Eric loved him and treated him just like a son. Steffy stated Eric is favoring his brother now. Steffy was explaining to Ridge in his apartment that she is leaving for Paris, at least for now, when Caroline arrived home. Before Steffy left back for Paris, she civilly said goodbye to Ridge and Caroline.
After Eric wouldn't appoint Ridge as CEO, Ridge called Steffy on the phone to meet him at Forrester. Steffy arrived informed that Maya is transgender and Eric won't remove Rick as CEO. Ridge insisted he needed Steffy and him to be a team to take over Forrester and she agreed. Ridge insisted this is bigger than her getting Liam back and him getting CEO. Rick arrived in his office giving them a hard time. Ridge called Liam to meet him at Forrester. Liam was happy to see Steffy and she was also pleased. Ridge convinced Liam to use Steffy's, Thomas's, Bill's controlled by Liam, and Thomas's to overpower Eric. Steffy stated there are no conditions this time. Liam agreed and Ridge insisted to Eric that they're taking over while Eric insisted he's in charge which Ridge stated he's in charge now. Ridge was the new CEO, with Steffy president, and Liam vice president, which he is also at Spencer's. Steffy and Liam agreed they would make a great team. Liam stated Steffy's change like a cool mountain stream. They remembered their time in Aspen by a stream. Steffy stated she is not afraid to state that she loves him and will always love him with Ivy overhearing.
Rick and Eric were getting nervous that Steffy, Ridge, and Liam were going to use Ridge's, Steffy's, Thomas's, and Bill's shares to take over Forrester Creations. Rick came to Bill to make a business proposition. Rick tried convincing Bill to use his shares to his and Eric's advantage and he'll have more control around the company. In the middle of the meeting in Rick's office, Bill barged in explaining their deal and his predicament. Bill explained he doesn't like the way Ridge treats him. Bill asked Ridge and Rick to convince him why he should take their side. Bill commended Liam for protecting Caroline and Ivy. Ultimately, Bill chose to side with Rick under one condition, Maya, the face of Forrester Creations, has to go. Rick punched Bill and withdrew from the deal. Ridge became the new CEO with Steffy president and Liam vice president. Steffy and Liam were congratulating with champagne when Aly Forrester saw Steffy kiss Liam. Aly came by to confront Steffy about throwing herself at Liam. Steffy claimed it was a congratulatory kiss. Aly warned Steffy to leave Ivy and Liam's relationship alone. Aly claimed Ivy is a good model for Forrester Creations with morals. Meanwhile, Ivy told Liam she was encouraging Wyatt to ask Steffy out. Wyatt stated any man would fall in love with Steffy because she's incredibly intelligent and beautiful.
Wyatt was friendly with Steffy that they're both trying to get over similar situations. Wyatt started flirting with Steffy stating she's beautiful and intelligent and she should give him a chance. Wyatt kissed Steffy. Wyatt insisted he doesn't play second to his brother.
Quinn questions his love life and mentions Hope and Maya's little sister went south. Wyatt explained Nicole was fun but there might be a new woman in his life. Quinn was asking questions. Wyatt turned Steffy's picture around on Ridge's desk. Quinn was shocked but then stated "She's so hot!" Wyatt explained he told her to give them a chance, right after he kissed her.
Steffy stopped over at Liam's and explained that there might be another man in her life. Liam was bothered by this and asked who and Steffy stated he works at Forrester and has his last name. Liam was upset that out of all people it was Wyatt. Steffy stated that Wyatt kissed her and she just enjoyed it. Steffy stated there's only one person she wants to kiss, if he still wants her. Liam admit he has been feeling those feelings about Steffy again. Ivy walked in eavesdropping hearing Liam tell Steffy he'll help Ivy understand over dinner tonight. Ivy was heartbroken and ran out crying. Quinn convinced Ivy to ask Liam to marry her so she won't be deported. Liam told Ivy he wants to help her understand something but Ivy stated she already knows. Liam wants Steffy back and Ivy mentioned she's being deported. Liam was shocked and angered. Ivy informed him that her father filled out the paperwork incorrectly. She has a week to pack her bags for Australia. And she'd have to register for another passport which could take months or years if that. Liam stated he wished there was another way and Ivy stated maybe there is. Ivy asked him to marry her, to which he agreed. They were married on June 16, 2015. However, when Steffy found out about the marriage, she was furious because she felt that Liam had created a situation where they could never be together. Steffy said she's done with Liam because she won't share him with another woman again, especially not his wife! Steffy was enraged and rushed to the Forrester rooftop lounge where Wyatt comforted her and kissed her.
Agent McCaffrey returned to Liam and Ivy's to inform Ivy that they made a mistake. Ivy does indeed have dual citizenship, married to Liam or not. Ivy was worried about telling Liam he doesn't have to be married to her because of his feelings for Steffy. Quinn convinced Ivy not to tell him since he married her because he loves her. Ivy stated he doesn't love her the same way he loves Steffy. Ivy explained to Liam that he didn't have to marry her, she always had dual citizenship, and they made a huge mistake. Liam hugged Ivy. Liam rushed to Steffy with the information. Steffy didn't want him to explain anything at first but after he did she had mixed feelings. She was still mad that he married her in the first place. Ivy confronted Liam when Steffy questioned his intentions. Liam admits to Ivy he wants an annulment. Ivy explained she understands that they have history and she can't compete with memories. Steffy explained to Liam if he still feels anything for Ivy, she won't do this again.
Ivy confided in Aly who was uninformed about the surprise wedding. Aly went to confront Steffy who was having Liam feel her lingerie for the line. Aly snapped at Steffy claiming they replaced a tyrant with a slut. Liam stated Aly's out of line but Aly kept trying to convince Liam that he can't do this to Ivy and he married her because he loves her. Liam stated Aly's out of line. Liam left and Steffy changed back into her dress. Aly wouldn't drop it and Steffy mentioned Aly's "issues". Aly stated he issue is that Steffy's mother killed her mother. Steffy was shocked and stated Aly forgave her mother because she was there. Aly stated she was persuaded to say the words but she could never forgive Taylor for killing her mother. Steffy took the situation delicately and explained it was an accident. Aly blasted both of them by saying Taylor and Steffy are both sluts and use their sexuality to get whatever they want. As Steffy was trying to help Aly, Aly envisioned Aly saying the words "drunken mother" and "get rid of her". Steffy tried snapping Aly out of it. Steffy just figured they should stay away from each other. As Steffy was trying to work things out with Aly, Ridge stopped in to mention the meeting is in ten minutes. Aly asked if she could come and Ridge allowed her to. Ridge announced that Hope For The Future is over which offended Aly. Ridge announced to everybody the new line "California Freedom" which uses a lot of the morals and dignity of Hope For The Future but encourages women to be free with lines including lingerie and swimwear. Aly stated she'd expect this from Steffy but not Ridge. Aly asked if Steffy was going to model for the lingerie and Aly snapped at ridge for letting his daughter being viewed in underwear. Aly went off about the morals that her grandmother and grandfather instilled in this company and how they're being forgotten. Everybody else agreed it was a good idea and tried to placate Aly. Aly ended the meeting with irrelevantly bashing Steffy for killing Darla. Steffy tried to get through to Aly once again.
At the Forrester's Fourth of July party, Aly became hateful of Steffy and Maya for wearing bathing suits. Aly snapped at Oliver for allegedly checking out Steffy's body. Aly saw Darla tell Aly to get rid of Steffy again and her glow darkened into a sadistic looking dark glow. Aly snapped at Steffy for exploiting her sexuality in a public place. Steffy stated people wear bathing suits and their dad's grew up here, it's not even public. Steffy took Liam for a surprise. They left the mansion to run outside where Steffy held a message session. When Liam's head was down, Steffy got up and pretended to be the masseuse and felt lower and lower down his back and grabbed his butt cheeks much to his surprise and admitted liking. Steffy flirted, saying she hoped he was ok with a little pressure and kissed him. As they walked around, Liam stated he's still trying to sort out his feelings but his feelings for Steffy are coming back. Steffy licked her lips, saying they belonged together and pressed her large lips against him in a hungry kiss. Ivy asked Liam to schedule a date for them some time, just do nothing and be very boring, nothing special. Liam stated he would like that.
Caroline, Ridge, Steffy, Rick and Maya held another meeting for Forrester's new line, California Freedom which Aly attended. Aly was being very hostile towards Steffy and Maya for embracing their sexuality the way Maya and Rick treated her and upset that Ridge allowed a new line involving lingerie and swimsuits. Maya genuinely apologized for the past. Aly stated "No wonder. Maya doesn't want to talk about the past." Steffy stated if she's just going to criticize everything, maybe she should just go back to Thorne in Paris. Steffy told Aly "You're my cousin, and I love you, but why would we want you to stay?" Aly stated "Uncle Ridge said I could stay." Ridge explained he said she can stay if she behaved. Aly got teary eyed and stated if she feels something's wrong, she has to speak out and she wants to help with the shoe line. Ridge stated "Then you know what you have to do."
Attacked By Aly and Aly's Death
Aly watches the California Freedom fashion show in disgust of the transgendered women and the loose clothing. Steffy tries being nice to Aly and involving her but Aly is trying to hold back her hatred. Steffy tries to involve Aly by asking her to have a drink with Wyatt, Ivy, Liam, and her but Aly states she's not 21 yet. Steffy said she's sorry that she forgot but she tried. Darla appeared bashing Steffy and Taylor for alcohol and telling Aly she's glad she didn't accept and give in. Darla convinces Aly that she has to end this tonight.
Aly pops Steffy's tires to her car and lurks behind. At the after party, Ivy goes up to Aly's room to find her and is shocked to find the collage on Steffy and Maya pictures crossed out and scribbled on. Ivy shows Wyatt and Liam who are worried. Steffy gets in her car to go to the Forrester after party as Aly drives behind her and follows after. Steffy's car hits a flat and she can't believe it. Steffy gets out and gets her tire iron from her trunk and starts cranking at the tire. Aly is watching with her car parked behind her. Aly keeps hearing Darla's voice and has flashbacks of the accident. Aly pulls forward and drives close up to Steffy and Steffy yells in fear. Aly stops the car right in front of her. Steffy is scared and yells at her. Steffy pulls Aly out of her car and the two argue. Steffy realizes Aly was the one who popped her tire. Liam calls Steffy but her phone's in the car. Aly takes the tire iron and swings at Steffy who dodges the swings and tries to placate Aly. Steffy grabbed the tire iron from Aly. Steffy and Aly both fell to the ground. Aly picked up a rock and attempted to kill Steffy. Ivy was pulling up in her car and was shocked to see Aly and Steffy. As Aly tried to bash Steffy with the rock, Steffy swung the tire iron at Aly causing her to stumble and hit her head on a rock, rendering her seemingly unconscious. In shock, Steffy threw the tire iron away. Steffy cried of sorrow and Ivy came out of her car and cried and Steffy explains what happened and that Aly attacked her. The paramedics came and tried to revive Aly and presumed her dead when she had no pulse. Steffy told the police that Aly slipped and fell on a rock.
Steffy staggers into the Forrester Mansion very devastated. Liam rushes to her and comforted her. Steffy explains how her tires popped and she had to fix them with a tire iron and a car drives towards her and stops inches away. Liam asks what crazy idiot would do that. Steffy states it was Aly. Steffy informs him how she pulled Aly out of the car and Aly attacked her and she slipped and fell and died. Thorne comes downstairs, explaining he found out about the pictures and explains Aly's anger and hatred but she can be a good, happy person. Thorne asks where his daughter is. Steffy explains Aly tried to hit her with her car and attacked her. Thorne claims Aly isn't dangerous and didn't want to hear it. Thorne asks where she is and Steffy stated "She's gone". Thorne is devastated and leaves to find Aly.
Steffy feels guilty the day of Aly's funeral but Liam comforts her and the two show up at the funeral which her brother, Thomas, returns to L.A. for, but he couldn't get in contact with Steffy yet. After the members left, Ivy confronts Steffy about what really happened that night. Ivy believes Aly didn't just slip and fall and die. Steffy was upset for getting accused of something and explains she doesn't need to explain herself to anyone. Liam had a minute with Ivy and broke up with her at Aly's funeral which greatly upset her while Wyatt had a second with Steffy to guess that Liam's dropping the bomb on Ivy right now. Ivy had the video recording of Steffy hitting Aly with a tire iron but Wyatt convinced Ivy to keep it a secret. Ivy was still shaken up by this and Wyatt kissed her to distract her from her distress by Aly's death and Liam dropping her for Steffy. Liam continues to assure Steffy she has nothing to feel guilty about and that it's not her fault. Steffy and Liam slept in Liam's bed although Steffy still carries the guilt.
Thomas reunites with Steffy to comfort her. Steffy explains the details of what happened the night Aly died. Steffy admits to only Thomas that she remembers hitting Aly with a tire iron and that Aly didn't slip and fall. Steffy feels extremely guilty and Thomas assures her it's not her fault. Steffy thinks about telling the police but Thomas insists she keeps it a secret since she's not guilty and if she changes her story, she'll get arrested. Steffy admits to Thomas that Ivy witnessed the accident and she's been acting weird ever since. Thomas insists on confronting Ivy. 
Ivy's blackmail
Thomas confronts Ivy and tells her to stay away from Steffy and that it's not her fault. Ivy shows Thomas the video on her phone of Steffy hitting Aly with a tire iron.  Steffy becomes very nervous about Ivy and confides that in Thomas. Thomas confronts Ivy a second time and explains he didn't tell Steffy about the video because he didn't want to scare her. But Thomas demands Ivy to delete the video. Ivy blackmails Thomas into making her the new face of Forrester Creations to keep her silence or Steffy will go to prison. At the conference, Ridge was leaning on choosing Steffy when Ivy stated she'd like to give it a shot. Steffy and Ridge were initially concerned but Wyatt backed her up and Thomas spoke up and agreed that Ivy would be better because people are still talking about the incident with Aly. Steffy is angry with Thomas and he informed her about the blackmail and the video.
Steffy has a meeting with Wyatt, expecting a promotion. Steffy informs him she knows about the video. Steffy is not happy that Wyatt is taking her side and states she thought they were friends which Wyatt states he thought that too. Wyatt defends Ivy because Steffy took her man and her best friend. Wyatt is also a bit upset that Steffy and him didn't get to have their "Summer of Fun" and that she chose Liam over him. Steffy keeps trying to convince Wyatt to delete the video and he complies with her. When Ivy goes to take a bath that Wyatt convinced her too, Wyatt takes her phone and tries to delete the video, when Ivy comes back out angry. Ivy made love to Wyatt so he wouldn't delete the video.
Steffy informs Liam that Ivy is blackmailing Steffy and Thomas to become the new Face of Forrester with a video that makes it look like Steffy murdered Aly. Steffy adds in that she asked Wyatt to delete the video which he has to. Liam enters Wyatt's beach house to fiind Ivy and Wyatt on the couch. Liam states he wants the best for them. Liam demands to see the video. Ivy hands Liam over the phone. Ivy keeps labeling Steffy as a murderer but Liam explains there was a rock and she can't see it in that angle. Liam states that they are blackmailing Steffy which is illegal.
Ivy gives Quinn attitude about the jewelry designs and storms out the door. Ridge calls a meeting and chose Steffy to be the new Face of Forrester. Ivy is visibly upset and Steffy asks for a few minutes alone with Ivy. Steffy informs her she knows about the video. Steffy explains to Ivy that she is using blackmail which is illegal. Ivy claims she's trying to prove justice for Aly. Steffy explains that Ivy is using Aly's death to advance herself and Aly wouldn't have wanted her to act like this. Ivy claims there is no rock in the video and calls Steffy a murderer. Ivy claims she owns Steffy. Steffy grants Ivy the position as the Face of Forrester. Steffy informs Liam about Ivy's blackmail. Liam is very unhappy and confronts Ivy. Liam brings up that he saved her from the Seine and more recently married her to stay in the country. Ivy states he didn't love her which he admits he did but Ivy chimes in not the same way he loves Steffy. Liam tries to wake Ivy up and admits that Ivy is becoming colder and darker and the Ivy he knew wouldn't resort to blackmail. Ivy claims the Ivy he knew is tired of getting stepped on and she's gone. Ivy returns stating she's the new Face of Forrester making Quinn wonder. Quinn states the obvious choice would be Steffy because she's hot and has experience. Ivy asked what's wrong with her look and Quinn didn't care for them. Quinn still questioned why Ivy was given the position but Wyatt hinted she has something up her sleeve.
During the Forrester meeting, Ridge decides to hand the Face of Forrester position to Steffy but Steffy declines and allows Ivy to have it. Steffy is angry at Wyatt for not having the video deleted. Steffy arrives at Wyatt's beach house while Ivy is out and about to make sure the video deletion is completed. Steffy encourages Wyatt to delete the video but just as he's about the press the button, Ivy enters the beach house, angry at the situation. Wyatt is tired of the fighting and wants them to bury the hatchet. Steffy and Ivy apologize to each other. Ivy deletes the video. Steffy informs Liam they buried the hatchet and Liam is happy about that.
Rivalry with Ivy
Steffy decides to fire Ivy from Forrester Creations because she can't work with people she can't trust. Ivy is shocked and Wyatt is unhappy but Liam stands by Steffy. Ivy refuses to leave the building and Steffy arranges security to escort Ivy out. Wyatt feels empathy for Ivy and proposes to his mother his new plan. Wyatt thought Bill could establish a fashion house under Spencer Publications. Wyatt and Ivy invite Bill and Katie over to propose the idea. Katie agrees it's a good idea but Bill is against it because Spencer Publications is a publishing company. Ivy returns to Forrester and begs Steffy for her job back. Steffy grants her the position and came up with an idea. Ivy promises she'd do anything Steffy says. Steffy proposes Ivy to be the lead model for the lingerie line. Ivy is hesitant but Steffy encourages her to go for it. Ivy models for Wyatt at the beach house but feels insecure about strutting in front of millions of viewers. Wyatt encourages her to embrace this position. At the photo shoot for Ivy's lingerie line, Liam stops the shoot. Liam states that it's wrong of Steffy to make Ivy do this and that Ivy and Steffy have both made mistakes. Ivy and Steffy genuinely made up with each other.
At a Halloween party, Thomas pushes Ivy out of the way of a crashing spotlight from the ceiling. Ivy feels grateful towards Thomas who shows interest in her. In an office room, Thomas begins complimenting Ivy on her beauty. Ivy is at discomfort at first but admits Thomas is handsome and allows him to kiss her twice. Ivy stops him and tells him it can never happen again. Steffy admits to Wyatt that he's a good guy and she is genuinely happy for him and Ivy. Steffy questions Thomas's relationship with Ivy. Thomas admits to Steffy that he kissed her twice. Steffy is shocked but Thomas claims to really like Ivy. Thomas makes a bet with Steffy that he could get Ivy for himself. Steffy believes Ivy is committed to Wyatt. Liam proposes to Steffy which she gladly accepts. When Wyatt and Quinn travel on a business trip to San Francisco for the weekend, Ivy decides to stay the night at the Forrester Mansion. As a thunderstorm rolls in and Ivy if left alone with Thomas. Thomas flirts with her and follows Ivy up to her room and continues. Ivy allows Thomas to make out with her in bed. Ivy feels complete guilt over what happened and is unable to tell Wyatt when he returns home the next morning, fearing she would lose him. However, Steffy overhears Thomas and Ivy talking about what happened that night. After telling Liam about what she had heard, Liam demands that Steffy stay out of it and not say anything, but after seeing her later that day, Steffy reveals to Ivy that she knows everything that happened and gives Ivy an ultimatum: either Ivy tells Wyatt what happened or Steffy will. Ivy agrees to tell Wyatt right away, but instead agrees to tell him later that evening when they're alone.
Once again, Steffy is unable to keep her mouth shut and tells Wyatt about Ivy's infidelity. Wyatt is crushed and hurt and later confronts Ivy, but allows her to talk first about it. Wyatt is upset that Ivy made out with Thomas after only being gone for one night and telling everyone, including Thomas, that Ivy is not the kind of person that would be unfaithful. Wyatt leaves, angry and Ivy goes after Steffy.
Ivy finds Steffy backstage at Forrester while Steffy is watching over an old electric panel that begins shooting out sparks. Ivy and Steffy soon come to war of words and as Steffy tries to walk away, Ivy follows her. The two are standing extremely close to the exposed electric panel and when Steffy tries to retrieve her cell phone that Ivy threw, Steffy pushes Ivy into the panel Ivy is electrocuted. Steffy immediately calls 9-1-1 and begins administering CPR. The paramedics soon arrive and take Ivy to the hospital.
At first, things weren't looking good for Ivy but she eventually makes a full recovery. She and Wyatt make up, but Ivy admits to him that she is now afraid of Steffy. Steffy enters the room thankful she's okay but Ivy warns her to stay away. Steffy asks if Ivy's afraid of her. Lieutenant Baker enters the room with a restraining order for Steffy which makes her upset. The restraining order didn't permit Steffy and Ivy to work in the same building. Since the restraining order was filed against Steffy, she had to pack up her things and work from home. Wyatt explains to Steffy that the restraining order's only temporary.
Liam goes to Wyatt's beach house while Wyatt is at Forrester, to reason with Ivy. Ivy agrees to drop the restraining order under one condition. Ivy claims her near-death experience provoked some feelings she still has for Liam. Liam sticks up for his brother that he's been good to her which Ivy agrees and she claims she's very happy with. But Ivy asks if he ever thinks about what could've happened and Liam says he does. Ivy thinks they should explore their relationship and give each other another chance. Ivy kisses Liam. Steffy is very thankful to Ivy for dropping the restraining order and wants them to move on and become friends. Ivy keeps insisting on Liam that she's in love with him. Wyatt tells Quinn he is going to propose to Ivy which she isn't thrilled about. Quinn eavesdrops on Ivy telling Liam she's still in love with him at Forrester. Steffy and Liam are invited to Wyatt's while he proposes to Ivy in front of them. Quinn barges in and stops the proposal. Quinn calls Ivy out by saying "Tell him you you're really in love with". Wyatt and Steffy are confused while Ivy and Liam don't say a word and stare at each other. Quinn blurts out that Ivy's in love with Liam and Wyatt gets frustrated with his mother. Ivy is speechless and Liam eventually admits Ivy's feelings for him. Wyatt is upset and sends Steffy and Liam away. Wyatt is upset at Ivy and ends things with her for good.
Ivy gets ready to pack up for Australia. Steffy tells Liam she doesn't want Ivy contacting him at all. Liam warns Steffy not to go by Ivy. Steffy follows Ivy up the staircase at the Forrester Mansion. Ivy states she's just packing her things but Steffy warns her to not contact Liam. Steffy and Ivy argue and Ivy tumbles down the stairs. Liam arrives and is angry at Steffy. Liam dials 9-1-1 and Ivy is taken to the hospital. Liam claims he is done with Steffy. Ivy makes a safe recovery at the hospital. Wyatt is happy to see her okay. Steffy tells Liam all he has to do is come home tonight if he still wants to be with her. Liam agrees to take Ivy to the airport. Quinn convinces Wyatt to be at Steffy's to support her.
Marriage to Wyatt
Liam buys two seats on the plane for Ivy to lay her feet on. Liam boards the plane and sits with her to make sure she's okay. Liam goes into the bathroom and turns on the sink which splashes water everywhere and Liam slips and falls unconscious. The flight takes off while Liam's stuck in the bathroom. Liam is forced to fly to Australia and get a flight back to Los Angeles. Wyatt arrives at Steffy's, expecting Liam. Wyatt tells Steffy he knows it wasn't her fault Ivy fell down the stairs. Steffy is upset about Liam and Wyatt comforts her by telling her she deserves better and that they both do. Wyatt hugs Steffy. Steffy and Wyatt share some wine and Steffy vents to Wyatt about Liam and Wyatt understands and agrees. Steffy calls Liam on her cell phone but he does not pick up. Steffy is upset about Liam and goes to her room in her undergarments. Wyatt tells her he's staying on the couch. Wyatt enters her room and asks her if she wants to go swimming but didn't realize she was sleeping. Wyatt climbs on her bed and tells her he thinks they're meant to be together. Steffy says she's in love with his brother. Steffy tells Wyatt he is a good friend and she just needs somebody to hold and cuddle. Wyatt states he can do that as a friend. Steffy and Wyatt cuddle in bed. Liam returns home and sees two bottles of wine. Liam goes to the bedroom and finds Wyatt and Steffy in bed together and sits in the chair and goes unconscious.
Liam wakes up in Bill's office at Spencer Publications the next morning and Steffy and Wyatt never knew about Liam being in the bedroom. Liam goes to his beach house. Steffy is glad he's okay and was worried. Liam tells her that they can't be together because of what she did. Steffy doesn't know what she did and Liam tells her to pack her things and move out. Liam quits his job at Forrester and packs up his things. Steffy tries to convince him to stay with her and kisses him. Steffy tells Liam that if he wants to be with her, all he has to do is come to the beach house. Liam leaves the building and Quinn follows after him. Quinn badgers Liam to leave Wyatt and Steffy alone and Liam faints. Quinn picks Liam up and puts him in her car and drives him to her cabin in the woods.
Quinn texts Wyatt from the cabin to comfort Steffy. Wyatt arrives at the beach house and comforts Steffy who is losing hope. Wyatt convinces Steffy he knows exactly what she needs to feel better. Wyatt and Steffy leave and go to the beach. Steffy lies in the beach and puts tanning lotion on. A remote controlled helicopter whirls around her head. She looks around and laughs to see Wyatt controlling the helicopter. Steffy runs over to him and they play with the helicopter and throw a football around. They then have fun surfing in the ocean. Once they get out of the ocean, Steffy is ecstatic and tells Wyatt how great he's made her feel. Wyatt and Steffy kiss. Wyatt and Steffy go to Wyatt's beach house where Steffy takes a shower. Steffy notices they use the same orange conditioner. Wyatt states that's Ivy's, he hasn't cleaned her stuff out yet. Steffy states that explains the shower cap. Wyatt states that the flowery shower cap and slippers are his which made Steffy laugh. Wyatt and Steffy share another kiss.
Wyatt takes Steffy to the garage for a great surprise. Steffy spots a boogie board and Wyatt talks about how he got it at fifteen. Wyatt takes a tarp off of a motorcycle he bought for Steffy. Steffy is stunned at first. She explains to Wyatt that she lost her baby on her motorcycle and she hasn't been near one since. Wyatt convinces her that it's time to move on. Steffy agrees to riding the motorcycle but she has to go by herself. Steffy rode her bike through town feeling like herself again. She was very grateful to Wyatt for making her feel this way. Wyatt decides to take Steffy on another adventure back to the beach. Wyatt sets up a picnic for the two of them and they laugh and eat food.
Quinn tells Liam that somebody keeps calling her and bugging her on her cell phone. He asks if she's told him to stop but she claims he won't listen. Liam asks if it would help coming from a man's voice. Quinn agrees and tell Liam to tell them "It's over", "Don't call this number again" and "Get a life", which she records on Liam's phone. Quinn enters Steffy's office at Forrester while Wyatt and Steffy are called for a meeting. Quinn picks up Steffy's phone, her phone, and Liam's phone on the table. She calls Steffy's phone with Liam's and plays the message. Steffy and Wyatt come back in and Quinn informs Steffy that her phone ringed. Steffy listens to the message and is very upset. Quinn tells Steffy that Wyatt is there for her. Back at Wyatt's beach house, Wyatt comforts Steffy and they make love for the first time.
Wyatt asks Steffy to move in with him in which she agrees after she had just moved back into the Forrester Mansion. Wyatt proposes to Steffy who is hesitant at first but Wyatt convinces her to say yes. Caroline is ecstatic to hear the news and Ridge gives Wyatt his blessing. Quinn texts Wyatt from Liam's phone convincing him to take over his position at Spencer Publications. Steffy and Wyatt attend the Forrester Mansion when Caroline gives birth to Douglas Forrester upstairs.
Charlie shows Wyatt footage of Liam fainting in Forrester's parking lot and Quinn picking him up and putting him in her car. Wyatt confronts his mother about it and she claims she was driving him to the hospital and while driving, he woke up and adamantly refused to go to the hospital, and she has no idea where he could be.
Wyatt asks Bill to be his best man for the wedding which he agrees. While talking to Bill, Wyatt takes his shirt off to take a shirtless selfie for Steffy because she asked Caroline to be her maid of honor before Wyatt asked Bill to be his best man. Wyatt is disappointed when Quinn shows up to his wedding without "Adam". Quinn states that she thinks that would be inappropriate since the wedding day is about them. On April 1, 2016 Wyatt and Steffy get married in an intimate ceremony at the beach where their romance first blossomed.
Wyatt decides to stop by Quinn's cabin before she left for a vacation with "Adam". Wyatt enters the cabin only to find Quinn and Liam kissing. Wyatt is infuriated and Quinn takes Wyatt outside to argue. Quinn explains what happened and tries to convince Wyatt to keep it a secret to save his marriage. Wyatt busts through the door and realizes Liam has amnesia. Wyatt sets Liam straight while Quinn explains part of the story to Liam. Liam remembers Steffy and recognizes Wyatt as his brother. Liam and Wyatt trap Quinn in a closet in the cabin. Wyatt takes Liam down to the path to the beach and shows him the way to Steffy sitting on the beach. Liam runs up to Steffy and they hug and kiss. Liam explains to Steffy that Quinn kidnapped him and he has amnesia. Liam is thankful to Wyatt but still believes that he and Steffy are engaged. Steffy tells Wyatt she needs time to tell Liam that they're married. Deacon returns to the cabin and frees Quinn from the closet and they leave together. Wyatt and Steffy get matching wedding band tattoos. Liam calls Steffy and tries to woo her over but realizes the tattoo on her finger. Liam is distressed to find out that Steffy married another guy and even more upset to find out that it's Wyatt. Liam confronts Wyatt and tries to force him to step aside and let Steffy pick the man she wants while Wyatt tells Liam to respect his marriage and accept reality.
Steffy is surprised when Liam decides not to press charges against Quinn, because Wyatt asked him to. Bill calls a Spencer family meeting in his office. Bill tells Liam in front of Steffy, Wyatt, and Katie to respect his brother's marriage and move on, while Katie tries to get Liam to understand. Liam reluctantly agrees to respect Wyatt's marriage to Steffy. Liam tells Steffy in private that he will try his best to respect her marriage but he will always have feelings for her.
Liam hears noises in his house one night and takes a flashlight to search for an intruder. He sees a man in the dark and hits him over the head with a shovel. Liam calls  Wyatt and Wyatt tells Steffy he's going to the police station. At the station, Liam picks out the man who entered his house. Wyatt realizes that the man's Reverend Rydell who married him and Steffy. The reverend greets Wyatt while Liam is confused. Wyatt informs Liam that he is the reverend who married them. Wyatt admits that he found him online. Liam believes he could be a fraudulent reverend and rushes off to his house where Steffy is. Liam tells her that if her marriage isn't real, she's free to be with him. Steffy makes clear that her vows to Wyatt were real and the love they share is real. Liam gives her a seashell to remember him. Meanwhile, Bill and Wyatt have Bill's old friend, Emmy, research files about Rydell. She concludes that Wyatt's marriage to Steffy is valid. Steffy returns home to hear the good news and is happy to hear the marriage is valid. Bill warns Liam to back off Steffy and respect Wyatt's marriage.
Steffy and Wyatt arrives at her beach house where she finds Quinn holding a spatula. Quinn claims she just prepared them some lunch. Steffy snaps at her for what she did to Liam and all of their lives. Wyatt arrives to find them arguing. Steffy declares she doesn't want Quinn to be a part of their lives. Wyatt approves of her wishes and bans Quinn from their house. Quinn leaves their beach house and watches Wyatt and Steffy hug through the window, which Steffy sees.
Wyatt and Liam meet with Bill to discuss business propositions in Bill's office. Liam pitches the idea of taking a portion of Spencer's profits to donate to charities to fix major world issues. Wyatt and Bill both object stating that Spencer Publications is a business and not a charity. Steffy enters the office and she is filled in on the debate. Liam asks if Steffy agrees with him bu she is more or less stuck in the middle. Wyatt states they need money for his future kids with Steffy. Bill and Wyatt don't decide to support Liam's idea. Bill hires a caterer, Marcy, to set up a table of caviar and expensive wine for Wyatt and Steffy which they greatly appreciate. Bill claims they're shining stars in his cloudy life. Wyatt wonders if Bill has any problems which Bill evades answering directly. Marcy states she is a photographer and takes a picture of Steffy eating caviar and is also a model and takes a picture of both of them. Wyatt and Steffy inform Bill how much attention social media attracts. Wyatt persuades Bill and Steffy to market Steffy's face on social media for Spencer Publications, which Steffy agrees to. Liam enters and is filled in but still wants to fund a foundation. Steffy agrees with Liam's idea but Wyatt and Bill still object to it. Bill mandates that Steffy, Wyatt, and Liam take a vacation to Monte Carlo to attend the Spencer Summit. Wyatt convinces Eric, who is CEO again, to tag along.
Monte Carlo
Eric, Liam, Steffy, and Wyatt all aboard the Spencer jet. Wyatt takes selfies of Steffy and her glass of champagne. Liam gets jealous and accuses Wyatt of smothering her. Wyatt and Liam bicker over the selfies but Eric tries to make peace. Wyatt and Steffy decide to go to bed in their special room on the plane. Liam admits to Eric he has feelings for Steffy and that he wishes Quinn would just break them up.
The four arrive at the Summit where they are accompanied by their friend, Eva, who is a publicist. The fans and reporters are all over Steffy and her selfies. Wyatt announces Eric's new role as CEO and Eric gives a speech about it. Liam is also asked to answer a few questions. Steffy and Wyatt have fun on the beach by the umbrellas and chairs taking selfies. They are interrupted by Liam who walks over insisting that he saw Quinn. Wyatt doesn't believe Liam saw Quinn and is trying to ruin their fun. Steffy agrees that Liam could have been mistaken. In the hotel room, Steffy asks Wyatt to support Liam and believes he is trying to do good with his foundation. Wyatt agrees to support Liam. Steffy and Wyatt share glasses of champagne and a few kisses. Liam is greeted by Eva who stopped by his hotel room to comfort him. Liam confides in her that it's been hard seeing his ex-wife marry his brother with Quinn's help. Eva suggests Liam to go on a date with her but Liam turns her down. Eva kisses Liam and leaves the door open.
Outside a limo, Quinn wearing a big, floppy hat kisses Eric. Steffy sees Eric kiss a woman but cannot see her face. Eric and Quinn wave to each other as Eric hops in the limo. The limo drives away and Steffy runs up to meet the mystery woman as Quinn darts away. Steffy chases after her while Wyatt says to a crowd of fans "Is that Steffy Forrester?" Steffy is slowed down by fans but continues to sprint after Quinn. Steffy gets close enough to pull her hat of and Quinn takes a tumble. Steffy is surprised and furious to find out it's Quinn. Quinn stands up and tries telling Steffy that she knows she's upset but her relationship with Eric developed into something real. After freaking out, Steffy slaps Quinn to the ground. Steffy warns Quinn to stay away from her and her family.
Steffy vents to Wyatt about Quinn and how frustrated she is. Wyatt is shocked and appalled that his mother would do this. Steffy says that she's done and can't do this anymore. She tells Wyatt that he has to tell his mother to leave them alone. Steffy freaks out at Eric who believes his personal life isn't any of her business. Steffy forbids Eric from being with Quinn. She demands that he breaks up with Quinn or he loses his relationship with her. Wyatt tells Quinn to take a plane ticket back to LA and leave them alone. Eric tells Quinn he's glad she came and she made him very happy. But he breaks up with her for Steffy's sake and Quinn flies back to LA.
Quinn and Eric's Marriage
Returning to LA, Eric and Quinn couldn't help but resume their relationship with each other. This makes Steffy feel angered and upset. Wyatt support's Steffy and tries to support her feelings. Quinn insists to Wyatt that her love with Eric is real and that it makes her happier than she's ever been. Wyatt starts to accept their relationship for his mother's sake. Steffy's angered by this and wants Wyatt to support her. Steffy decides to give Quinn an ultimatum, either she breaks up with Eric or Steffy promises to leave Wyatt. Quinn refuses to break up with Eric and tells Steffy she wishes that she and her son can work through this. After many weeks of arguing, Steffy decides to move out of Wyatt's and live with Thomas temporarily. Wyatt vows to stay faithful to Steffy and to work through their separation.  
Eric and Quinn plan to get married at the Forrester Mansion in front of their friends and family. They invite all of the Forresters to attend however the only one who showed up was Ivy. Eric feels devastated but nevertheless marries Quinn out of his love and devotion for her. The rest of the Forrester family, including Felicia and Thorne, gather in Eric's office and wait until Eric arrives. They want to use the company's morality clause against him. Eric and Quinn successfully get married with Perez Hilton as their officiate. Eric arrives in his office upset at his whole family. The Forresters try to explain that they were doing this for his own good and Quinn is a danger to the family. Eric calls everybody out on the immoral things they've done but reminds them that he forgave them.
Eric collapses on the floor. The family goes to see Eric in the hospital bed, who slips into a coma.
At Forrester Creations, Liam supports Steffy, who is upset about the situation with Eric. She gets to thinking, and they start searching for the marriage certificate. Once they find it in an envelope, Steffy is surprised that Eric didn't sign the marriage license. Steffy tells Liam that Ridge is on his way. Quinn may not be Mrs. Forrester after all. In the hall, Carter chats with Pam about the stress of waiting. Carter is concerned that things are going to get more difficult, before they get better. In the office, Ridge arrives and Steffy shows him the unsigned, non filed marriage certificate. Liam pipes up, "Legally speaking, Quinn can't be Mrs. Eric Forrester." Ridge notes he has Eric's power-of-attorney, and with this news, he can make sure Quinn doesn't hurt the company or family. Once alone, Liam and Steffy speculate on what Ridge will do next. Liam reflects on the misery Quinn has caused and they embrace.
Steffy decides to fix things with Wyatt and move back in. Carter finds a legal document making Quinn Eric's power-of-attorney. Wyatt overhears Ridge and Steffy beg Carter to keep it a secret. Steffy defends their reason of protecting the family. Quinn rushes in the hospital room to see her husband, although the doctor only allows the immediate family. The Forresters try to tell Quinn they're not legally married but Quinn demands to see her husband anyway. Quinn has a heart-to-heart with Eric, causing his finger to move and start to wake up. Eric and Quinn sign their marriage license while Eric recovers at the Forrester Mansion.
Steffy decides to free herself from her marriage and breaks up with Wyatt. She gets on her motorcycles and drives over to Liam's house. They decide to reconcile and Liam promises to get her a ring when her finger heals, he'll put a ring on her and marry her. Steffy and Wyatt have a laser removal doctor come to Forrester to remove Steffy's tattoo, which is only half complete. The doctor tells Steffy to make another appointment Steffy plans a special night with candles and wine for Liam as she tells him how much she appreciates him. Wyatt calls Steffy to come over to his beach house. Steffy comes over and Wyatt gives her a glass of wine to celebrate all the great times they had together. Steffy feels like Wyatt's trying a last ditch effort to win her over and brings it up to him. But Wyatt picks up an orange envelope with the divorce papers in them and gives them to her to sign. Steffy feels grateful yet empathetic and signs them and gives them to Wyatt, who signs them for her. The laser removal doctor comes through the door, for Steffy's second half of the removal surgery. Steffy thanks Wyatt for doing all of this for her. Liam then proposes to Steffy which she accepts. 
Quinn convinces Eric to make Ridge co-CEO along with Steffy. Liam is opposed to it but Eric convinces Steffy that it's what's best for the company. Meanwhile, Thomas and Rick are both upset Eric didn't choose either of them. Thomas gets jealous of Steffy being handed over the position. Steffy explains that Thomas hasn't been in L.A. because he was in New York with Caroline. Thomas explains he was trying to raise a family with Caroline which didn't work out, resulting in his return.
Feud with Sally Spectra
Knowing Liam was becoming increasingly frustrated over Eric and Quinn pushing Wyatt on her, Steffy finally got her divorce from Wyatt, only to learn Liam had headed to the airport. Steffy stopped Liam from getting on a plane with her divorce news and happily accepted Liam's proposal. Steffy was intrigued by Ivy's suggestion that she and Liam marry in Australia in a double wedding with Ridge and Brooke, but butted heads with Rick and Thomas after she was asked to split her CEO duties with Ridge instead of one of them.
Steffy made an instant enemy in fledgling designer Sally Spectra, the namesake grandniece of infamous knockoff queen Sally Spectra. Goaded into a public food fight with Sally, Steffy was furious to learn that Sally, who was planning her first showing, had staged the altercation and uploaded a viral video of it to piggyback on Steffy's social media presence. Catching Sally masquerading as a caterer at the wedding of her cousin Zende Forrester Dominguez, Steffy got back at Sally by shoving her face into a cake but was further annoyed when that contretemps ended up online, too.
Wedding in Australia
With Ivy's help, Steffy zip-lined into her wedding Down Under and exchanged vows with Liam. Steffy was shocked to see that Thomas had invited Sally as his date; Steffy's argument with Sally during her beach reception ended with Sally falling into the water. Steffy stayed behind in Australia after the family went home and honeymooned with Liam. Steffy was furious when Sally stole Forrester designs by planting cameras in the jewelry of her sister, Forrester intern Coco Spectra; Steffy felt for Coco, but insisted that Sally be arrested.
After Thomas saved Sally from a prison sentence, Steffy was secretly relieved. Steffy felt conflicted when Liam discovered that Sally had only stolen from Forrester because Bill sabotaged her with a bad review of her original work, wanting to demolish Spectra and put up a skyscraper; Steffy ultimately told Thomas but had mixed feelings when Ridge fired Thomas for investing $100,000 in Spectra Fashions to stop Bill. Steffy also had her hands full with Zende, who felt snubbed when Steffy and Ridge informed the novice designer they didn't have time to train him; Steffy agreed to give Zende a shot in Thomas' absence, but asked Eric to intervene on Thomas' behalf. Steffy was thunderstruck when Thomas defected to Spectra and became its lead designer; Steffy wasted no time letting Sally know she thought Sally was only using Thomas to breathe new life into Spectra.
Steffy was pleasantly surprised when Katie joined Forrester in PR and suggested they mount a swimsuit fashion show at the Spencer Summit in Monte Carlo. But it was game on for Steffy when Thomas and Sally decided Spectra needed to get in on the event; Steffy vowed to best Spectra and modeled for a calendar teasing the showing. Still disapproving of Thomas' relationship with Sally, Steffy brought Thomas' ex-love and mother of his child, Caroline Spencer back from New York to lure him away from Sally.
Steffy became concerned when Eric took off after a fight with Quinn; learning that Eric was with Sheila Carter, his notorious criminal ex-wife who was responsible for Taylor's near-death, Steffy grabbed an old gun of Stephanie's and got Liam to track Eric's phone. Having been told by Quinn that Sheila might have a gun in her purse, Steffy shot Sheila when she thought Sheila was reaching for it, not knowing Sheila was trying to produce the electric razor Eric had sent her for. Steffy apologized for grazing Sheila's arm and was surprised when Sheila helped them lie to authorities about what went on. Steffy fumed when she learned the reason Eric was holed up in a hotel was because Ridge and Quinn had kissed on several occasions, blasting them both.
Steffy flew to Monte Carlo and declared the Forrester/Spectra swimsuit fashion duel on, grudgingly admitting that Thomas and Sally had produced good designs. Spectra won the duel by popular vote, but Bill decided to call it a tie out of bitterness against Spectra. Steffy couldn't help being pleased when Thomas suddenly ditched Sally and moved back to New York with Caroline; however, Steffy was horrified when Liam revealed Thomas had only done so because Bill had lied that Caroline was dying.
Affair With Bill
Steffy convinced Liam to keep quiet, but felt bad for Sally when Spectra Fashions burned down. Steffy blanched when she learned from Liam that Bill had arranged the Spectra fire, and disapproved when Liam secretly recorded Bill's confession and used it to wrest control of Spectra Fashions from him. Steffy tried and failed to broker peace between Liam and Bill, lending Bill her support and spending more time with him when his new wife Brooke walked out on him.
Steffy objected when Liam took part in a sit-in with the Spectras to keep Bill from destroying Spectra Fashions, but risked her own life searching through the rubble when Bill unknowingly blew up the building with Liam and Sally inside; Steffy even pulled Sally from the wreckage first. Yet Steffy walked out on Liam when she discovered he had kissed Sally while trapped. Taking refuge at the Forrester guest house, Steffy let Bill in and ended up making love to him. Steffy tried to tell Liam but instead got caught up in his desire to renew their vows. Steffy rebuffed Bill's claim they should have been together years ago and swore him to secrecy about their tryst, determined to make her marriage to Liam work. But when Steffy learned she was pregnant, she reluctantly had a DNA test to find out whether Liam or Bill was the father. It was confirmed that Liam is the father to Steffy's baby. Steffy is relived, and tells Bill the news. Also they both agree to never tell Liam about their betrayal.
Truth Revealed and the birth of her daughter Kelly
Steffy returns home, and talks to Liam about their future and their family. Liam is happy and tells Steffy that he cannot wait to meet their child. While Steffy is daydreaming about her, Liam, and their child, Liam hears Steffy's phone go off in her purse. Before he retrieves it, Liam see's the paternity test in her purse, and goes outside and shows it to her. When Liam and Steffy go inside, Liam demands Steffy to tell him the truth on why she took a paternity test.
Liam then realizes that Steffy lied to him about spending the night in her car, but instead was at Eric's guesthouse when Quinn told him where Steffy was that night. Liam also learns that she cheated on him with someone when she was hesitant on renewing their vows. Steffy finally confesses that it was Bill who she had slept with. At first Liam believes that Bill took advantage of Steffy because she couldn't think clearly, and that he vowed revenge. However Steffy tells Liam that Bill did not rape her and that they had consensual sex.Liam angrily berates Steffy for taking Bills side over his, and wanting to get back at him for kissing Sally.
When Steffy tries to explain and begs for his forgiveness Liam storms out the house and leaves Steffy crying. After awaking in the front lawn Steffy goes back in the house, and Katie comes by for work. Steffy confesses to Katie that she cheated on Liam with Bill, and that she fears that he will never forgive her. Katie comforts Steffy. The next day Bill and Steffy talks and Bill assures her that Liam won't walk out on her or their child.
Wyatt stops by Steffy's house and informs her that he knows. Wyatt tells her that Liam is very heart broken, and does not know if he will get past it. When Liam returns home, Steffy thinks he has forgiven her. However Liam tells her that he will never forgive her or Bill for ruining his life and takes off his wedding ring. Also Liam gives Steffy annulment papers, but tells her that he will always be there for his son/daughter, and cannot wait to meet their child. Steffy is sad about Liam moving out of their house, but tries to win Liam back. Hope Logan returns from Milan, and offers Steffy and Liam friendship. Steffy later tells Brooke , and her father who is angry about Bill taking advantage of her.
Hope later confronts Steffy for breaking Liam heart, and warns her that if Liam decides to divorce her, she has no one to blame but herself. Steffy agrees with Hope, and is shocked when Hope tells her that she wants to help her to win Liam back. Throughout her pregnancy, Steffy has to deal with Bill's obsession of being with her and starts to scheme to break up her marriage. Overtime Steffy and Hope bond over getting Liam to come home, and when Bill was shot.
Steffy discovers that it was her mother Taylor who shot Bill when she confessed to her, and almost tried to shoot Bill again. Steffy later tells Liam that he did not tried to kill Bill, when he had a vision of him shooting his father. Steffy and Hope's rivalry heats up again when Steffy learns that Hope is in love with Liam again, and tries to get him to leave her. In order to get Liam to come home Steffy buys the cliff house from Bill to surprises Liam, and both hug.
However one day Bill stops by and blackmails Steffy into being with him by signing the annulment papers, and to not have her mother arrested for shooting him. Steffy signs them, but warns him that Liam will never forgive if he continues to scheme to be with her. Steffy is happy when Liam tells her that he is coming home, and brings her white roses as a sign of forgiveness. When Liam arrives at the house, he asks Steffy if she is still seeing his father, and Steffy truthfully tells him besides hugging him for letting her buy the house, that she has not betrayed him again. Also Steffy confesses to Liam that it was her mother who shot Bill.
Liam does not believe that Steffy and Bill are not involved and announces to her that he will fill the annulment papers. Steffy tries to get Wyatt to convinces Liam that she has not betrayed him again. Wyatt also does not believe her and tells Steffy that Liam deserves better than what she gave him, and exits. Steffy is shocked when she learns that Liam is getting married to Hope, and that their marriage has been officially annulled. Steffy confronts Hope, and warns her that Liam will come back to her because she has not betrayed him again. At her doctors appointment Steffy asks Liam to not marry Hope until their daughter is born, to get him to forgive her. Steffy later talks to Taylor and tells her that her relationship with Liam is over. Steffy gets a call from Ridge that the wedding has not started. Liam invites Steffy to Brooke's cabin and tells her that he and Hope did not get married because Wyatt told him that Bill manipulate him into thinking that he and Steffy are still involved by staging a scene where it looked like Steffy cheated on Liam again. Happy about this news, Steffy convinces Liam to be with her and have a family with their daughter. However Liam leaves with deciding on who he want to be with. Bill stops by again to try to get through to Steffy to be with him. Steffy confronts him about his obsession with her and demands him to leave. When Steffy kicks Bill out, she falls and goes into labor. Liam and Steffy welcome their daughter Kelly, who Steffy named after Liam's mother. Liam decides to finally forgive Steffy, and proposes to her.
Calling off Engagement with Liam and Almost marrying Bill
Afterwards Steffy enjoys having Liam home, and being a mother. However on the 4th of July, Liam tells Steffy that Hope is pregnant with his child. Steffy is devastated, but want to have a quick wedding so that Liam would not leave her for Hope. Steffy and Hope battle to have Liam, but Steffy is saddened when Liam tell her that their wedding is put on hold because of Hope's pregnancy. Bill comes by to inform Steffy that Liam cheated on her with Hope, by showing a picture of them in a compromising position. Steffy does not believe him, and goes to Forrester's to see for herself. Steffy catches Hope and him kissing in the Forester Creation's dressing room, and is furious and heartbroken. Steffy lashes out at Liam and Hope for destroying her family, and leaves upset.
Bill once again persuades Steffy that they belongs together after she tells him about Hope and Liam. Steffy decides to take Bill's offer in exchange Bill gives up all his shares for Forester and to have a great future for Kelly, and accepts his proposal. After arriving home Steffy pack some of Kelly things and hers. Liam see's her and tries to beg for her forgiveness. Steffy announces to Liam that their engagement is off, and that he can be with Hope. Steffy tells Liam that she tried to beg for his forgiveness throughout her pregnancy, and tried to keep Bill away from him. Steffy refuses to be like her mother Taylor, who waited on Ridge to be faithful. Liam is shocked when he see's Bill's swords necklace on her. Steffy announces to Liam that she and Bill are getting married, and that she is providing a future for her daughter even if it means to give up on love.
Steffy takes Kelly and moves temporarily in with Bill. When Steffy see's her wedding dress that Bill picked out, Steffy decides not to go through with the wedding. Bill apologies to Steffy, and gives her his 12.5 % shares to Forester as a sign of good faith. Steffy walks out of the house with a new confidence.
Steffy has a meeting with Ridge and the new models to announce that she is the new owner of Forester Creations. Ridge is happy that Steffy did not marry Bill, and got his shares. When Liam stops by at Forrester, upon Steffy's request, she tells him that her and Bill did not get married, and that she now has more shares of the company.
Liam apologies for hurting her. Steffy informs Liam that she will not be with him after catching him kissing Hope, and realizing that he still can't pick between her and Hope. Also Steffy does not want to repeat history when it came to Ridge going back and forth with her mother and Brooke, and wants so set an example to Kelly. When Hope walks in, Steffy gives Hope her blessings to be with Liam, and just wanted to have a co-parent relationship with him. Steffy and Hope agree to put their children first, and to show that they can be a blended family. Steffy attends Hope and Liam's wedding along with her mother, to show the family unity and understanding.
Adopting Phoebe Forrester ll and leaving for Paris
When Liam and Hope lost their baby Beth Spencer, Steffy is there to support Liam and Hope, and attends the funeral. When Steffy talks to Taylor about adopting a sister for Kelly, so that she can have a sibling to be close with, like her twin sister. Taylor tells her that her colleague Dr Reese Buckingham, has a mother who is willing to give up her baby. Steffy and Taylor meets the mother Flo Fulton, and her daughter. Steffy hold her and decides to adopt her and names her Phoebe Forrester after her deceased twin sister. Liam and Hope meet Phoebe for the first time and have an instant connection with her. Steffy takes Phoebe and Kelly to Paris when Hope starts to become too attached to Phoebe, and wanting Hope and Liam to work on their marriage.
Returns home from Paris
Steffy returns home from Paris and learns about Flo being related to Hope, and Thomas messing with Liam and Hope's marriage. Also Steffy and Liam one night have sex. However Steffy is unaware that Thomas spiked Liam's drink so that he can willing have sex with her. The next day Liam tells Steffy that he still love Hope even when they had sex, and has to tell Hope. Hope stops by to tell Steffy that her and Liam are getting an annulment, and that she can have Liam. Also Hope wants Steffy to be with Liam to raise her daughters together. Liam moves back in Steffy's house, and decides to be a father to Phoebe. Steffy attends Thomas and Hope's wedding along with Liam and the girls. Liam is on the balcony at Eric's mansion and overhears Thomas and Flo arguing about keeping a secret from Hope. Liam get suspicious of Flo and asks Wyatt to talk to her more, who then reveals to him that Flo said she never had a child but cleared it up with him. Liam then question's Steffy about Flo, and if the adoption is legit. Steffy assures Liam that it is legit and Flo can be trusted. Liam then investigates Phoebe's adoption to see if the adoption is legal.
Truth about Beth
The next day Liam is playing with Phoebe and Steffy adores it. Afterwards he calls the hospital on the birth certificate. The receptionist tells Liam that they cannot give Flo's information to him, but tells him that he can call Dr. Cortez. Liam then contacts the doctor on the birth certificate When Hope, Douglas, and Thomas arrives, Liam cannot stand Thomas. Thomas brags to Liam about his honeymoon with Hope. Liam warns Thomas about hurting Hope. After Thomas goes in the girls room, Liam expresses to Hope that Thomas is using her. Hope tells Liam that Beth is gone and that she is trying to move on. Douglas then tells Liam and Hope that their daughter Beth is alive. Hope gets emotional and leaves. Liam questions Douglas on why he said that, and Douglas reveals that Thomas said that Beth is alive, but was not aware that he heard him. Liam talks to Steffy about Douglas being positive about Beth, and reveals that Thomas had said it.
Steffy believes that Douglas is just confused, and will talk to Thomas later. Liam gets a phone call from Flo's doctor who reveals to him that Flo was not her patient, and that she was out of the country on the day that Flo had supposedly given birth. Also the doctor reveals that there was no records of Flo being at the hospital. Liam then realizes that Douglas is telling the truth and that Phoebe is Beth. Liam walks and goes into her room and pick her up while crying. Steffy ask Liam why he called Phoebe Beth, and angrily tells him to stops calling her daughter Beth. Liam tries to tell Steffy that Beth is alive and that Douglas is telling the truth. Liam storms out of the house to confront Flo. Meanwhile Steffy and Ridge talks about Liam thinking that Phoebe is Beth. Ridge assures her that Liam maybe grieving over Beth still, and that Douglas may have been imagining things. Steffy hopes that when Liam comes back that this discussion about Beth is over.
When Steffy returns home with Kelly from her doctors appointment. Steffy is shocked that Hope is here holding Phoebe. When Steffy questioned Hope on why she is not on her honeymoon with her brother, and Liam running out of the house to talk to Flo.
Liam tells Steffy that Flo is not the biological mother to Phoebe, when he confronted her and that she confirmed it. Hope tells Steffy that Phoebe was stolen. Liam goes on to reveal that a doctor kidnapped a mother's child and switch Phoebe and was able to switch her with a baby who was already stillborn. Liam goes on to say that this man did it because of a gambling debt. When Steffy wants to keep Phoebe still, and fears that she may be sued, she tries to call Carter. However Liam tells her that this involved her mother. Hope reveals to Steffy that Taylor told her colleague that she was looking for a child for her daughter to raise. However Liam says that Taylor did not know about this and wanted to give a child to her daughter.
Also informs Steffy that she paid a lot of money for Phoebe. Steffy realizes that her colleague told her mother that Phoebe was adoptable and abandon. Hope tells her that the colleague was the doctor who kidnapped Phoebe. Steffy is shocked that Dr. Buckingham is the one who kidnapped Phoebe and sold her a baby. Liam informs Steffy on who knew about this including Thomas. Hope tells Steffy that she thanks her for watching out for the baby, when she reveals to her that she is the mother that Dr. Buckingham took her baby and sold her.
Hope finally reveals to Steffy that Phoebe is Beth. Steffy at first refuses to believe it, and vows to not have Hope take her away from her. Steffy and Hope argue about Beth. Ridge and Brooke arrives at the house to comfort their daughters after learning about Reese and Flo's deceit.
Steffy then realizes that Phoebe is Beth, and tries to convince Hope to not take Beth away from her. Steffy is devastated that Reese did this to her and learns that Reese then had Flo pretend to be the birth mother to Phoebe so that it would not looked suspicious. Also Flo knew all this time and didn't say anything to her. Liam talks to Steffy and thanks her for being a mother figure to Beth, but tells her that Hope was robbed out of being Beth's mother for months. Which lead to her being depressed and blaming herself.
Upon realizing that Hope never got the chance to be being Beth's mother, Steffy gives Beth back to Hope and says goodbye to Beth . Hope promises her that she will never out of Beth's life. After Liam, Hope, Brooke, and Beth leave, Steffy collapses in Ridge's arms and cries over the loss of her baby.
Steffy later visits Thomas in the hospital when Brooke pushed Thomas off a cliff and fell. Steffy confronts Thomas on keeping Beth a secret for months and had her raise a child that belonged to Hope. Also for manipulating Hope and Douglas's grief. Steffy informs Thomas that she will never forgive him for hurting her, and will never be in Kelly's life again. Steffy visits Flo who is arrested for fraud, and kidnapping charges. Steffy talks and confronts her about ruining her family's life and hers and hopes that she spends her life on jail.
Her Motorcycle Accident, Her recovery from Pain Pills and Newfound Love with Finn
Her One Night Stand with Liam, Thomas's Hopitalization and her New Pregnancy
Misdeeds
Forging texts from her father's phone to keep he and Brooke apart (Oct 2009).
Spying on Marcus (2008)
Kissing Rick behind Marcus's back.
Tried to break up Owen's and Jackie's marriage.
Threatening Bill Spencer to get FC shares.
Publicly embarrassing Hope at a showing for her Hope For The Future fashion line by rigging the sign to read "Ho" For The Future.
Wanting to use embarassing footage of Bridget Forrester to hurt the Logan family, but was stopped by Oliver.
Throwing cake at Hope's head out of jealousy.
Threatening Oliver that if he doesn't date her she will reveal the truth about his accidental indiscretion with Hope's mother.
Blackmailed Brooke and Oliver over their illicit sexual encounter (2010).
Stole Katie Logan's engagement ring to blackmail Bill into selling Forrester Creations back to her family (2010).
Making her moves on Liam Spencer while he started to date Hope Logan.
Starting a romance with Bill Spencer, Katie's husband. (2011)
Conspired with Bill Spencer Jr. to keep Hope Logan from getting to Liam so she could marry Liam Spencer instead.
Conspired again with Bill Spencer Jr. to stop Liam from marrying Hope Logan in Italy.
Worked with her brother Thomas to keep Liam from seeing Hope in Cabo San Lucas and buying alcohol for Hope so she would become more easy and go to bed with Thomas (2012).
Keeping Bill's lies from Liam to not ruin her new relationship with Liam that they built after Hope left Liam at the altar.
Asking Liam to leave Ivy for her in exchange for her help at Forrester Creations.
Making moves on Liam while was in a relationship with Ivy Forrester and calling Ivy a "bump in the road".
Hitting Aly with a crowbar in self defense, resulting in her death (2015).
Lying to the police about the details of Aly's death. (2015)
Violated her restraining order from Ivy Forrester (Dec 2015).
Badgered a weakened Ivy causing her to fall and hit her head (Dec 2015).
Sleeping half naked in Wyatt's arms while being in a relationship with Liam and pretending that nothing happened.
Kissed Liam while married to Wyatt. (2016)
Slept with Liam while being married to Wyatt.
Slapped Quinn Forrester after she found out she was involved with her grandfather Eric. (2017)
Shot Sheila Carter whom she believed had kidnapped her grandfather (July 2017).
Was complicit when Bill Spencer destroyed Sally's Spectra's family business.
Was complicit when Bill lied to her brother Thomas Forrester that the mother of his child is dying because she hoped that Thomas would then leave Sally.
Bullied Sally Spectra because of Sally's past misdeeds.
Slept with Bill while she was married to Liam (Nov 2017)
Lied to her husband that a paternity test is just a routine test.
Conspired with her brother to break up Hope and Liam... Again.
Passing out after taking illegal pills while being alone at home with her daughter, Kelly Spencer.
Lying to her new boyfriend that she is drug free.
Threatening people with a knife.
Slept with Liam while she's in a relationship with Finn and he's married to Hope (Dec 2020)
Encouraged Liam to lie that they didn't sleep together so she doesn't lose Finn.
Tried to flee the country without informing Finn about it.
Maladies and Injuries
Almost drowned after slipping in bathtub and hitting her head (2011). 
Suffered a head injury after falling off ATV in Cabo San Lucas (2012).
Fell off a cliff and plunged into the Adriatic Sea (2012).
Suffered a concussion after a high Hope skied into her after taking pills (2012).
Hurt knee when Hope crashed into her on a ski slope in Aspen (2012).
Accidentally pushed into a desk while pregnant by Hope (2013).
Miscarried her son in a motorcycle accident (2013).
Became infertile during a botched D&C procedure (2013).
Attacked and nearly killed by her cousin, Aly (2015).
Suffered memory loss due to the shock of killing Aly (2015).
Passed out causing her to go into labor (June 2018)
Fractured broken ribs and sprained her back in a motorcycle accident (August 2020).
Got addicted to pain meds (August to Dec 2020)
See Also