Quinn Forrester
Rena Sofer as Quinn Fuller
The Bold and the Beautiful
Portrayed by
Rena Sofer


Reagan Rundus

(age 8)
Current status
Present, Contract
Duration
2013–
First appearance
July 12, 2013
Created by
Bradley Bell
Introduced by
Bradley Bell
Profile
Family
Fuller family
Spencer family
Forrester family
Fullname
Quinn Fuller Forrester
Nickname(s)
Witch (by Pam)
Morticia (by Pam)
Ms. Permafrost (by Charlie)
Mama Q (by Deacon)
Cuckoo Quinn, Queen of Crazy (by Brooke)
Quinn of Crazy (by Bill)
Crackpot Quinn (by Bill)
Looney Tune (by Bill)
Looney Tunes (by Deacon)
Other names
Eve Pocahontas
Vladimir Smirnoff
Gender
Female
Occupation
Jewelry designer at Forrester Creations
Businesswoman
Residence
Forrester Mansion
369 Willow Hill Road
Los Angeles, California
Opening Theme Headshot
Quinn Forrester (née Fuller, previously Sharpe) is a character on The Bold and the Beautiful, portrayed by Rena Sofer since 2013.
Storylines
Quinn is a jewelry designer and the mother of Wyatt Fuller. She owns a designer warehouse by the name of Quinn Artisans Jewelry in Los Angeles which also serves as a home for her and Deacon Sharpe, formerly Wyatt. Wyatt says his mother is a "workaholic". Hope Logan began noticing a sword pendant that Wyatt wears, looking eerily identical to the ones that Bill Spencer Jr. and his son, Liam Spencer also wear. She asks him where he got it from to which he states that his mom had made it years ago, and it stowed away in the vault. Wyatt brings Hope to the warehouse where he and his mom work/live at and is introduced to Quinn. Hope then questions Quinn about the sword pendant, to which Quinn states that she did indeed designed the pendant and it's a one-of-a-kind, never-been-made. She blows the questions off as a simple coincidence that Bill and Liam also wear the same kind of pendants. However, Quinn seems a little uncomfortable and tensed when Hope and Wyatt bring up the Spencer men.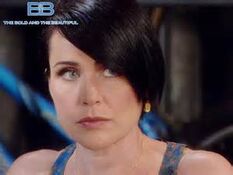 After Hope leaves for her job, Wyatt asks Quinn about her odd behavior around Hope. Quinn admits that Hope is a lovely young woman but believes she isn't the right one for her son, stunning Wyatt. He believes that his mom is just worried that he will get hurt because of Liam, stating that he's like his dad - arrogant. Hope talks with her brother, Rick Forrester about Wyatt, the necklace, and Quinn's strange behavior whenever the Spencer name was brought up, believing that Quinn may be hiding something. Hope then talks about Wyatt's dad having died when he was very young and also brought up the fact that Quinn had described him as being "arrogant, self-centered, and a jerk", seemingly matching Bill's description perfectly. Rick and Hope start to wonder if there is a possibility that Wyatt is Bill's other son, meaning that Liam would be his half-brother. Hope then told this to Wyatt and he brought this up to his mother. Quinn then denied it again, told Wyatt she doesn't want him hanging around with Hope, and Wyatt can find much better girls in L.A. than Hope Logan. Quinn then told Wyatt to take his sword pendant off. Wyatt found out Hope was engaged but stayed friends and Wyatt told her to stop about the necklace. Hope wondered why questions about a man she doesn't know upset Quinn.
Rivalry with Hope
Hope then told Wyatt to have him and his mother meet up at the same restaurant Liam and Bill were at to see what would happen. Quinn and Bill instantly recognized each other and stared at each other. Liam noticed Bill staring and encouraged unsure Bill to go and ask and Bill did. Bill introduced himself and Quinn denied knowing him. Bill mentioned she made him very happy by making his pendant for him. Bill then mentioned her name Quinn Fuller and she ran off scared. Wyatt went after her and asked if Bill Spencer was his real father and Quinn said yes. Wyatt was raging and Quinn said she lied to him that his father died because she was just a teenager at the time, and once she was pregnant, Bill wanted nothing to do with either of them and handed her money for an abortion. Quinn, out of love for her child, had Wyatt without Bill knowing. Wyatt yells at Bill for not wanting him and Quinn telling her she didn't give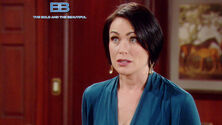 him the choice if he wanted his father in his life. Wyatt then drove off angrily. Liam then drove up to Bill and Quinn in his car and Bill hopped in and told Liam to follow the green car. Quinn then went back to the restaurant for her purse when Hope Logan decided to pop out. Quinn attacked Hope by yelling saying she had no reason to stick her pampered nose into this situation and she ruined everything. This started their rivalry. Hope and Quinn got into a huge fight when Hope's mother Brooke Logan came out to protect her daughter. Quinn walked off angrily. During their fight Quinn mentioned she thinks Hope is rich, pampered, and young. Quinn also told Hope she doesn't want her anywhere near her son. Wyatt drove to his apartment packing his stuff. Bill and Liam were trying to welcome him in the family. Wyatt was outraged at first but then Bill and Wyatt hugged when Quinn came in. A furious Quinn then told Bill not to touch her son. However, she became even more upset when Wyatt, still angry at her for lying to him, moved in with Bill and Liam.
Sometime later after moving in with Liam and Bill, Wyatt came by Quinn Jewelry which Quinn took this to meaning that her son forgave her and was coming home, but was disappointed when he only came back to retrieve the rest of his belongings. Quinn was stunned as well when Wyatt claimed Spencer Publications is his birthright and was also going to pursue Hope, but that Liam was the only thing standing in way of his accomplishments. Quinn was stunned when Wyatt told her to get on board with his relationship with Bill or be left behind. However, after a confrontation with Bill and being kicked out of the house again by Liam, Wyatt returned and Quinn welcomed her son back home.
Connection to Forrester
Hope allegedly picked out some jewelry for Forrester Creations and happened to be Quinn's. Hope went over to see Wyatt and Quinn and offered them the contract which they accepted. Quinn later accepted Hope and made friends with Hope's aunt and Brooke's sister Katie feeling bad for her.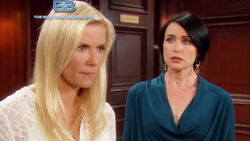 Quinn eavesdropped on Hope and Liam fighting once Liam found out about Wyatt still interfering and she overheard Liam trying to convince Hope to break off the deal so they could advance in their relationship. Quinn ran to Eric Forrester's thinking Hope left because that's where she was going because Eric was CEO. Quinn and Eric bonded when Hope knocked at the door. Quinn stayed by the wall and eavesdropped again. Hope told Eric the news and Eric convinced her she can't and she backed down. Hope left and Quinn overjoyed, kissed Eric and at that moment, the picture of Eric's deceased wife Stephanie Douglas fell down which he had mentioned earlier. Before this, Wyatt talked to Brooke about Liam, Hope, and Wyatt and Brooke implied that Hope should be with Wyatt. Quinn went over to met Brooke and Brooke realized Quinn doesn't really accept Hope and implied she supported Liam. Wyatt and Hope took an overnight trip to Mexico to get a diamond almost identical to the Hope Diamond, the Hope for the Future Diamond for a Forrester Creations fashion show, which Quinn was upset that nothing had happened between them on their trip.
Interfering with Hope and Liam
During the fashion show Quinn found Liam's tablet and watched his marriage tribute video of Steffy, knowing he made one for Hope previously. Quinn sent it to her phone and deleted the thread. Pam saw that Quinn sent an email on her phone to Hope, but Quinn lied saying it was to Wyatt. While Hope and Liam were at Big Bear, a Forrester Cabin; Hope received the video and had a fight about Steffy with Liam, and Hope went back to L.A. Hope returned home when she told Brooke what happened, and Brooke implied Wyatt was the better man. Hope went back to Big Bear to fix it up with Liam. Quinn told Wyatt she heard that Hope and Liam had a fight. Wyatt went to Brooke's and she told him where Hope was, so he went there. When Wyatt got there and told Hope he heard about what happened, he convinced her to let him take her ring off for her. Liam asked Brooke where Hope was, and she told him, that Hope went back to Big Bear.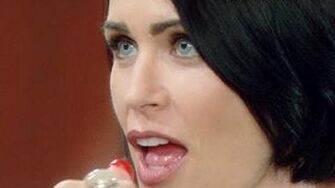 After Bill tried to tell Wyatt to back off from Liam and Hope's relationship, Quinn stabbed Bill in the chest with his sword pendant that she made for him and sucked the blood from her fingers, warning him to not interfere in Wyatt's love life.
Competition with Donna
Quinn and Wyatt were both invited by Hope to the Forrester's Thanksgiving where Rick Forrester and Caroline Spencer get unexpectedly married. Cleaning up after dinner, Donna Logan (Brooke's younger sister) said to Eric that it brought back memories from when they got married there. Quinn got jealous. Quinn insisted that she and Donna would finish cleaning up. Quinn and Donna have words. Donna (with Quinn watching) poured honey on Eric's finger and licked it. Quinn said to Donna that she knows a slut when she sees one. Donna said that Quinn was trouble. Donna tried to get Eric back while Quinn watched and Donna and Eric ended up kissing. Eric went to bed. Quinn broke a picture frame of Eric and Donna on the floor which Donna heard and found. Quinn stared outside the glass sliding doors.
Manipulating Liam and Hope's relationship and supporting Steffy in reuniting with Liam
Liam's ex-wife, Steffy Forrester, returned to L.A. for a doctors appointment and came to see her grandfather Eric again where she met Quinn. Quinn was happy to see Steffy. While Steffy was getting on her plane to fly back to Paris, Quinn told Eric she'd meet her at Forrester International in Paris and catch the flight with Steffy. Walking out of Eric's office, she saw that Donna was obviously eavesdropping. Quinn arrives on the jet and convinces Steffy to break up Hope and Liam. Quinn continues to persuade Steffy to go back to Los Angeles and reunite with Liam so Hope can be with Wyatt, but Steffy shows no interest of going back and Quinn is told of how Steffy tragically miscarried Liam's child after a motorcycle accident. Once settled in at Forrester International, Quinn overhears Steffy on the phone with Dr. Caspary in which she informs Steffy that after several medical procedures is finally able to conceive a child to full term. Quinn again tries to convince Steffy that she should go back and reunite with Liam as well as deliver the news that she is able to conceive again. Steffy once again shows no interest of going back to Los Angeles, but can't hide her deep feelings she still has for Liam. Liam gives Hope an ultimatum and she chooses to be with Liam and Liam makes her cut ties with Wyatt and Quinn from Forrester. Eric chose to fight against this and tells everyone that he is upholding the deal that was made between Forrester Creations and Quinn Artisan Jewelry.
Quinn convinces Steffy to go back to L.A. and to meet with Liam in the cabin. Quinn leaves a note in Hope's bedroom before her wedding with Liam that Liam wanted her to meet him in the cabin despite tradition. Steffy backed away when Liam saw her through the window and brought her in to talk. Steffy told Liam the great news in which he was happy for her. Hope trailed down and saw them talking and called off the wedding. Hope flew to Hawaii with Wyatt and rehired Quinn Artisan Jewelry. Donna told Liam where Wyatt and Hope were and Liam had an app of where Hope exactly was, so he flew to Hawaii. Hope chose to be with Wyatt still.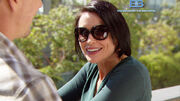 Threatening Charlie and Befriending Pam
Quinn overheard Liam ask Forrester's security guard and Pam's boyfriend, Charlie Webber, about what really happened with the jewel heist. Charlie didn't know and promised he'd check the security tapes. in the security room, Quinn threatened Charlie that he could lose his job at Forrester and Pam might find out he's been lying after praising him. Charlie told Liam he didn't find anything on the security tapes.
Quinn witnessed Liam ask Charlie again and Charlie told him he didn't see anything. Quinn decided to take Pam out to lunch and befriend her. The spent a day out as BFF's. At lunch, Quinn told Pam she doesn't have many friends and she thought Pam was a real person from the beginning. Quinn also told her there is something weighing her down. When they got back, Charlie asked her what she was doing with her. When he realized what Quinn was doing he told Pam he had to tell her something. Quinn stopped him and told Pam that when she said something was weighing her down, Wyatt stole the diamond. Pam asked Charlie to spare this one for their friendship and so he did. Once Quinn left the room, Pam told Charlie they're telling. Pam and Charlie told Liam and Liam met Hope and Wyatt on their camping vacation on Emerald Bay. Liam exposes Wyatt, causing Hope to almost break up with him. However, Wyatt begs for another chance both professionally and personally, which he ends up getting. He vows to Hope that he will do everything to prove that he is the one for her. He then tells Quinn about what happened and that he wants her to stop scheming because he doesn't want to blow the second chance he got from Hope.
Seducing Bill
Quinn went to Bills and Liam's beach house to find lonely Bill shirtless punching a punching bag. He was angry Brooke was going to remarry Ridge. Quinn kissed Bill to see if it still felt the same. On the day Brooke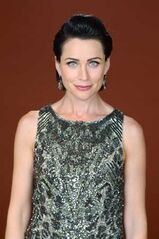 and Ridge were supposed to get married, Quinn came over to find lonely Bill drinking drunk and decided to drink with him explaining they're both lonely. They admit they don't have very many friends and she admit people do care for Bill. Quinn took drunk Bill who was stumbling to his room while they made out, slammed each other against the furniture breaking things, and taking each other's clothes off. Liam came back in from a jog and heard thuds and came up and opened the door a little bit and was astonished closing the door again. According to soap opera network, Bill and Quinn will not have a relationship and it was just a one night stand at least to Bill.
While talking with Pam, Quinn nicknamed Charlie "Upchuck" because of his woodchuck like appearance and name and rattled off that old woodchuck tongue twister. Alexandria Forrester, who disliked Wyatt and has major anger management issues asked Pam what that was about when Pam threatened Quinn about Wyatt.
Aly found out about Wyatt's publicity stunt at the jewel heist and after fighting with Hope ran out to call the police on Wyatt. Quinn ran after her and strangled her over the edge but Aly struggled out of it. Aly blurted out to Eric about it which stunned Eric and made him furious. Rick, Hope, Quinn, Wyatt, Charlie, and Pam all hid this from him. Aly told Eric that Quinn strangled her. Eric agreed to keep Wyatt in the company.
Quinn seduced Bill again when Brooke came in and Bill wanted Brooke back so he stuffed Quinn in the closet. Bill ended back up with Brooke. Quinn blackmailed Bill by making him give Wyatt the Spencer last name if she doesn't tell Brooke.
Hope thought she was pregnant with Wyatt when Liam found the receipt for a pregnancy test thrown in the bushes of Bill's. Liam rushed over there and panicked while Hope took it again and revealed that she is not pregnant and is so relieved. Wyatt wanted to take Hope camping again when he had a quick phone call. In that time, Liam got in the truck and drove her to his place angering Wyatt and Quinn. Liam tried to get Hope to remember the good times in this place but and they kissed. Hope called Wyatt to pick her up and Hope stuck with Wyatt. Liam and Quinn were about to butt heads but Liam made it clear that he's not giving up. Wyatt tells Quinn that if Hope goes over to Liam's tonight she'd be dating them both (which Hope's mother Brooke has done with two half-brothers). Quinn wanted Wyatt to fight for her but Wyatt trusted Hope but didn't know what she was gonna do. Of course, Hope does and dates them both which she goes back to talk to Wyatt who only cares about romancing her right now.
Quinn and Bill secretly had sex a couple of times and Quinn took a picture on her camera of them in bed and blackmailed Bill that she'll keep quiet about it and won't expose it to Brooke, who Bill is back together with, if he supports Wyatt and Hope's relationship and makes Wyatt a Spencer. So Bill officially had Wyatt's named changed from Wyatt Fuller to Wyatt Spencer. Quinn was still upset that Bill didn't tell Wyatt that he would support Wyatt and Hope's relationship. Quinn then admit to Bill that she wanted Bill out of her life and her son's because she knew she would become obsessed with Bill.
Selfie Scandal and Attempted Murder
Bill and Brooke left for Abu Dhabi and Dubai to get married. At a Forrester meeting, Ridge disliked Quinn and Wyatt's jewelry and was distressed about Bill and Brooke. Quinn showed Wyatt the selfie of her and Bill in bed. Wyatt was against her doing anything with it because they could lose everything. Quinn sent some jewelry photos and the picture of Bill and her to Ridge. Quinn told Ridge that they had an affair even though it really wasn't an "affair". Before leaving, Ridge told Eric who was shocked. Eric confronted Quinn about this because he thought she hated Bill. Quinn claimed she was lonely and "what you and I had, well that's not really relevant right now". Ridge left for the Middle East and sent called Katie telling her about it and sent her Quinn's picture. Katie confronted Quinn and was upset that Quinn was the reason her fiance was half way around the world with her sister. Just after Bill and Brooke exchanged their vows, Ridge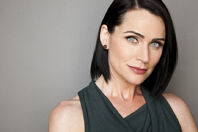 showed up to break them up. After exchanging their vows, Ridge showed up and yelled "Logan". Ridge showed Bill and Brooke the picture and Ridge punched Bill and took off with Brooke. Bill chased after them. Ridge took Brooke to a helicopter to take her back to L.A. Bill nodded to the pilot who was Justin Barber. The jet was Spencer Publication's. Bill into his walkie talkie told Justin to cool him off and Justin moved the helicopter and Ridge who was not strapped in fell into the ocean. Everybody back in L.A. blamed Quinn for Ridge's possible death.
Quinn Fuller had just been fired from her job at Forrester Creations. Quinn entered a bar and started drinking. Deacon Sharpe sat next to her and started talking to her. Quinn explained she had a terrible day. She lost her job, son, and life. Quinn later mentioned that her son, Wyatt is in love with a girl which she later mentions as Hope Logan.
Quinn saw his face and asked if he knew her. Deacon said" Know her? Honey, I'm her daddy". Quinn was shocked to hear this. Deacon lets Quinn know that he talked to Hope and Ridge is still alive. Quinn was happy and relieved. Quinn and Deacon talked about Hope, Liam, and Wyatt. Deacon got a text from Quinn to come over to Quinn Artisan Jewellers Penthouse. Quinn asked if he has heard of Wyatt fro Hope in which he said he has. Quinn plans for her and Deacon to get Wyatt and Hope together again. Deacon needed something in exchange and told her he needed a place to stay. He asked to stay there and Quinn allowed him to stay in the penthouse. Deacon told her he can see what he could do. Hope had told Brooke and Liam that Deacon paid her a visit. Deacon asked Hope if she was over Wyatt while Hope stalled the situation. He told her she didn't answer the question. Deacon came by Deacon's and talked about Wyatt's situation over a few drinks.
Seriously Sadistic
Quinn stabbed Liam with his sword and says "Live by the sword, die by the sword". Liam saw this as a threat. Quinn came by Liam's at night and scared him while he took a flashlight and looked out the window and saw Quinn's face. Liam was shocked and tripped spraining his ankle. Liam told this to Hope who told Wyatt. Hope came over to the penthouse and questioned Quinn while Deacon eavesdropped unseen. Quinn lied to Hope and went to Liam's again. Quinn kicked him and told him she'll kill Hope too before she sees him with you. Liam and Hope told Wyatt who talked to Quinn. Later, Quinn made a sword and finally let Deacon see. Quinn left as Wyatt came. Deacon informed Wyatt about Quinn. Wyatt left while Quinn was threatening to kill Liam with the sword. Wyatt arrived just in time to push Quinn out of the way and save Liam. Wyatt told her she's done and Quinn teared and left. Wyatt thought about contacting the police but Liam told her to let her go. Wyatt, Liam, and Hope told Bill and Brooke about this and Wyatt got a phone call. A doctor said that his mother checked herself in to the mental care facility last night and she's getting help. She told him Quinn still loves him and will reach out to him when she gets better. They were all happy for Quinn. Quinn texted Wyatt and apologized for what she did to him, Liam, and Hope.
Regular Routine: Peril in Paris
Quinn called Wyatt up to meet her at the Penthouse. It's only been a short time in treatment but she claims she's an in-and-out patient and is still going for treatment. When she asked what she missed, she's surprised to hear about Wyatt receiving The Hope For The Future Diamond from recently passed away, Ricardo Montemayor, and that he gave it to Hope. She was sad to hear she's still with Liam but excited to hear that this caused a problem for them. While Wyatt was in Paris doing the photo shoot for Hope and the HFTF Diamond, Wyatt called Quinn and said that Hope's expecting Liam to meet her by the Eiffel Tower or else that's it. Wyatt immediately regrets saying that. Quinn put on a disguise and followed Liam to the airport. She sat behind Liam on the plane when Ivy Forrester sat next to Liam who just got her work permit to go to Paris. Quinn noticed the attraction between Ivy and Liam and overheard them talking about her. When they arrived in Paris, Liam and Ivy took a taxi in heavy traffic. Quinn hijacked somebody's moped and drove after them. Ivy sat up on a ledge to take a picture of Liam when he gets to Hope. Quinn tapped Ivy and she fell back and plunged into the river. Ivy yelled and Liam stopped to help her but she insisted he go meet Hope.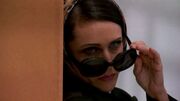 Quinn arrives at a rooftop restaurant near the Eiffel Tower and steals a tourist's binoculars and secretly watches Hope getting aggravated waiting for Liam. Liam ran to get to Hope and mistook her for another girl. Hope had left and was on the Forrester jet to Monte Carlo with Wyatt. Quinn called Wyatt and after informing each other what had happened with Liam being late and Hope running away with Wyatt, Quinn convinced him to marry Hope right then and there. Wyatt and Hope got married on a boat in Monte Carlo.
Deacon is at Quinn's penthouse, played the video of Ricardo Montemayor granting Wyatt the diamond on Quinn's laptop. He noticed her using the words "Fuller, quintessence, and mother". Quinn arrived back in Los Angeles at her Penthouse. Deacon confronted her about being out of treatment so early and their kids being married. Deacon played her the video and his remake from the video saying that Ricardo had been with Quinn once. Quinn claimed he was talking about the diamond and Deacon told her he knew about Ricardo's poisoning and that he's going to send this to the police. Quinn took out a gun and pointed it at Deacon. Deacon backed off.
While Ivy was conversing with Liam in his beach house after Wyatt wanted to move in to Liam's with Hope, Pam and Charlie stopped by. Charlie showed Liam and Ivy footage of Quinn arriving in Paris, stealing a random person's scooter, and pushing Ivy into the Seine. Charlie also dug up Quinn's arrival records from customs. Liam thought this could change everything while Ivy was nervous about her relationship with Liam. Ivy stated she's happy for Liam if Hope makes him happy. Ivy compared her to Brooke again. Liam told Hope who didn't want to believe it. Liam showed Hope the evidence and Hope was confused. She took it out on Quinn when Quinn stated she has a problem with her, not her marriage, anything could have delayed Liam. Would that make a difference? Liam tried to win back Hope but Hope couldn't because she's pregnant. Liam suggested to raise the baby as his own or tell everybody it's Liam's and marry him. Hope didn't want to be like her mother. Hope returned to Wyatt but didn't tell him about the pregnancy because she didn't want him to think he's obligated. Hope then told Wyatt she's pregnant which made him overjoyed and when he told Quinn she was ecstatic. Hope was nervous when Wyatt told his mother. Hope and Wyatt agreed that Quinn can't be part of this child's life. As Wyatt left to tell her, Quinn stopped by. Quinn stopped over while Hope was anxious about her involvement in her and Wyatt's life. Quinn apologized once more and Hope eventually calmed down but restricted her from her grandchild's life and their house. Quinn thought this was unfair and argued with Hope. Wyatt was going to tell Quinn the same thing. At the same time, Deacon started having romantic feelings for Quinn and had kissed her twice. Deacon stopped by Hope and Wyatt's to announce he has a woman in his life. Quinn came in and Hope was shocked. Hope didn't want to accept this and exiled Quinn from the baby's life and Deacon if he stays with Quinn. Hope tried to convince Deacon that Quinn is using him but he denied it.
At Quinn's loft, Deacon tries to convince Quinn that Hope is just trying to protect her unborn child from "Granny", who has a history of threatening people with swords. She balks. He suggests she take up knitting. She says that she gladly would if Hope gave her a chance, and gave "them" a chance.
Quinn claims she just wants to bring peace and harmony into the family. She wants to help Hope prepare for the baby, and she finds it ridiculous that Hope is dictating to her father and throwing temper tantrums. "She's being completely unreasonable", Quinn declares. "Is she? After everything you've done to her?" Deacon asks. Quinn tells him not to let Hope get to him, but Deacon wonders if his daughter is right that this is an elaborate con, with Quinn using him to get him to go to bat with Hope. Quinn denies it. Pointing out that he just told his daughter he's seeing a person he barely knows, Deacon wonders if he's just a means for Quinn to get access to the baby. Quinn asks if all the times they've spent there, sharing beers and laughs while getting to know each other, seemed fake. He says they didn't. Quinn tells him not to let Hope's extremely skewed opinions about her get to him, since Hope doesn't understand how they relate.
Deacon asks if she would have let him move in if he had no connection to Hope. She admits that she let him move in because he's Hope's father, and because she found him useful, but she thinks they're way past that now.
Thinking that he's overstayed his welcome, Deacon refuses to jeopardize his relationship with Hope. Quinn tells him not to let Hope get away with this. "Nobody cons me. Not even you", he warns. Quinn calls him paranoid and accuses him of letting Hope get into his head. Deacon turns to leave, but Quinn calls to him to wait, tosses her jacket aside and announces, "You're not going anywhere". Deacon comes back in, but says that it doesn't means he's staying. "Oh, you're staying", Quinn insists, unbuttoning her blouse. Deacon asks if she's going to make him. Taking off her blouse, Quinn claims that she won't let him leave until he experiences more of what she has to offer. Deacon says he's listening. "You're gonna listen", Quinn says", and then you're gonna do exactly what I say". Quinn kisses him and places her hand on the back of his head and kisses harder and harder. Quinn pushes him on the sofa and wedges her stiletto heel into his chest so he couldn't get up. Quinn demands to know his safe word. "Diamonds", Deacon answers. Quinn smiles and jumps on top of him, tearing her skirt of and shoving her breasts into his face.
Hope, Wyatt, and Ivy were doing a photo shoot in Amsterdam and Quinn is excited to hear that Ivy invited Liam to tag along. Quinn suggested to Deacon flying over there but Deacon insisted she doesn't. Quinn is excited to hear that Wyatt arranged a boat tour for Liam and Ivy to help get Hope and Liam over each other. Quinn stops by the Forrester Mansion for Thanksgiving bringing yams when Hope comes to the door and insists that she's not welcome.
Hope was having her baby shower which Quinn was uninvited to. Quinn overheard Deacon talking to Hope on the phone about it. Quinn planned on stopping by but Deacon tried to convince her otherwise. Quinn walked up to the balcony and hid behind a fake plant watching Hope receive her presents. Quinn dreamt her coming down the stairs begging for Hope's acceptance, and Hope calling her mom and hugging her. While all of the ladies see their way to the garden to play party games, Quinn strolls down the staircase and steals a slice of cake with a napkin over it and leaves. Meanwhile, Liam stopped by Quinn's because he called Ivy making sure Quinn wasn't gonna crash, and was informed that Deacon was with Quinn were together which disgusted him. Quinn entered her penthouse to find Liam asking where she was. Quinn claimed she was out and Liam observed the piece of cake questioning her. She claimed she went to a bakery because she has a sweet tooth. Liam called Hope to meet with her and when they did he told her Quinn had the same piece of cake. Hope was all stressed out and Liam left after telling her he'll always be protective over her. Quinn stopped by and had an argument with Hope. They took it out to the garden. Hope agreed to drop it. Quinn apologized and as she was walking away, pregnant Hope tripped down the patio steps.
Liam called Deacon to the hospital to comfort Hope. Deacon told Quinn the bad news and Quinn felt guilty. Hope awoke the next morning. She wrongly blamed Wyatt for not keeping Quinn away. Wyatt told Hope her problem is that she always wants what she doesn't have. Wyatt tried to convince Hope to work it out but Hope didn't want Quinn in her life anymore and left to go to the Logan Mansion by the patio. While Hope was remembering the incident, Liam came to her and hugged her. Hope decided to leave for Milan to go be with her mother that day. Deacon found Quinn on the roof ready to jump and Bill convincing her to end it. deacon convinced Quinn to stop and comforted her and yelled at Bill for playing with an upset person's mind. Quinn told Deacon she'd understand if he'd want to leave her but Deacon convinced her not to kill herself again because he can't go on without her.
Enraged then Engaged
Quinn began to get nervous with Brooke back in town. Deacon insisted he's committed to her. Brooke texted Deacon to stop by. Brooke had been drinking and explained she's lonely because all the men in her life have left her and she never had to go home without a man to sleep with. Deacon assured her she can always turn to him. Deacon stopped her from drinking and gave her some aspirins and water and left. Brooke put down the aspirins and rank some more alcohol.
Deacon left to grab a bite to eat and ran into Brooke. He sat down with her who was drunk and he carried her to his car while she was embarrassing herself. They arrived at the Logan Mansion when Brooke put on a bikini and started prancing around wanting to go in the pool. Deacon resisted but then kissed Brooke. Deacon apologized and left. Quinn questioned the wait, and deacon explained what happened, subtracting the kiss part. Quinn left to go over to Brooke's who was tipsy and slapped her down to the floor, warning her to stay away from Deacon and her. Wyatt arrived at Quinn's and told Deacon he was concerned. Brooke told Deacon what had happened and Deacon was furious with Quinn. Quinn suggested he'd just leave her if he hates her that much. Deacon stayed and proposed to Quinn, which made her very happy. She held her hand out in acceptance and the ring was placed on. He asked if she loved him, Quinn tried to answer but instead, cupped his check in her hand and kissed him. She opened her eyes for a moment of hesitation, but she closed them again. She deeper the kiss before he grasped her face in his massive hand. She grinned as she was pulled roughly in for another kiss and he bended her lips before they had sex and left the room a mess. Deacon informed Brooke about the big news who didn't approve of this. Quinn was eavesdropping and after Deacon left, Quinn entered and stated they are getting married. Brooke insisted that she won't let this happen. Quinn was wary to this to Deacon about what Brooke said, Deacon stated she can't get in their way. Deacon informed Brooke that he absolutely wants to marry Quinn. Deacon admit to Quinn that he's an alcoholic and started attending AA meetings again. Little did Quinn know, that Deacon met up with Brooke at that very same meeting.
Rick called Quinn up liking to have her stop by his office at Forrester. Quinn was ecstatic and Rick told her and Wyatt that he wants to give Quinn her job back at Forrester. She'd be working competitively with Ivy and Quinn agreed and promised no trouble. Quinn called Deacon, who was at Brooke's, with good news to arrive at Forrester Creations. Deacon arrived and Quinn explained she got her job back and Deacon was ecstatic for her. Quinn hugged Deacon and smelled perfume and Deacon stated he was helping an AA friend whom Quinn mentioned she never knew was a female. Later when Brooke arrived, Quinn sniffed Brooke and realized the scents match. Quinn is upset that Deacon was helping out Brooke all this time! Deacon explained he's just helping out a friend and Quinn was very angry at Brooke but backed off and was proud of Deacon. But Quinn then warned Brooke to find a different friend than Deacon. Brooke was disappointed that her son, Rick, rehired Quinn, and continued to threaten to break up Deacon and Quinn's marriage. Rick then rehired his mother, Brooke, to tag along with the Forrester team. Wyatt overheard Deacon telling Brooke they could have a future together if he wasn't engaged to Quinn. He told his mother who was angry at Deacon at first but afterwards forgave him.
Marriage to Deacon
Quinn and Deacon sent out e-vites to their wedding ceremony. Rick and Maya declined. Brooke stated she's not coming and Quinn asked her to come for Deacon's sake Brooke claimed she wouldn't. Quinn and Deacon asked Carter to be the one to marry them and he hesitantly agreed. Brooke called Hope from Milan to stop Deacon and Quinn's wedding.
On Deacon and Quinn's wedding day, Wyatt was the only guest at his Beach House. Brooke crashed the wedding with a laptop showing a live video chat with Hope. Hope tried guilt tripping Deacon into not marrying Quinn. Hope stated it would strain their relationship threatened to exclude him from her life once again. Deacon told Hope sorry and told Brooke to leave. Wyatt gave Quinn and Deacon his blessing. Quinn had Carter pull out her surprise and he pulled out a jeweled cloth and tied it around their intertwined hands symbolizing them being tied to each other and they got married!
Quinn returns to the company after Ridge, Steffy, and Liam took over power from Rick. Wyatt states maybe marriage did change her. Quinn questions his love life and mentions Hope and Maya's little sister went south. Wyatt explained Nicole was fun but there might be a new woman in his life. Quinn was asking questions. Wyatt turned Steffy's picture around on Ridge's desk. Quinn was shocked but then stated "She's so hot!" Wyatt explained he told her to give them a chance, right after he kissed her. Wyatt also explained Steffy's struggling to get over Liam as well. Quinn tried being friendly with ivy and was shocked when she picked up deportation papers on her desk. Quinn was very supportive and insisted on helping her. Ivy explained she'll lose her boyfriend and her life in the States because he dad didn't fill out the paperwork right. Ivy left to talk to Liam only to eavesdrop on Steffy over there and Liam stating he'll talk to Ivy to make her understand everything. Ivy ran out crying knowing her relationship was over. Ivy explained this to Quinn and Quinn stated she's not being deported or losing Liam. Quinn convinced her the only way to stay in the country is to ask Liam to marry her. Quinn rushed Carter over to Liam's beach house to marry them. Ivy and Liam said their vows and were wed on June 16, 2015.
Poison Ivy
Ivy gives Quinn attitude about the jewelry designs and storms out the door. Ridge calls a meeting and Deacon enters as Ivy leaves. Quinn expresses her complaints about Ivy after helping her. Wyatt stands by Ivy claiming she's taking what she deserves. Quinn and Deacon realize Wyatt is with Ivy which Quinn doesn't approve of. After Wyatt leaves, Deacon persuaded Quinn to bring her complaints to Ridge but Quinn said that she's stepping into her nickname "Poison Ivy" which made her and Deacon both laugh. Ridge originally gives the position to Steffy. Steffy calls a few minutes alone with Ivy to discuss the video Ivy recorded on her phone of the night Steffy killed Aly in self-defense. The video looks like Steffy murdered Aly and Ivy has been blackmailing Steffy and Thomas to get the Face of Forrester. Ivy continues to pressure Steffy and Steffy grants Ivy the position. Ivy returns stating she's the new Face of Forrester making Quinn wonder. Quinn states the obvious choice would be Steffy because she's hot and has experience. Ivy asked what's wrong with her look and Quinn didn't care for them. Quinn still questioned why Ivy was given the position but Wyatt hinted she has something up her sleeve.
Wyatt begins to fall for Ivy much to Quinn's disagreement. When Quinn and Wyatt go on a business trip, Thomas and Ivy are left alone in the Forrester mansion. A thunderstorm rolls in and Thomas seduces Ivy. Steffy overhears Ivy and Thomas talk about it at Forrester and informs Wyatt. Wyatt breaks up with Ivy and Ivy is angry and confronts Steffy in front of an electrical panel causing Steffy to accidentally push her into it. Wyatt arrives at the hospital and forgives Ivy. Wyatt tells Quinn he is going to propose to Ivy which she isn't thrilled about. Quinn eavesdrops on Ivy telling Liam she's still in love with him at Forrester. Steffy and Liam are invited to Wyatt's while he proposes to Ivy in front of them. Quinn barges in and stops the proposal. Quinn calls Ivy out by saying "Tell him you you're really in love with". Wyatt and Steffy are confused while Ivy and Liam don't say a word and stare at each other. Quinn blurts out that Ivy's in love with Liam and Wyatt gets frustrated with his mother. Ivy is speechless and Liam eventually admits Ivy's feelings for him. Wyatt is upset and sends Steffy and Liam away. Wyatt is upset at Ivy and ends things with her for good.
Ivy packs her bags for Australia when Steffy stops her at the top of the staircase. The two cousins argue and Ivy tumbles down the stairs. Quinn and Wyatt appear at the hospital. Wyatt is only glad that Ivy's okay. Liam promises Ivy he'll take her to the airport. Steffy tells Liam all he has to do is show up at her house if he wants to be with her. Quinn encourages Wyatt to go to her later and comfort her. Liam buys two seats on the plane for Ivy and gets on it to make sure she's okay. He goes to the bathroom and turns on the sink which splashes and he falls unconscious while the plane takes off. Wyatt appears at the beach house to comfort Steffy wondering where Liam is. Steffy calls him and leaves a message but he doesn't answer nor respond to his texts. The two share drinks and Wyatt professes his attraction towards Steffy. Steffy and Wyatt cuddle in bed as friends. Liam takes a flight back to L.A. only to find Wyatt and Steffy in bed. Liam shows up to his beach house the next day and calls it quits with Steffy for what she did which makes her confused. Liam quits his job at Forrester and packs up his things. Steffy tries to convince him to stay with her and kisses him. Steffy tells Liam that if he wants to be with her, all he has to do is come to the beach house. Quinn tells Wyatt that she and Deacon are separated because their marriage was doomed from the beginning since he's not a Spencer man, the only ones who have ever been able to truly capture her heart. Wyatt peppers her with questions and she says Deacon is a good man and that he went to Europe to be with Hope. Liam leaves the building and Quinn follows after him. Quinn badgers Liam to leave Wyatt and Steffy alone and Liam faints. Quinn picks Liam up and puts him in her car and drives him to her cabin in the woods.
Adam and Eve
Quinn texts Wyatt to go to Liam's beach house and comfort Steffy. Wyatt takes Steffy out to a fun packed day at the beach. Meanwhile, Quinn lays Liam on the bed in her cabin and keeps a close eye on him while she searches symptoms of concussions on her laptop. Liam starts to regain consciousness but experiences amnesia and doesn't remember who he is or what happened. Liam is grateful for Quinn saving him and kisses her hand. Liam asks Quinn her name and then his. Quinn sees a "New Years Eve" hat and claims her name is "Eve" and that he is "Adam". Liam asks how he knows her and she claims she's his wife. When Liam is resting in the other room, Deacon stops by the cabin. Deacon is wondering what she's up to. He figures she's found someone else and looks in the next room, shocked to see Liam. Quinn explains the circumstances and the Adam and Eve married story. Deacon calls her crazy and wants nothing to do with it.
Quinn tells Liam that somebody keeps calling her and bugging her on her cell phone. He asks if she's told him to stop but she claims he won't listen. Liam asks if it would help coming from a man's voice. Quinn agrees and tell Liam to tell them "It's over", "Don't call this number again" and "Get a life", which she records on Liam's phone. Quinn enters Steffy's office at Forrester while Wyatt and Steffy are called for a meeting. Quinn picks up Steffy's phone, her phone, and Liam's phone on the table. She calls Steffy's phone with Liam's and plays the message. Steffy and Wyatt come back in and Quinn informs Steffy that her phone ringed. Steffy listens to the message and is very upset. Quinn tells Steffy that Wyatt is there for her.
Liam hears "Cha Cha Cha" chicken commercial on the radio and remembers that phrase. He questions Quinn about it and Quinn suggests they order chicken. Liam stares outside and Quinn tries to make their marriage seem more real. Quinn makes love to Liam to try to make him remember. Meanwhile, Wyatt comforts Steffy and they make love.
Pointing out that Deacon is unemployed, Quinn puts him to a job. She explains Liam has been asking about photo albums and wedding pictures and asks Deacon to make them seem real. Quinn is ecstatic when Wyatt texts her and informs her that he and Steffy are engaged. Meanwhile, Quinn texts Bill from Liam's phone that he's giving up his position at Spencer's and he should give the position to Wyatt. Quinn calls Wyatt and encourages him to take a stake in his family's company instead of working at Forrester. Wyatt meets up with Bill at his office and is granted the job. Deacon returns with a photo album. Quinn opens up the album and shows Liam pictures of his weddings with Hope and Steffy with Quinn's faces inserted instead of theirs. Deacon is concerned about her and they both go to a specialist to ask about amnesia. The doctor says he may never regain his memory. Deacon asks what she's going to do when Liam snaps out of amnesia. Quinn says "Maybe I'll just have to kill him". Deacon is concerned about Quinn's intentions. Quinn appears full-force about this and Deacon asks if he'll do this, if they could have another chance. Quinn and Deacon share a passionate kiss.
Quinn and Deacon meet on a cliff over the ocean. Deacon crouches behind a rock. Quinn returns to the cabin and tells "Adam" she was at a funeral and is sad over the death of a friend. Liam feels empathetic and wants to make her feel better. Quinn convinces Liam to go for a walk. Quinn starts having possible asthmatic problems but she still convinces him to take that walk. Quinn and Liam make their way to the cliff with Deacon lurking behind the rock. Quinn inches Liam forward and contemplates pushing him. She then intensifies her alleged asthma. Liam becomes concerned of Quinn as she starts trudging through her purse for an inhaler. She can't find it and claims it's in her jacket in thee car. Liam sprints back to go and get it. Deacon approaches Quinn questioning what's going on. Quinn claims now's not the right time because there are people down by the ocean. Deacon moves forward, looking down and says loudly "What people?" Deacon pushes Deacon instead so he can't reveal the his knowledge of Liam's kidnapping. Liam returns with the inhaler and Quinn decides to take Liam back to the cabin.
Quinn calls Wyatt and Steffy the night before their wedding day informing them that she'll be going on a vacation afterwards. Wyatt encourages her to bring the new man in her life to the wedding while Quinn evades a decisive answer. Wyatt is disappointed when Quinn shows up to his wedding without "Adam". Quinn states that she thinks that would be inappropriate since the wedding day is about them. Wyatt thanks Quinn in the middle of the ceremony for encouraging them and believing in them. On April 1, 2016 Wyatt and Steffy get married in an intimate ceremony at the beach where their romance first blossomed.
Wyatt decides to stop by Quinn's cabin before she left for a vacation with "Adam". Wyatt enters the cabin only to find Quinn and Liam kissing. Wyatt is infuriated and Quinn takes Wyatt outside to argue. Quinn explains what happened and tries to convince Wyatt to keep it a secret to save his marriage. Wyatt busts through the door and realizes Liam has amnesia. Wyatt sets Liam straight while Quinn explains part of the story to Liam. Liam remembers Steffy and recognizes Wyatt as his brother. Liam and Wyatt trap Quinn in a closet in the cabin. Wyatt takes Liam down to the path to the beach and shows him the way to Steffy sitting on the beach. Liam runs up to Steffy and they hug and kiss. Liam explains to Steffy that Quinn kidnapped him and he has amnesia. Liam is thankful to Wyatt but still believes that he and Steffy are engaged. Steffy tells Wyatt she needs time to tell Liam that they're married. Deacon returns to the cabin and frees Quinn from the closet and they leave together. Wyatt and Steffy get matching wedding band tattoos. Liam calls Steffy and tries to woo her over but realizes the tattoo on her finger. Liam is distressed to find out that steffy married another guy and even more upset to find out that it's Wyatt. Liam confronts Wyatt and tries to force him to step aside and let Steffy pick the man she wants while Wyatt tells Liam to respect his marriage and accept reality.
Steffy is surprised when Liam decides not to press charges against Quinn, because Wyatt asked him to. Bill calls a Spencer family meeting in his office. Bill tells Liam in front of Steffy, Wyatt, and Katie to respect his brother's marriage and move on, while Katie tries to get liam to understand. Liam reluctantly agrees to respect Wyatt's marriage to Steffy. Liam tells Steffy in private that he will try his best to respect her marriage but he will always have feelings for her.
Liam hears noises in his house one night and takes a flashlight to search for an intruder. He sees a man in the dark and hits him over the head with a shovel. Liam calls Wyatt and Wyatt tells Steffy he's going to the police station. At the station, Liam picks out the man who entered his house. Wyatt realizes that the man's Reverend Rydell who married him and Steffy. The reverend greets Wyatt while Liam is confused. Wyatt informs Liam that he is the reverend who married them. Wyatt admits that he found him online. Liam believes he could be a fraudulent reverend and rushes off to his house where Steffy is. Liam tells her that if her marriage isn't real, she's free to be with him. Steffy makes clear that her vows to Wyatt were real and the love they share is real. Liam gives her a seashell to remember him. Meanwhile, Bill and Wyatt have Bill's old friend, Emmy, research files about Rydell. She concludes that Wyatt's marriage to Steffy is valid. Steffy returns home to hear the good news and is happy to hear the marriage is valid. Bill warns Liam to back off Steffy and respect Wyatt's marriage.
Steffy and Wyatt arrives at her beach house where she finds Quinn holding a spatula. Quinn claims she just prepared them some lunch. Steffy snaps at her for what she did to Liam and all of their lives. Wyatt arrives to find them arguing. Steffy declares she doesn't want Quinn to be a part of their lives. Wyatt approves of her wishes and bans Quinn from their house. Quinn leaves their beach house and watches Wyatt and Steffy hug through the window.
Quinn returns back to her cabin to find Eric there. Eric and Quinn share a kiss. Deacon returns and tries to seduce Quinn but Quinn states that she is dedicated to Eric and that their relationship shall remain a secret.
At Forrester Creations, Eric tells Steffy about his girlfriend but does not mention that she is Quinn. Quinn calls Eric but Steffy answers it. Terrified, Quinn hangs up before Steffy could get on her case.
Bill offers Steffy a job at Spencer on their social media sites. Bill mandates that Steffy, Wyatt, and Liam take a vacation to Monte Carlo to attend the Spencer Summit. Wyatt convinces Eric, who is CEO again, to tag along. Eric, Liam, Steffy, and Wyatt all aboard the Spencer jet. Eric calls Quinn and begs her to tag along, so Quinn aboards a flight in between two annoying, yet nice passengers that does her head in. Wyatt takes photos of Steffy and her glass of champagne. Liam gets jealous and accuses Wyatt of smothering her. Wyatt and Liam bicker over the photos but Eric tries to make peace. Wyatt and Steffy decide to go to bed in their special room on the plane. Liam admits to Eric he has feelings for Steffy and that he wishes Quinn would just break them up. Steffy and Wyatt have fun on the beach by the umbrellas and chairs taking selfies. They are interrupted by Liam who walks over insisting that he saw Quinn. Wyatt doesn't believe Liam saw Quinn and is trying to ruin their fun. Steffy agrees that Liam could have been mistaken.
Outside a limo, Quinn wearing a big, floppy hat kisses Eric. Steffy sees Eric kiss a woman but cannot see her face. Eric and Quinn wave to each other as Eric hops in the limo. The limo drives away and Steffy runs up to meet the mystery woman as Quinn darts away. Steffy chases after her while Wyatt says to a crowd of fans "Is that Steffy Forrester?" Steffy is slowed down by fans but continues to sprint after Quinn. Steffy gets close enough to pull her hat of and Quinn takes a tumble. Steffy is surprised and furious to find out it's Quinn. Quinn stands up and tries telling Steffy that she knows she's upset but her relationship with Eric developed into something real and that she loves him. After freaking out, Steffy slaps Quinn to the ground. Steffy warns Quinn to stay away from her and her family.
Steffy vents to Wyatt about Quinn and how frustrated she is. Wyatt is shocked and appalled that his mother would do this. Steffy says that she's done and can't do this anymore. She tells Wyatt that he has to tell his mother to leave them alone. Steffy freaks out at Eric who believes his personal life isn't any of her business. Steffy forbids Eric from being with Quinn. She demands that he breaks up with Quinn or he loses his relationship with her. Wyatt tells Quinn to take a plane ticket back to LA and leave them alone. Eric tells Quinn he's glad she came and she made him very happy. But he breaks up with her for Steffy's sake and Quinn flies back to LA. Quinn and Eric may have broken up, but have been dating in secret since they arrived back in LA.
That secret is kept until their engagement. Wedding invitations were delivered to the Forrester's. Furious, Steffy and Ridge brainwashed the rest of the family to boycott their wedding by not attending. Ivy is the only person who attends the wedding, making Quinn tell Eric that they should not get married. Eric disagreed and their wedding continued.
The next day, Eric returns to Forrester Creations ropable about no one showing up at their wedding. Each member of the family apologised except for the leaders of the plot - Steffy and Ridge. Eric holds up the marriage certificate that needed to be signed screaming "Once these papers are signed, Quinn will be Mrs Eric Forrester, and there is nothing you can do about it!". After that, Eric collapsed. Quinn ran into the room, calling the ambulance to send Eric to hospital. Steffy blamed Quinn for Eric fainting, but Quinn stated that it was not the case; she was in a different room. Ridge and Steffy fight with Quinn and get her thrown out of the hospital over "harassing" Eric.
Ridge and Steffy return to the office and find out that the marriage certificate is not signed and that Ridge is the power of attorney. After Quinn moves in to the Forrester estate, Ridge kicks Quinn out. Later that day, Carter arrives at the estate and delivers the news of Ridge no longer having the power of attorney and Quinn who does have it. Steffy and Ridge threaten to keep it secret, but when Wyatt eavesdrops on the three having a conversation about it, he doesn't hesitate to tell Quinn. That drives a spanner in the works for Wyatt and Steffy, so they split up and the love between Steffy and Liam blossoms.
Marriage to Eric
Returning to LA, Eric and Quinn couldn't help but resume their relationship with each other. Quinn sneaks through Forrester Creations disguised as a Russian man, "Vladimir Smirnoff", which Steffy found kissing Eric. Steffy recognizes Quinn and pulls her fake mustache off. This makes Steffy feel angered and upset. Wyatt support's Steffy and tries to support her feelings. Quinn insists to Wyatt that her love with Eric is real and that it makes her happier than she's ever been. Wyatt starts to accept their relationship for his mother's sake. Steffy's angered by this and wants Wyatt to support her. Steffy decides to give Quinn an ultimatum, either she breaks up with Eric or Steffy promises to leave Wyatt. Quinn refuses to break up with Eric and tells Steffy she wishes that she and her son can work through this. After many weeks of arguing, Steffy decides to move out of Wyatt's and live with Thomas temporarily. Wyatt vows to stay faithful to Steffy and to work through their separation.
Eric and Quinn plan to get married at the Forrester Mansion in front of their friends and family. They invite all of the Forresters to attend however the only one who showed up was Ivy. Eric feels devastated but nevertheless marries Quinn out of his love and devotion for her. The rest of the Forrester family, including Felicia and Thorne, gather in Eric's office and wait until Eric arrives. They want to use the company's morality clause against him. Eric and Quinn successfully get married with Perez Hilton as their officiate. Eric arrives in his office upset at his whole family. The Forresters try to explain that they were doing this for his own good and Quinn is a danger to the family. Eric calls everybody out on the immoral things they've done but reminds them that he forgave them. Eric collapses on the floor. The family goes to see Eric in the hospital bed, who slips into a coma.
Quinn is in charge of orchestrating the Forrester fashion show. She wants Steffy to wear the showstopper dress which is exactly identical to all the other dresses, just with the jewelry different, to let the jewelry shine. Steffy refuses to show defiance of Quinn. Quinn decides to wear the showstopper, with Ivy being the announcer. Ridge is forced to approach her on stage and give a speech. Although, the Forresters were appalled by the showstopper, it was received with instant acclaim, proving it to be a successful move.
Affair with Ridge
Ridge hides in the bushes at the Forrester Mansion, lurking to see whether Quinn is up to no good. He unintentionally finds Quinn naked, trying out the backyard shower she bought as a surprise for Eric. Quinn hears Ridge rustling in the bushes and asks for whoever that is to reveal themselves. Ridge reveals himself and explains what he was doing there. Meanwhile, Quinn is extremely comfortable and not ashamed at all, and begins flirting with Ridge, making light of him seeing her naked. Ridge apologizes again and leaves the yard.
Quinn offers to model some designs for Ridge while he compliments the outfit and puts jewelry on her. Quinn makes quite a few innuendos about the incident. Ridge realizes Quinn seems attracted to him after that and is seemingly flirting with him. Ridge conspires to steal Quinn away from Eric, to get Quinn out of them company. Quinn twists her ankle and Ridge offers to rub it for her. Quinn thanks him but assumes it just needs some heat, so she roams over to the steam room. Ridge accompanies her and tells her to close her eyes while he massages her feet. Ridge works his way up to her knee, when Quinn feels uncomfortable and dashes out. Outside the steam room, Ivy eavesdrops on Quinn and Ridge debate who's playing games and about her naked teasing.
Eric suggests that Ridge and Quinn go on a business trip to San Francisco together to bond and get over their feud. Quinn is hesitant and insecure but Eric resists. Eric calls and books two rooms for Quinn and Ridge. Ridge calls them back and tells the receptionist to make it one room. Quinn and Ridge get to their room and Quinn immediately realizes what Ridge is doing. Quinn explains to Ridge that he hates her so much that he's trying to seduce her away from his own father. Quinn refuses to fall victim to him like all the other women that did. Quinn opens up to Ridge about her history with men and why she's so complicated. Ridge empathizes with her and tells her the reason Eric fell for her was because he can see who she really is, the woman she's hiding from the world, who is beautiful and amazing. Quinn and Ridge embrace and share a kiss, but then both found it as wrong and decided against doing it again.
At this point in time, Ridge Forrester was engaged to Brooke Logan, but had revealed as much to her as that he wanted to rid the family and his father of Quinn. However, his plan seemed to have taken a turn for the better. He saw that Quinn was changed woman, and her time with Eric has done this to her. Ridge confuses everybody by upholding Quinn, her feelings and her designs. This stuns everybody, but makes Eric very pleased. However, nobody knew of Ridge's ulterior motives.
Ridge and Quinn kissed while Eric was away on business, and again after Zende Dominguez and Nicole Avant's wedding reception - which was caught by Ivy Forrester, who slapped Quinn and told her off for betraying her uncle. Charlie Webber also had suspicions after seeing them together at the wedding and around Forrester Creations, which fell on Pamela Douglas's deaf ears. In all of this, though, the largest suspicions came from Katie Logan, whom not only lived next door but also had a crush on Eric.
Katie watched the two from afar and told Brooke of her suspicions, which she did not believe. On the plane to Australia, Quinn and Ridge held hands, which Katie also saw, and reported to Brooke, which the reply came through as her being nuts. After Liam Spencer and Steffy Forrester's wedding reception on Manly Beach, Quinn and Ridge both went for walks, and ran into one another. Quinn discussed how happy Liam and Steffy are, and that thanks to Eric, she could not be happier either. Ridge agrees that he could not want anyone better for his father. Ridge and Quinn kiss once again, but it was caught by Brooke, whom had gone to join Ridge.
Brooke confronted the two and told Quinn off, while Ridge escaped. After a spar of words and accusations, Brooke set off to tell Eric. Quinn followed. After reaching Eric's apartment, Brooke told him that she needs to have a word with him, and Quinn said the same. Eric needed some time to think, and during this time, Ridge, Quinn, and Brooke met in a room to discuss what had happened and what was to be told. They settled on an agreement - as long as there is no more interaction between Ridge and Quinn, the secret is to be kept from Eric. However Brooke calls of her engagement to Ridge and stays in Australia.
Returning home from Australia, Katie had words with both Ridge and Quinn. She had been told by Brooke and received an apology for disbelief with it. Katie found that this gives her control over Ridge and Quinn, ordering Quinn around, for whatever tasks get left unfilled will result in her husband knowing of the secret. Katie took this as far as getting in on the Forrester Creations jewellery team, alongside Quinn and Ivy. She designed some pieces, but these were deemed mediocre by Eric and Quinn. This resulted in a blowout once Eric had left the room and even Katie holstering a gun at Quinn. However, this was not told either, and was used merely as threat.
Shots Fired At Quinn
In June 2017, shots had been fired at Quinn, on the Forrester Mansion porch. The immediate suspect was Katie, whom had already holstered a gun at Quinn as a sign of threat, holding the secret of her affair with Ridge. Katie was taken into custody and pleaded innocent, to which she also proved herself being.
Quinn decided to pay Katie another visit, but nobody was home. Quinn sees a woman trying to escape the house without being noticed. Quinn asked who she is. She tells Quinn she is Sheila, an old friend of the Logans. Quinn dismisses this as she had never heard of her, but then told this to Eric at home, who asked if it was Sheila Carter - his ex-wife. If so, Eric warned Quinn to stay well away, as Sheila is trouble.
Coming home after being interrogated about the attempted murder of Quinn, Katie finds Sheila in her home. She is immediately frightened and threatens to call the police, but Sheila assures her that she is a changed woman after serving time, and that she should put in some good word for her within the Forresters. Katie messages Eric without Sheila seeing, to which Eric rushes to the scene, questions Sheila's intentions (to which he got the same answers), and proceeds to call Lt. Baker, claiming to have found the shooter. Sheila was taken into custody.
Sheila is interrogated at the police station, and pleads to have known nothing of a shooting. She tries to convince Baker and Eric of her innocence, and the same lines of how her involvement with the Forresters (and the time she had served) has changed her for the better. However, given her track record, and the fact that she had already violated a restraining order from Eric, Sheila was arrested and taken away.
It turns out Sheila was, however, telling the truth. Shots were fired again at Quinn while Sheila was away. Quinn sees them and rushes inside, and hides. Enter a seemingly drunken Deacon Sharpe, whom had arrived after a long disappearance. Quinn tells him to hide, but Deacon reassures her and says that he can deal with them. He calls 911. Quinn thanks him, but Deacon, going for Eric's tequila, goes off at Quinn as to how she can get everything she wants - and leaving him with nothing. He reverts back to being shoved off a cliff, then saving Quinn and housing her, and then her mistreating him and finding solace with Eric. Quinn and Deacon spar and argue for a period, but Quinn is mainly focused on her safety. She asks Deacon to see his phone and check how long it had been since the police called. Deacon reaches into his pocket and grabs a pistol, saying that they both know he faked that call.
Deacon continues his ranting at Quinn while holstering his gun at her, saying that he was the one shooting her, as she deserves not to live knowing she had mistreated him. Quinn fears further for her life, but Katie finds Quinn in this situation while spying from afar with her telescope. Katie calls Ridge, whom had been called to Quinn's guard since the shooting first occurred. Ridge rushes to the scene right in the nick of time, knocks Deacon unconscious and grabs the gun. He then goes to comfort Quinn, as her hero.
Deacon wakes up after Ridge had called the police. Deacon remembers nothing of the incident, however, was told all about it. Deacon explained he is even broker than before and had reverted back to alcoholism. Deacon asked Quinn for money, a place to live, and, preferably, his life back. Quinn said that Deacon tried to kill her, refusing to, before the police and Eric arrive to take him away.
Brooke, Bill and Wyatt were called for comfort and further concern, and Katie came to explain it was her that called Ridge, to which Quinn was grateful. She then proceeded to walk outside, knowing the shooter was gone. Eric got a call from Lt. Baker, saying that Deacon was in the process of being booked, and that Sheila was innocent - however, she had broken the restraining order. Eric had the choice whether or not to continue with the charges, to which he decided not to.
Quinn goes out on the porch again, and Ridge follows. They talk, and Quinn thanks him for protecting her. She then tells him she is falling in love with him, to which he answers back. They share a passionate moment.
Quinn and Ridge kiss again and almost made love when there both conflicted to tell Eric about their affair. However they are both exposed by Sheila when she see's both of them together in the guest house, and that Charlie told her about his suspensions of Quinn and Ridge. Eric didn't believe her and tells Quinn and Ridge to tell Sheila that she is wrong.
Quinn and Ridge comes clean on their affair and how it started and ended. Eric learns that Brooke called off her wedding with Ridge because she caught them kiss, and wanted to tell him but was manipulated by both Quinn and Ridge to keep quiet. Ridge leaves because he gets a call that RJ is in the hospital. Eric is furious and kicks Quinn out of the mansion.
Sheila drops by to get some things for Eric, and Quinn is there. Sheila confronts Quinn on cheating on Eric and demands her to move. Quinn refuses and tries to snatch Sheila's bag, but Sheila threatens Quinn and leaves. Quinn then call Steffy and Liam over to warn them that Sheila may have a gun in her purse and she is with Eric. Quinn and Ridge later talk and tell him that Sheila is with Eric but does not know where he is. Ridge asures her that Eric will forgive her because he loves her. Steffy confronts Quinn, when she informs her that she knows about her affair with her father, when Ridge confessed to her. Steffy berates Quinn for hurting Eric but was not surprised because eventually she would her hurt grandfather.
Eric finally returns to the mansion, and questions Quinn on her ability to be faithful. Quinn apologies to Eric for hurting him, and promises him that it will never happened again. Eric serves Quinn with divorce papers, for betraying him, and challenges her that if she really loves him she would sign them. Quinn signs them and is about to leave, when Eric rips up the papers. Eric gives Quinn a second chance.
Feud with Sheila
When Sheila stops by the mansion, Quinn is there. Both express their love for Eric and argue about Eric. Which lead to both physically fight each other. When Sheila thinks she killed Quinn, Quinn get up and throws a tablet at her knocking her unconscious. Eric walks in and sees Sheila on the floor and is shocked that Quinn knocked her unconscious. Eric decides to let Sheila stay for her to recover. However when Quinn walks into Sheila's room she discovers that Sheila is totally fine, and lied to Eric about still having a concussion, which lead to both women fighting each other again. Eric walks into the room and see's both women fighting. This time Eric decides to kick Sheila out of the house. One day Quinn and Eric are talking and Quinn pulls her back out. Eric hires a young house manager name Matteo, who helps Quinn with her back by giving her a massage. Quinn is happy that the massage worked and recommends Matteo do it more. However on one of the treatments, Matteo makes a pass at Quinn, who quickly caught on, and is furious at him. Quinn is about fire him and tell Eric until Matteo revealed that a woman paid him to make a pass at her, and that she will give him more money if she ended up with Eric again. Quinn learns that the woman is Sheila and tells Eric. Both Eric and Quinn trap Sheila into believing that her plan worked and that Eric is going to leave Quinn. Afterwards at the mansion Quinn and Eric confront Sheila along with Matteo. Sheila for now takes defeat, and leaves.
Rivalry with Pam
In 2018, Charlie Webber proposed to Pamela Douglas, she accepted and at first Quinn did not have a problem with it, until Pam wanted to have the wedding at the Forrester Mansion and take down Quinn's portrait and hang her sister Stephanie's portrait for the wedding day. Quinn wanted to set Pam straight and not her get her way this time, Quinn was tired of being stepped on by Pam. Quinn told Charlie not to marry Pam, and called her crazy. Pam went to the Forrester Mansion to confront Quinn and ended up taking her sister Stephanie's portrait out of the closet, an angry Quinn started arguing with Pam and accidentally kicked the portrait with her designer shoes, causing it to rip. Pam starts crying because the portrait of her late sister is destroyed, Pam tells Quinn to forget it. The wedding was off and Quinn got her way, Quinn seemed very pleased with herself afterwards.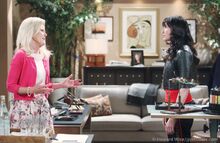 Eric's ex-wife Donna Logan returned to LA and the first thing Pam does is gossip to Donna about Quinn. Pam explained what Quinn did to her, and even went as far as calling her a witch. Quinn overheard them gossiping and worries about what they might be trying to do. Pam told Donna that she would prefer her to be Eric's wife instead of Quinn. Earlier before that, Quinn threatened to destroy Donna if she tries to get near her husband Eric. Quinn caught Eric and Donna having a "honey bear" moment and did not take it very well. In the end, Quinn ended up winning, Pam and Charlie never decided to get married and it's all Quinn's fault.
Re-connecting with old friends from Vegas
Quinn was overjoyed when she found out that her friend from Vegas Shauna Fulton and her daughter Flo were in LA. Quinn left Vegas without saying goodbye and the two had the chance to reconnect. Quinn wanted her friends daughter Flo to go back to her son Wyatt Spencer as the two have been high school sweethearts back in Vegas. Wyatt was Sally Spectra's boyfriend at the time and Quinn didn't like her and wanted Florence to be in her sons life instead. Shauna and Quinn got scared when they realized that they both slept with Bill Spencer Jr. in the past and Flo could be Wyatt's sister. Flo took a DNA test and it was been revealed that Flo is Storm Logan's daughter. Soon Wyatt left Sally for keeping a secret from him and went back to his old love Flo and Quinn was overjoyed. Everything was going great when one day Quinn found out that Flo was involved in a big scheme that wrecked the lives of the Logans and the Forresters. Flo helped Reese Buckingham to sell Hope's daughter to an unaware Steffy Forrester and she kept quiet for 8 months while Hope was sure that her child died. Shauna also knew about the scheme and encouraged Flo to be quiet the whole time. Quinn decided to be loyal to her husband and his family and made it clear to Shauna that she doesn't want to associate with her and Flo. Wyatt left Flo, who soon ended up in jail, and and went back to Sally Spectra II
Forgiving Shauna and a war with Brooke
Crimes Committed
Hacked into Liam Spencer's email to forward a video tribute made for his ex-wife, Steffy Forrester, to his fiancée, Hope Logan (2013).
Slept with Bill Spencer, knowing that he was engaged to Brooke Logan.
Stabbed Bill Spencer in the chest with his sword pendant and licking his blood (2013).
Trapped Liam Spencer in a freight elevator (2014).
Held Aly Forrester over a second story railing (2014).
Trapped Liam Spencer in a steam room, as well as turning the heat up so he would suffocate (2014).
Stole the keys to the Forrester cabin in Big Bear, so Wyatt Spencer could be with Hope (2014).
Stabbed Liam Spencer in the throat with his sword necklace (2014).
Stole a motorcycle in Paris (2014).
Stole a pair of binoculars from a Parisian tourist (2014).
Recruited Steffy Forrester from Paris to break up Hope Logan and Liam's wedding.
Forged a letter from Liam Spencer to Hope Logan to meet him in the cabin so Hope would see Steffy there.
Emailed a photo of her and Bill Spencer having sex to Ridge Forrester (2014).
Pushed Ivy Forrester into the Seine River in Paris (Jul 2014).
Accused of murdering Ricardo Montemayor (2014).
Pointed a gun towards Deacon Sharpe (2014).
Broke into the Forrester Mansion to lurk at Hope Logan's baby shower, knowing that she was uninvited (Dec 2014).
Accused of causing Hope Logan's fall down the stairs of her mother's garden, as well as her miscarrying (Dec 2014).
Slapped Brooke Logan (2015).
Held Liam Spencer hostage after he regained consciousness (Jan - Mar 2016).
Forged a text from Liam's phone to Steffy (Jan 2016).
Took advantage of Liam Spencer's amnesia by tricking him and lying about his identity (Jan - Mar 2016).
Forged a text from Liam Spencer's phone to Bill Spencer (Mar 2016).
Attempted murder of Deacon Sharpe by pushing him off a cliff so he couldn't reveal the kidnapping of Liam Spencer (Mar 2016).
Arrested for kidnapping of Liam Spencer while he was suffering amnesia, (May 2016); charges were later dropped.
Dreamed about striking Katie Logan over the head with a candle holder (Dec 2016).
Had an affair with Ridge Forrester, while married to Eric Forrester (2017).
Threw a purse at Shelia Carter causing her to fall on the ground, bleeding (Sept 2017).
Told Charlie Webber not to marry Pamela Douglas because she is crazy (Oct 2018).
Threatened to destroy Donna Logan (Nov 2018).
Encouraged Wyatt Spencer to breakup with Sally Spectra II (Mar 2019).
Encouraged Shauna Fulton to make moves on Ridge Forrester while he was married to Brooke Logan.
Spiked Brooke's juice with alcohol (Jan 2020)
Slapped Brooke Logan after Brooke slapped Quinn's friend Shauna Fulton for kissing her husband Ridge Forrester (Jan 2020)
Asked Shauna Fulton to send a text to Carter Walton from Ridge Forrester phone informing him to divorce him and Brooke Logan.
Encouraged Zoe Buckingham to get revenge on her sister Paris Buckingham by adding laxatives to her drink to ruin her date with Zende Forrester Dominguez. (2021) http://tvmegasite.net/transcripts/bb/older/2021/bb-trans-04-06-21.shtml and https://soaps.sheknows.com/the-bold-and-the-beautiful/recaps/596220/bold-beautiful-quinn-urges-zoe-get-revenge-paris/
Slept with her husbands employee. (2021)
Lied to Zoe Buckingham that she still is trying to help her to get Carter Walton back, but instead she slept with him. (2021)
Told Paris Buckingham that her sister Zoe Buckingham spiked her drink, but didn't reveal that she herself encouraged Zoe to do it. (2021) http://tvmegasite.net/transcripts/bb/older/2021/bb-trans-06-14-21.shtml
Threatened to destroy Paris Buckingham's life if she reveals that she was cheating on Eric. (2021)
Lied to her husband Eric Forrester that she didn't sleep with Carter Walton when Brooke Logan Forrester and Paris Buckingham outed her. (2021)
Continued to sleep with Carter Walton in secret. (2021)
Threatened Donna Logan after Donna tried to make a play on her husband Eric Forrester (2021) https://soapsspoilers.com/bold-and-beautiful/recaps/Quinn-threatens-donna-life-quinn-confronts-eric-fire-donna
Revealed Zende's secret about him wanting to propose to Paris Buckingham to Carter Walton (2021)
Hospitalizations and Maladies
Videos