Li Finnegan
Naomi Matsuda as Li Finnegan
The Bold and the Beautiful
Portrayed by
Naomi Matsuda
Current status
Present, Recurring
Duration
2021-
First appearance
August 2, 2021
Created by
Bradley Bell
Profile
Occupation
Doctor

Relationships
Spouses
Jack Finnegan
Li Finnegan is a character on The Bold and the Beautiful, portrayed by Naomi Matsuda since August 2, 2021.
For now, Finn Finnegan and Steffy Forrester have been enjoying their new little boy, Hayes Forrester Finnegan — and have already had their fair share of drama surrounding Liam Spencer's incarceration and all of the events leading up to it. Finn recently made it very clear that he didn't want to wait a moment longer and presented his fiancée with wedding rings — and a proposal to get married as soon as possible.
Hopefully they will have a little more time to bask in their happiness before a bomb is dropped surrounding Finn's parents and the past they shared. Expect to see Finn's mom Li, played by Days of our Lives alum Naomi Matsuda (ex-Tori Narita), arrive shortly after Jack Finnegan on Monday, August 2, 2021.
Storylines
Getting to know Steffy and Hayes, finding out the truth about her husband's betrayal. (2021)
Li and her husband Jack Finnegan arrive in LA where Li meets her future daughter in law Steffy Forrester and her grandson Hayes Finnegan. Li and Steffy instantly take a liking to one another. Her and her husband attend Steffy and Finn's wedding. Her happiness doesn't last long as during the reception, she finds out that her adoptive son's biological mother is Sheila Carter and that she is responsible for many crimes against Steffy Forrester's family. A few days later, her husband Jack Finnegan reveals that he and Sheila Carter had an affair behind her back and her adoptive son Finn Finnegan is Jack's biological son with Sheila. Li is heartbroken that her husband lied to her for so many years. She convinces her husband to tell their son, Finn, the truth about him being his biological father. After he confesses to Finn, Finn stands by and comforts his mother, Li. A few days later, they talk things out and return home.
Mourning the death of her son (2022)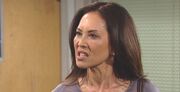 Finn died after getting accidentally shot by his biological mother Sheila Carter. A heartbroken Li went to the hospital to check up on Finn's wife Steffy Forrester that was in a critical condition after also getting shot by Sheila. Right when Li arrived Sheila walked up to her and asked if she could see Finn one last time. Li made it clear that Finn is her son and she's taking care of him. Li looked very annoyed with Sheila who repeated a couple of times that she is also Finn's mother. Li pointed out that Sheila gave Finn up when he was a newborn and insisted that she won't let Sheila see his body. Li also declined when Taylor Hayes and Ridge Forrester wanted to help her with the funeral and told them to concentrate on Steffy's while she will organize everything on her own.
Maladies and injuries: