Jesse Graves
Ricky Paull Goldin as Jesse Graves
The Bold and The Beautiful
Portrayed by
Ricky Paull Goldin
Current status
Former, Recurring/Minor
Duration
2013
First appearance
May 14, 2013
Last appearance
May 16, 2013
Created by
Bradley Bell
Introduced by
Bradley Bell
Profile
Family
Graves
Gender
Male
Residence
Los Angeles, California

Relationships
Romances
Maya Avant
Children
Unnamed daughter (deceased)
Jesse Graves
is a minor character in The Bold and The Beautiful. He is portrayed by
Ricky Paull Goldin
.
Background 
Edit
When Jesse Graves was a teenager he was in a relationship with Maya Avant. Maya claimed to have gotten pregnant at 14 with Jesse. Jesse apparently had a gun with them in the car and Maya was wrongly sent to jail. Maya had a restraining order against Jesse once she was freed. Maya reveals in 2015 to her little sister, Nicole Avant, that she is a transgender woman, and thus cannot get pregnant herself. Maya states that the baby was Jesse's with another woman, and she raised her like her own, but once she was sentenced, the baby was sent to a foster family who died in a car crash.
Storylines
Edit
Powerful wealthy
Bill Spencer
wanted his niece
Caroline Spencer
to return to her boyfriend Rick forrester but Rick chose
Maya Avant
over her. Bill had his assistant
Alison Montgomery
and his loyal attorney
Justin Barber
to dig up some dirt on Maya. They concluded Maya is an ex-convict. Bill knew Rick was going to take Maya to a party where Rick's friend
Othello
is DJ'ing. Bill sent Alison out to do the dirty work. Alison went to meet Jesse at a casual restaurant and showed him piles of money and told him what to do. Alison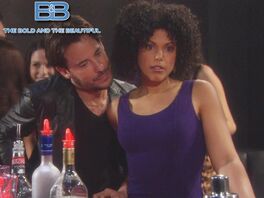 made it clear he gets half now and half when the job is done. At the club, which Caroline had Rick drag her to, once Rick left Maya for a little bit to converse with Caroline, Maya spotted Jesse in fear. Maya bumped into him and asked him why's he here. Jesse had her calm down a bit and they started casually talking. Alison dressed up as a dork for disguise, snapped a few pictures of them together. Bill did get these pictures eventually. Alison who came to Maya's apartment made her break up with Rick. Maya who didn't even know who she was got threatened by her and broke up with him. Maya soon told this all to Rick. Rick realized this must have been Bill's assistant Alison. Rick then threatened Bill that if he keeps threatening Maya he'll fire Caroline (who didn't know about Bill doing this until later) and Bill stopped.
Community content is available under
CC-BY-SA
unless otherwise noted.