Jurassic World: Dominion Dominates Fandom Wikis - The Loop
Play Sound
James Warwick
Ian Buchanan as James Warwick
The Bold and the Beautiful
Portrayed by
Ian Buchanan (1993-1999, 2004, 2008, 2009, 2011, 2017)
Current status
Former, Contract
Duration
1993-1999, 2004, 2008-2009, 2011, 2017
First appearance
October 6, 1993
Last appearance
August 29, 2017
Profile
Family
Warwick family
Gender
Male
Occupation
Psychiatrist
Residence
Los Angeles, California
Dr. James Warwick is a fictional character on The Bold and the Beautiful, portrayed by Ian Buchanan from 1993-99 originally. He returned in 2004 and once again in 2008-09 and then 2011. Buchanan last returned to The Bold And The Beautiful as James Warwick in August 2017 for a short stint.
Storylines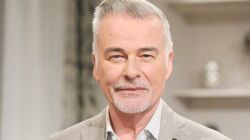 James Warwick is a world-renowned psychiatrist. He first arrived in Los Angeles in 1993 as a former professor to Dr. Taylor Hayes. This time Taylor's mentor was his patient as he confided in Taylor that his lady love named Sophia was dying and needed help adjusting to letting her go, as well as the death of his father years ago. Wanting to help him out, Taylor did some research and discovered that James' father Damon was alive and well, living in Scotland. James heads to Scotland and confronts his father and realizes that his own insecure feelings came from his mother dying during childbirth which put a distance between himself and Damon. James soon also realized that Sophia never really existed. James soon found himself falling in love with Taylor, but she recommended him finding a new therapist finding it to be inappropriate for a patient having feelings for his therapist. James then began seeing Taylor's rival, Brooke Logan, curious to learn why Taylor had such fear of her. Their relationship didn't last long as Brooke insisted that Taylor's husband, Ridge Forrester, accompany her to Paris for a business trip. Taylor became distraught after finding out Brooke and Ridge left the country together and took off to the Forrester cabin in Big Bear. James soon followed her there. However, their union is cut short when a massive earthquake demolishes the cabin, trapping them in the rubble. Worse enough, the earthquake struck during a blizzard at Big Bear and Taylor and James feared they would freeze to death before rescue would find them. Convinced they were going to die, James confessed his biggest secret to Taylor: he was still a virgin. Taylor fulfilled his wish and made love to him as he didn't want to die a virgin. They were rescued several hours later, both making a full recovery and kept their sexual encounter a secret from others. Taylor remained committed to Ridge while James returned to Brooke. Several months later, Taylor left Los Angeles to attend a therapy conference in Egypt and left a letter to Ridge about her unfaithfulness. Her plane suddenly crashed in the ocean near Morocco and she was presumed dead as her body was never found in the wreckage. After Taylor's "death", a devastated James became closer with Brooke and even proposed marriage to her, which she accepted.
James returned in 2017 at the behest of Eric, who wanted James to privately examine the supposedly rehabilitated Sheila after she sustained a concussion during a catfight with Eric's new wife, Quinn Fuller. James was horrified to learn that Sheila had found out from their daughter Mary about an addiction he'd had to painkillers, during which he'd illegally written himself prescriptions; James was forced to downplay Sheila's recovery to Eric, whom Sheila wanted back, in order to keep Sheila from exposing his crime. James even lied to Brooke, who wanted the recuperating Sheila out of Eric's house. James then disappeared, his addiction secret apparently intact.
Crimes Committed
Maladies and Injuries
Created a delusion of a nonexistent lover and deceased mother (1993)
Badly injured his leg and nearly froze to death after an earthquake in Big Bear (1994)
Malnourished while held captive by Sheila Carter (1995)
Addiction to painkillers (sometime between 2011 and 2017)