Jurassic World: Dominion Dominates Fandom Wikis - The Loop
Play Sound
Brooke Logan
Katherine Kelly Lang as Brooke Logan
The Bold and the Beautiful
Portrayed by

Catherine Hickland

(1987)


Sandra Ferguson

(1997)
Katherine Kelly Lang (1987-present)
Current status
Present, Contract
Duration
1987-
First appearance
March 23, 1987
Created by
William J. Bell
Profile
Family
Logan family
Henderson family
Fullname
Brooke Logan
Nickname(s)
Logan (by Ridge)
The W**** Of Beverly Hills, The Slut from the Valley (by Stephanie, Katie & Sheila)
Mrs. Forrester (by Maya)
Namesake(s)
Bridget Forrester
Gender
Female
Occupation
Executive at Forrester Creations
Businesswoman
Residence
Logan Mansion
200 North Beston Place
Los Angeles, California
Opening Theme Headshot
Sandra Ferguson as Brooke Logan
Catherine Hickland as Brooke Logan

Relationships
Parents
Stephen Logan
Beth Henderson (deceased)
Siblings
Storm Logan (deceased)
Donna Logan
Katie Logan
Spouses
Eric Forrester (1990-93, 2005-06)
Ridge Forrester (1994-95, 1998, 2003-04, 2004-05, 2009-11, 2012, 2018-)
Grant Chambers (1997)
Thorne Forrester (2001)
Whip Jones (2002)
Nick Marone (2006-07)
Bill Spencer (2017-18)
Romances
Dave Reed
Doug Sprain
Connor Davis
James Warwick
Pierce Peterson
Victor Newman (kissed)
Giovanni Lorenzano
Jacques
Deacon Sharpe
Dante Damiano
Oliver Jones
Thomas Forrester
Enemies
Taylor Hamilton
Stephanie Douglas
Sheila Carter
Shauna Fulton
Quinn Forrester
Children
Rick Forrester
Bridget Forrester
(with Eric)
Hope Logan (with Deacon)
R.J. Forrester (with Ridge)
Jack Marone (with Nick)
Grandchildren
Eric Forrester III (stillborn, via Rick)
Nicole Marone (granddaughter, via Bridget, stillborn)
Logan Knight
Lizzy Forrester
Beth Spencer (grandchild, via Hope)
Grandparents
Helen Logan (paternal grandmother; deceased)
Nieces and
nephews
Marcus Forrester
Will Spencer
Flo Fulton
Rosie Forrester (great-niece)
Other relatives
Liam Spencer (son-in-law via Hope)
Brooke Logan Forrester (formerly Chambers, Jones, Marone, and Spencer) is one of the core original characters of The The Bold and the Beautiful. Brooke is the oldest daughter of Stephen Logan and Beth Henderson, the younger sister of Storm Logan, and the older sister of Donna Logan and Katie Logan. She has five children, Rick Forrester, Bridget Forrester with Eric Forrester, Hope Logan with Deacon Sharpe, R.J. Forrester with Ridge Forrester, and Jack Marone with Nick Marone. The character has been portrayed by Katherine Kelly Lang since the show started in 1987. Katherine Kelly Lang and John McCook are the only actors left who were here from the beginning of the show. In 2022, both of them, marked 35 years that they've been with the show when it started in 1987.
Engagement to Dave Reed
At the start of the series, Brooke is dating Dave Reed, a police officer. After escaping an attempted rape, she finds comfort and protection in Dave and he soon proposes to her. The engagement is broken off after Brooke meets and falls for Ridge Forrester while helping her mom cater a party at the Forrester mansion.
Getting Involved with the Forrester family
Brooke is a very complicated woman. Brooke often follows her heart, she is always looking for love & her destiny. Until she does, she is often doomed to making the same mistakes when it comes to men. Additionally, because of her bad personal decisions she is often hurting the women closest to her (Bridget and Katie) at the same time. She's had the most marriages out of any other character. Brooke's had many marriages, most to Ridge Forrester, who she considers to be her true love. The two have a complicated history. Their multiple marriages and unconventional break ups with others are often covered in the press. Brooke met Ridge at a party catered by her mother and instantly fell in love. Ridge became engaged to Caroline Spencer and Brooke set out to win Ridge over after Caroline ended the engagement at the alter after finding out Ridge had slept with another woman.
Conspiring with Thorne to keep Caroline and Ridge apart, Brooke finally became engaged to Ridge after she ended up pregnant but was dumped by Ridge after she tragically lost their baby. Eric comforted Brooke and ended up pregnant by him, later she got pregnant. Stephanie and Brooke continued a huge rivalry that carried through until Stephanie's death where Stephanie finally apologized to Brooke when she was dying of cancer for the way she had treated her over the years and Brooke apologized for hurting her too. Stephanie told her that she shouldn't have interfered with her and Ridge over the years also. Brooke spent all of Stephanie's last days with her and Stephanie died in Brooke's arms.
Brooke also had a huge rivalry with Stephanie's daughter-in-law and friend Taylor Hayes. Taylor was Caroline Spencer Forrester's oncologist. After Caroline died, Ridge started seeing Taylor. This started on the longest greatest triangles as Ridge bounced back and forth between the two women. Ridge remained loyal and faithful to whichever woman he was with but didn't want to let either go. As for Brooke and Taylor, they never blamed Ridge or held him accountable for his actions, instead they blamed each other.
Both Brooke and Taylor married Thorne Forrester and Nick Marone and been in a relationship with Eric Forrester also. Taylor was also involved with Brooke's dad Stephen Logan and her brother, Storm Logan and her son Rick Forrester. They have shared many of the same men, at different times, always taking them from one another. When Taylor was pregnant with Nick Marone's son, Jack Marone, she needed an egg donation, which Dr. Bridget Forrester, used her mother, Brooke's egg donation by mistake because Brooke had demanded her daughter Bridget test her for fertility so she could have Nick's child first. Taylor was horrified to find out that Jack was Brooke's biological son.
Taylor soon agreed to share custody of Jack with Brooke to provide Jack with biological brothers and sisters. Taylor was also in a relationship with Rick, Brooke's son and they slept together and became engaged while Rick who was her emotional support during Brooke's interference with Jack's upbringing. Her daughter, Phoebe was also interested in Rick and thought they were in a relationship and when she caught them together, Rick ended up fighting with Phoebe in a car, refusing to pull the car over to safety while Phoebe was very angry at him about them, and when Phoebe told him to stop the car, she tried to hit the brakes with her foot, but ended up hitting the gas hard, which made Rick lose control, and they crashed and it killed Phoebe.
Brooke was with Taylor's son, Thomas Forrester but found out later they didn't, after Stephanie hired her grandson to lie that they had sex when Brooke and him got stranded on an island. After that Thomas kissed Brooke in a Brooke's Bedroom fashion show. Taylor also blurted out at Brooke's birthday party, about Brooke's affair with Bill Spencer, Brooke's sister's, Katie's, husband. Taylor went through Dr. Caspary's files which was Katie's therapist and when Katie found out, she fired her as her therapist and was very hurt for what Brooke and Bill for their affair.
Over the years Brooke has been involved with alot of the same men as Taylor, most of the time trying to forget Ridge, who is Brooke's biggest weakness. Most of Brooke's exes still remain on friendly terms with her regardless if the fact they aren't together. Eric Forrester is if her biggest champions regardless of the fact that she had an affair with Ridge when they were married. The Logans and the Forresters have always celebrated the holidays together!
Brooke has contributed greatly to Forrester Creations and was the CEO for a period of time although the company suffered and was forced to sell their gowns on television. She was responsible for B.e.L.i.e.F (stands for Brooke Logan Forrester), Brooke's Bedroom, and the men's line which she had collaborated with Lauren Fenmore on, and Brooke scandalized the fashion world by having a bed in her office and wearing lingerie in her attempts to get Ridge's attention that even caught the eye of the great, Victor Newman. Using her sexuality to promote the line often caused the press to place her in the tabloids. She was called "The $lut from the Valley" by Stephanie because of the fond feelings she got from her husband Eric Forrester and her son Ridge Forrester. Stephanie never thought that Brooke was good enough for her son Ridge, despite the fact that they loved one another and never could stay away from each other.
Marriage to Whip
When there was controversy about Brooke's pregnancy due to her adultery and backstabbing of her daughter Bridget by sleeping with her son-in-law Deacon Sharpe, Whip Jones stood up and said he was the father to Brooke's daughter, Hope to end the controversy of who fathered Brooke's baby. Brooke later married Whip but it was never a real marriage. It ended after Bridget sadly found out about her mother's treachery.
Affair with her daughter's husband Deacon
Brooke had slept with her daughter Bridget's husband Deacon Sharpe. Stephanie slapped Deacon after finding out how that Brooke had betrayed her daughter and it took many months for Bridget to come to terms with the betrayal. Brooke named her daughter Hope, in expectations that she could change her ways especially after promising Stephanie on Hope's birth that she would do better by her children.
As for Deacon, he once tried to get Brooke back by "outing" the fact that he, not Whip was Hope's father. After nearly a year of an affair with Deacon, he had reason to believe that she might love him. After Hope was born, Ridge whom Brooke was seeing again was devastated and disgusted to find out about Hope's paternity. He and Brooke broke up over the reveal.
Later, after Ridge calmed down, they got back together. Ridge later raised Hope as his own daughter while Hope was unaware of the scandal regarding her birth until she was seventeen and overheard Brooke and Ridge talking one day in the office. Brooke however was left aghast to find out years later that Deacon willingly destroyed Hope's marriage to Liam for Bill Spencer in order to get out of prison. A text from Deacon, whom Ridge hated, was the reason for another demise of the Logan/Forrester union when Brooke lied about receiving a text from him. Although it was a text of her telling Deacon to stay away, Ridge blew a gasket about Brooke again lying to him.
Marriage to Nick
Brooke and Nick started dating when Brooke found out about Ridge and Bridget having "feelings" for each other after Deacon revealed he was the father of Hope. Although Ridge realized he didn't have real feelings for Bridget, things became complicated when it was revealed that Nick and Ridge were half brothers. In the end, Brooke chose Ridge over Nick, though they remained close. Ridge and Brooke remarried but Shelia kidnapped him and had Brooke thinking Ridge had died. Brooke had grief sex with Nick, Ridge came back to town alive and Brooke was pregnant. Brooke ended her union with Ridge and decided to do what was right for the baby and still admitted she had feelings for Nick as well. In the end, she found out the baby was Ridge's and they remarried AGAIN and Bridget came back to town and started dating Nick.
Taylor came back from the dead destroying another Logan/Forrester union and Brooke and Nick became close again. Nick spent time with Hope and R.J. (Brooke and Ridge's son) and the two fell in love. Bridget found out she was pregnant with Nicole, and they married. Brooke promised nobody would find out she loved Nick, but Stephanie told Bridget the truth. Bridget and Brooke's relationship was strained once again. Bridget lost her baby and ended things with Nick because he loved her mother.
Ridge and Brooke had reconciled, but Brooke still loved Nick as well. She decided not to marry Ridge, partly because how he left her and their children to run off with Taylor. She married Nick instead. The two had problems when Ridge often stuck his nose in their relationship. Nick thought that Brooke was cheating on him with Ridge, got drunk and slept with Bridget. Bridget became pregnant and she told Brooke the truth. Brooke left Nick for Ridge and Bridget miscarried. Years later after another failed marriage to Bridget because he had an affair with Katie, and she became pregnant, Taylor and Nick got together. Taylor and Nick were having a baby, and needed an egg donation Bridget, used Brooke's egg, accidentally. When Taylor found out, she was left devastated.
Nick and Brooke remained close friends. She even supported him when he started dating her sister Donna. However, their friendship hit a bumpy road when Nick stole designs from Forrester ruining the work of Brooke's then husband Ridge. Brooke was devastated that Nick would be willing to do such a thing to her, Nick in turn was saddened by the result.
Donna's Marriage to Eric
Stephanie then hired a guy Andy who liked Brooke to break up Brooke and Eric. What she didn't know was Andy was a stalker and raped Brooke. Brooke's younger sister Donna also had a rivalry with Stephanie over Eric in which Donna also married Eric but it did not last long because of Stephanie.
Generational Rivalry
Stephanie's granddaughter and Taylor and Ridge's daughter, Steffy Forrester, and Brooke have somewhat of a fued, because Steffy, and Brooke's daughter, Hope Logan were both in love triangles of Oliver Jones and Liam Spencer.
When Katie told Brooke she was having a baby with Nick, Brooke slapped her because at the time, Nick was dating Bridget. Both Brooke and Bridget had urged Nick to take a 'dying' Katie off somewhere and make her last days, special but nobody expected Katie to come up pregnant. Losing her baby, Brooke felt saddened for her sister and allowed Jack, her son by Nick to spend time with Katie to help cheer her up because of her loss. After a plane crash, Brooke and her step-son, Thomas Forrester, ate magical berries and got all loopy, and were naked with leaves covering them. However Thomas lied and stated that he had had sex with Brooke because Stephanie bribed him with her Forrester stock.
Brooke and Ridge's marriage faltered and just as Ridge was poised to remarry Taylor, Thomas told the truth which caused Ridge to break things off and go back to Brooke. Brooke also had accidental sex with Hope's boyfriend Oliver Jones at a pool party, thinking he was Ridge and Oliver thought she was Hope. Steffy had a tape that exposed this scandal at Hope's graduation party. Stephanie was dying of cancer and as she lay dying, Eric needed to leave so she asked for Brooke to come sit with her because she didn't want any of the other family suffering, and wanted to get Brooke to promise to continue to do right by her family after she was gone!
Ridge, now played by Thorsten Kaye...however has not mentioned why he did not come back for his mother's funeral nor indicated that Brooke who was there for his mother when she died nor the time she spent with her in her last days.
Affair with Bill
Brooke's sister Katie was married to Bill Spencer Jr., Katie, already having suffered through a heart transplant, became pregnant and delivered a child whom they named Will. She slipped into Postpartum Depression and worried about who would take care of her son if she died. Meanwhile Ridge had left Brooke over the text from Deacon and cut off all contact with her. Katie sent Brooke and Bill to Aspen hoping to create a relationship between them so Brooke could raise Will.
A strong bond formed as Brooke and Bill lamented about the abandonment they received from their spouses. When Stephanie died in Brooke's arms Bill was there for her and they kissed. Katie was found but not before Brooke and Bill fell in love with each other. Brooke turned her attention back to Ridge while Katie and Bill tried to work on reconciliation after it was found out that Katie had mental issues after birthing Will. Bill and Brooke continued their flirtation and relaunched the Bedroom line.
Katie walked in on a barely dressed Brooke tipsy on top of Bill on a bed and freaked out. Katie demanded that Brooke stay away from her husband and demanded that Bill tell Brooke that nothing would ever develop between them. One night Brooke and drunken Bill crashed into each other. Brooke brought Bill to her house to make sure he was okay. The police cop was on the street so Brooke kept Bill there to avoid suspicion. Katie called and Brooke refused to let Katie talk to Bill. Katie came to the house and found Brooke in a robe in bed with Bill although nothing had happened. Katie went ballistic and gave her ring back to Bill and stormed off.
Brooke and Bill gave into their passion and made love. However Katie had another heart attack, Brooke then told Bill to go back to Katie and that their time together would be nothing more than a lovely memory. Brooke found out from Dr. Caspary she's pregnant with Bill's child. Brooke told her sister Donna but she kept it a secret. Then Brooke tried to seduce Eric and told him about the baby and asked if he would claim paternity. Eric declined, because he was in a relationship with Taylor at the time.
Brooke's Affair Revealed
Taylor sneaked into Dr. Caspary's files and found out Brooke was pregnant but her body miscarried. At Brooke's birthday party (hosted by Katie in Katie and Bill's house) when Donna and Katie were admiring Brooke, Taylor stated that Brooke got pregnant with Bill Spencer's child and miscarried it. Katie asked Brooke if it was true. Brooke couldn't answer because she was so ashamed. Katie forced everyone out and was very angry with Bill and Brooke. Bill told Katie she was partially responsible by pushing them together but was sorry. Bill stated he wanted to make things right but Katie refused. Katie asked Bill if he loved Brooke and he refused to answer, Katie and Bill filed for divorce. Karen Spencer, Bill's opposite sister who didn't approve of him nor Brooke helped Katie through this divorce.
Katie asked for 1% of Spencer Publication's degrading Bill to 49% and Karen had 50%. Katie, with Karen's permission fired Bill and Katie took his place. Brooke then came to visit at Katie's new office and continually stuck up for Bill. This caused another rift between Katie and Brooke. Brooke then slapped Katie. Brooke went to confront Katie but Katie snapped and Brooke left. Rick then told Brooke that Hope was engaged to Liam again (after 2 stopped marriages) and Brooke was very happy. Donna then had a confrontation with Brooke. Donna told her that this isn't all of Katie's fault and Katie's never going to forgive her if she keeps sticking up for Bill so Brooke apologized to her sister.
Katie lied about working late and asked Brooke and Bill to babysit Will and secretly spied on them through a spy book. Donna walked in and told her that was wrong but Katie had to know if she could trust them again. Katie then put in another spy camera but placed a bottle of alcohol (mainly for Bill) on the table and asked both Brooke and Bill to babysit Will again. Bill went for the alcohol and asked if it was alright and Brooke said she didn't mind at all. Bill realized that he had a bad addiction to alcohol and swore to stop for Will.
Brooke flew to a business trip to Monte Carlo with Donna. Bill alone at Katie's home heard a beep by the baby monitor. He went over and found a spy camera and looked around and found the rest. Donna convinced Katie that she should take Bill back. Katie returned home asking Bill to move back in with her. Bill showed her the spy camera he found (the first one) and told her about the rest. They got into an argument and Bill threw the box at Katie and left.
Bill flew to Monte Carlo to be with Brooke. He told her his marriage was over and that he loved her and wanted a life with her. Brooke tried to get Bill to go back to Katie however he relented that his marriage was over. Brooke convinced Bill that she'd be with him only if he told Katie. She believed that he and Katie would get back together. Katie begged for Bill back. Bill told her straight no and that their marriage was over regardless of Brooke because of their problems. Bill escalated the confrontation and Brooke snapped at Katie and defended Bill once again. Katie blamed the whole thing on Brooke and Katie stated Brooke and Bill have been blaming her for everything the whole time. Bill remarked that Katie planted the seeds of their relationship. The three got into an argument and Bill stormed off.
Katie told Brooke that Brooke did this to Eric, Thorne, and Deacon and now she did it to her husband. Katie called Brooke to her office to tell her she's leaving town with Will for good but she'll still run, Spencer Publications. Katie returned 3 episodes later with Will and wanted Bill back. Afterwards, Bill moved in with Brooke and later proposed to Brooke stating that he knew what he wanted the moment that he went to Monte Carlo and she was the first woman not to be afraid of him. Bill stated that he had been waiting his entire life for her.
Brooke was hesitant because of Katie however Bill cautioned her that his marriage would have been over even if he weren't with her. He didn't love Katie anymore and reasoned that deep down Katie didn't love him, not the real him like Brooke. Although torn because of her sister, she agreed to marry Bill and keep the engagement a secret in an effort to ease her sister into it one day.
Bill's Change of Fate
Bill and Brooke went rock climbing in Aspen, Colorado. After Bill dangled on a cliff, his life flashed before his eyes. Returning to Los Angeles, Bill ended it with Brooke and wanted his family back with Katie. Katie took Bill back and immediately Justin showed up with papers at the doors leasing his company back. Katie without thinking signed them with shared custody of Will. Bill then went back to Brooke hoping to pick up where they left. He claimed that he only lied because he knew Brooke wouldn't go along with it. He planned on a life with Brooke, his son, and his company. Bill lied to Katie just to get his life back. When both found out, they both plotted against Bill.
Bill got his office back and Alison returned with Justin. Brooke replaced the papers with leaves. Bill got angry at her but Brooke didn't give them to him. Brooke threw Bill out and refused to forgive him claiming that when he broke her heart it gave her the strength to finally let go. Bill moved back in with Liam vowing to win her back and also agreed to support Liam and Hope's on-and-off relationship.
Bill has constantly tried to get Brooke to take him back and said that she is the only woman for him. Brooke, though very much in love with Bill, refuses to take him back hoping to mend her relationship with her sister. And although she loves him, she vows never to go back to him because of her sister.
Back to Ridge
In December 2013, Ridge came back for Brooke with R.J. Brooke told Ridge what happened between her and Bill which shocked Ridge. Ridge went to Katie to see her side of the story. Ridge began to support Katie and they began to have some sort of attraction towards each other. Although Bill explained that Ridge was weak and acted as if she wasn't good enough, Brooke wanted to reunite with him mainly for Katie (who unbeknownst to her was sneaking around with Ridge) so she and Bill could reunite.
Brooke believed that this would heal the families. Regardless of her love for Bill she wanted to have a mended family, something she couldn't have if she were with Bill. Bill asked her not marry Ridge and stated that he loved her and only her and always would. He stated that he loved her and was never ashamed her. He was a real man and decisive unlike Ridge who he knew would hurt her again especially when things got tough. Brooke cried when he left but resolved herself to her Density with Ridge hoping to heal the family.
At Brooke and Ridge's wedding, Carter Walton, found a poem he thought represented Ridge and Brooke's relationship which happened to be Ridge and Katie's favorite poem, "Love's Philosophy" and Katie fainted to the ground. Brooke, unaware that her sister was lying about having chest pains, started to worry that something was wrong while Katie and Ridge made eyes at each other. Because Katie fainted, she caused the wedding to be cancelled. In order to keep her mind off of her aborted wedding, Brooke decided to go with Hope on a business trip to Paris. After they came back, Katie told Brooke she had feelings for Ridge.
Brooke thought it was cute that Katie had this "crush" but got furious when Ridge claimed it to be true. After Ridge left, Brooke and Katie battled it out. Later, she talked to Donna about the situation, and Donna told her to go after Ridge. However, Brooke ultimately failed to win back Ridge, as he left her to have sex with Katie. Bill later comes by and tells Brooke to let Ridge and Katie stay together, and asks her for another chance at them being together.
Brooke stopped in, at the Forrester Mansion alone and drank multiple glasses of vodka depressed about her solitude, talking to the picture of Stephanie on the wall. While there drinking, Stephanie's portrait fell and when Brooke felt the picture of Stephanie falling on her, she fainted on the ground. Rick found her and helped her go home.
Back to Bill
Ridge decided to take over Forrester again by firing Oliver because of his below average shots and tried to kick Rick out of his presidency. Ridge felt Hope For The Future was not like Couture. Eric decided to side with Rick after Brooke meddled with the situation and Oliver was rehired. Eric made Ridge and Brooke both co-vice presidents of the company. Eric told Ridge that if he left Katie and went back to Brooke, he could have his job as CEO back. Ridge and Katie were having sex when ridge told her about this. Katie was shocked because she thought that Eric liked her but told him to do it for the position. Ridge decided not to.
Bill went to Brooke's and let her know that he has been patient with her and won't take no for an answer. The two had sex and were in love yet again. Brooke decided to call Katie and let her know that her and Bill are back together as Katie and Ridge were having sex. Katie thought Brooke did this to make Katie jealous or something. Katie went to Eric's office to discuss this. Eric told her that they worked well together and it's a business decision. Katie told Eric that she thinks it's more than that and this is because he wants Ridge with Brooke as Brooke listened closely. Eric left as Brooke came in and Katie blasted Brooke before leaving.
Karen Spencer came back to L.A. and just got done discussing with Justin Barber and Katie Logan that Spencer Publications sales have been going down since Katie took over. Brooke called Karen to have lunch with her at a restaurant. Brooke wanted Karen to fire Katie and either chose herself or Bill to run it. Karen knew that Bill and Brooke were back together. Brooke secretly called Bill to show up without telling Karen and he did. Bill made the point that he accepted Karen being gay when she didn't expect him to. Karen heard both of their points but decided it was best to keep Katie head of the company. Karen admitted that they were a good match for each other. Brooke still kept the papers that Katie signed to return the company to Bill and joint custody of Will.
After Katie lost the company, Ridge proposed to her with a ribbon. When Brooke came over to Katie's, she asked her why she had a ribbon on her finger. Katie rubbed it in Brooke's face and told her that Ridge and her were getting married. Bill then proposed to Brooke and promised a trip to Abu Dhabi and Dubai to get married. Donna told this to Katie. Katie was fine with that but Ridge didn't want Bill raising R.J. or marrying Brooke. Before Bill and Brooke left, Ridge told Brooke not to marry Bill. Brooke left with Bill for Abu Dhabi and Dubai.
At a Forrester meeting, Ridge disliked Quinn and Wyatt's jewelry and was distressed about Bill and Brooke. Quinn sent some jewelry photos and the picture of Bill and her to Ridge. Quinn told Ridge that they had an affair even though it really wasn't an "affair". Before leaving, Ridge told Eric who was shocked. Eric confronted Quinn about this because he thought she hated Bill. Quinn claimed she was lonely and "what her and Bill had, well that's not really relevant right now".
Ridge left for the Middle East and called Katie telling her about it and sent her Quinn's picture. Katie confronted Quinn and was upset that Quinn was the reason her fiance was half way around the world with her sister. Just after Bill and Brooke exchanged their vows, Ridge showed up to break them up. After Bill and Brooke said their "i-do's", Ridge arrived and yelled " Logan".
Ridge showed them the picture which shocks Brooke. Ridge punches Bill to the ground and ran off with Brooke pulling her by the hand. Ridge took Brooke into the helicopter, Bill nodded to the pilot. The chopper flew up when Bill said into his walkie-talkie, "cool him off". The pilot swayed the chopper as Ridge felt his arm and on the sleeve had a Spencer Publications symbol and a black face turned around as Ridge recognized Justin Barber to be the pilot. Ridge fell into the Persian Gulf.
Brooke was freaking out. Katie and Eric heard the news and flew to Dubai. Thorne was later called to show up. Thorne supported Katie who was engaged to Ridge. Bill told Justin not to tell anybody and Justin claimed who would he tell and why would he. Word got out and after Liam made the accusation that Quinn may be the reason Ridge is dead. Rick fired Quinn and Wyatt from the company. Everybody thought Ridge was dead when Brooke found Ridge walking alone on the beach. Katie found Brooke and Ridge hugging. At first Ridge couldn't remember Katie that well. He had suffered some amnesia. After Katie recited their poem, he spoke the last line and remembered her. Back in L.A., the Forresters held a welcoming back party for Ridge and Katie didn't want to rush him but wanted to get married and start where they left off.
Ridge regains his memory and admits Bill drove the chopper. Ridge attacks Bill on his desk at Spencer Publications while Brooke breaks them up. Brooke is disgusted with Bill and breaks up with him. Wyatt and Hope get married in Milan, Italy, because Liam showed up to late to meet Hope. Deacon returns to L.A. and tries to woo Brooke but fails. Brooke later leaves for Milan and tells Katie and Bill they can have a chance to be together. Hope had a miscarriage, falling down the Logan Mansion patio, when Quinn was talking with her and left after making her nervous because she was suppose to stay away from her. After the miscarriage and saying goodbye to Liam, Hope left for Milan to be with Brooke and Wyatt and Hope got a divorce.
Ridge's return to L.A.
Brooke returned to L.A. to Deacon's apartment to get some info on how Wyatt was doing. Deacon asked the same about Hope and Brooke stated she's not coming back to L.A. Brooke also had some words with Quinn before she left. Brooke returns to the Forrester Mansion only to find Maya home in Brooke's lingerie from the Brooke's Bedroom line. Maya welcomed her in and put a red robe on. Brooke was shocked to see Maya's portrait on the wall in place of Stephanie's. Brooke was appalled that they had taken her picture down. Maya stated it's only temporary until Eric comes back. Maya questioned if Rick had told her what's going on and Brooke denied it. Maya stated Caroline turned to someone else. Brooke was astonished and at first she wanted Rick to tell her the story but then changed her mind. Maya went up stairs to change and tried to be polite with Brooke.
Brooke arrived at Forrester Creations wanting to fire Ridge and insisted that Caroline and Rick would work their marriage out and that his relationship with Maya is over. However, Brooke's theory didn't work and Rick remained with Maya as well as Caroline remained with Ridge.
Brooke texted Ridge wanting to talk to him in person at the Logan Mansion. Ridge rushed over there and found Brooke in undergarments and an unbuttoned robe. Brooke explained she wanted to be with him and that they have so much history. Ridge explained he's with Caroline and Brooke called their relationship, a fling. Brooke asked him to look at her and tell her she's not in love. Ridge stated he is in love which Brooke thought was going to be with her but he stated he's in love with Caroline and left.
Friendship with Deacon and AA
Quinn began to get nervous with Brooke back in town. Deacon insisted he's committed to her. Brooke texted Deacon to stop by. Brooke had been drinking and explained she's lonely because all the men in her life have left her. Deacon assured her, she can always turn to him. Deacon stopped her from drinking and gave her some aspirins and water and left. Brooke put down the aspirins and drank some more alcohol instead.
Deacon left to grab a bite to eat and ran into Brooke. He sat down with her who was drunk and he carried her to his car because she was embarrassing herself. They arrived at the Logan Mansion when Brooke put on a bikini and started prancing around wanting to go in the pool. Deacon resisted but then kissed Brooke. Deacon apologized and left. Quinn questioned why he was late coming home, and deacon explained what happened, and left out the part about the kiss. Quinn left to go over to Brooke's who was tipsy and slapped her down to the floor, warning her to stay away from Deacon and her. Wyatt arrived at Quinn's and told Deacon he was concerned about her. Brooke told Deacon what had happened and Deacon was furious with Quinn.
Deacon stayed and proposed to Quinn, which made her very happy. Deacon informed Brooke about the big news who didn't approve of this. Quinn was eavesdropping and after Deacon left, Quinn entered and stated they were getting married. Brooke insisted that she wouldn't let this happen. Quinn was wary about what Brooke said, Deacon stated she can't get in their way. Deacon informed Brooke that he absolutely wants to marry Quinn. Deacon admitted to Quinn that he's an alcoholic and started attending AA meetings again. Little did Quinn know, that Deacon met up with Brooke at that very same meeting. Deacon continued to stop by Brooke's to keep her from drinking and smashed her alcohol bottles in the trash.
Rick called Quinn up asking to have her stop by his office at Forrester. Quinn was ecstatic and Rick told her and Wyatt that he wants to give Quinn her job back at Forrester. She had been working competitively with Ivy and Quinn agreed and promised no problem. Quinn called Deacon, who was at Brooke's, with good news to arrive at Forrester Creations. Deacon arrived and Quinn explained she got her job back and Deacon was ecstatic for her. Quinn hugged Deacon and smelled perfume and Deacon stated he was helping an AA friend whom Quinn mentioned she never knew was a female. Later when Brooke arrived, Quinn sniffed Brooke and realized the scents match.
Quinn is upset that Deacon was helping out Brooke all this time! Deacon explained he's just helping out a friend and Quinn was very angry at Brooke but backed off and was proud of Deacon. But Quinn then warned Brooke to find a different friend than Deacon. Brooke was disappointed that her son, Rick, rehired Quinn, and continued to threaten to break up Deacon and Quinn's marriage. Rick then rehired his mother, Brooke, to tag along with the Forrester team. Wyatt overheard Deacon telling Brooke they could have a future together if he wasn't engaged to Quinn. He told his mother who was angry at Deacon at first but afterwards forgave him.
Quinn and Deacon sent out e-vites to their wedding ceremony. Rick and Maya declined. Brooke stated she's not coming and Quinn asked her to come for Deacon's sake but Brooke claimed she wouldn't. Quinn and Deacon asked Carter to be the one to marry them and he hesitantly agreed. Brooke called Hope from Milan to stop Deacon and Quinn's wedding. Brooke stopped by Spencer Publications to inform Bill and Katie that she was planning on stopping the wedding. Bill was indifferent and wanted the two people he despises to be together.
On Deacon and Quinn's wedding day, Wyatt was the only guest at his Beach House. Brooke crashed the wedding with a laptop showing a live video chat with Hope. Hope stated it would strain their relationship and threatened to exclude him from her life if they got married. Deacon told Hope sorry and told Brooke to leave. Wyatt gave Quinn and Deacon his blessing. Quinn had Carter pull out her surprise and he pulled out a jeweled cloth and tied it around their intertwined hands symbolizing them being tied to each other and they got married! Brooke stopped over at Bill's office again to inform Bill and Katie her attempt failed.
Rick told Brooke he was going to propose to Maya which Brooke was happy for him but concerned that he's just jumping out of one marriage to another. After Brooke and Eric kept favoring Rick over him about his position at Forrester, Ridge decided to quit, which hurt Eric because he's his son and a very good designer. Ridge told Carter that he quit and right when Ridge was fleeing out the door, Carter stopped him to tell him something important.
Carter blurted out to Ridge that Maya is transgender. Ridge was shocked and actually felt bad for Little Ricky. Ridge requested his job back and then told Eric and Brooke who Maya really is. Eric and Brooke were amazed and Eric wouldn't let Ridge humiliate Rick like that. Brooke appointed herself the one to tell Rick. Brooke confronted Maya about her and Rick's honesty and her not being who she really is. Brooke called her Myron and stated she knows. Maya was devastated and asked who told Brooke and she was shocked to hear it was Ridge. Maya stated she'll tell Rick when he proposes which they agreed they both know is soon.
Brooke insisted Maya wouldn't humiliate him like that, down on one knee, to tell him. Maya insisted she won't accept unless he accepts all of her. Maya told Rick the secret up in Big Bear Cabin and Rick was angry but understanding. Bill published Maya's secret through Spencer Publications, making Maya upset and she drove off with Rick racing behind her. Rick accidentally crashed his car off the side of the road. Rick arrived at the Forrester Mansion, very disheveled. Rick insisted he had to find Maya but Brooke insisted he needed to rest. However, Rick and Maya stayed together after the shocking reveal. Maya and Rick got married at the Forrester Mansion. After being married for awhile, Rick and Maya informed Brooke and Eric that Maya's sister, Nicole Avant, was going to be a surrogate to their baby, via Rick's sperm being implanted.
Rick and the Avants took a family vacation for Christmas. Bridget and Hope's flights were canceled to come for Christmas. Brooke was left alone in her mansion, crying and drinking, on Christmas day. Eric stopped by and invited her to the Forrester Mansion for Christmas where she would be surrounded by her friends and family.
Crossing Boundaries
Katie began to get worried with Brooke being alone in her Mansion all the time. Katie invited Brooke to Spencer Publications where she asked Brooke to start working at Spencer with her and Bill. Brooke was hesitant but Katie kept trying to convince her and so did Bill. Brooke agreed to work at Spencer. Bill arrived at the Logan Mansion to speak to Brooke. Brooke was having second thoughts about Spencer. Bill tried to convince her to work with him and Katie. Brooke claimed she isolated herself because of her feelings for him. Bill and Brooke shared a passionate kiss. Brooke restated her reason once again and Bill left. Katie came over, expecting to find Bill here but he wasn't and Brooke was crying.
Katie comforted Brooke and gave her a hug. Bill continued to have fantasies about Brooke at work. Brooke admits to Bill that she's still in love with him and that Katie could never know with Katie overhearing. Katie began having stress related issues and left to another room and collapsed crying. Brooke found her and asked what was wrong. Katie was livid at her and didn't want her to touch her. Katie told Brooke about what she heard her say to Bill. Katie warned her to stay away from her and her family. Katie arrived at the Logan Mansion to argue with Brooke. Brooke tried justifying the situation but Katie slapped her and called her sick.
Brooke invited Katie and Bill over for dinner. Brooke claimed to be sorry and just wanted a relationship with Katie. Katie claimed she wanted that to. Katie brought up family and Storm and wanted to look at photo albums. Katie brought out Brooke's photo albums and opened an album of pictures of Bill and Brooke. Katie was upset to see them but realized they were engaged. Bridget arrived at the Logan Mansion the same day after she heard about what's going on with her and Bill. Brooke explained to Bridget about her relationship with Bill. Bridget tried to comfort Brooke as best as she could.
Brooke invites Katie and Bill over for dinner again. Katie apologizes to Brooke for her insecurities and informs her she is currently getting help with her depression, which Brooke is glad to hear. They eat salad and chicken while Brooke and Bill are laughing and getting along. Katie starts drinking again because of her insecurities and then rinses with mouthwash. Katie climbs in bed with Bill in lingerie and he becomes suspicious of her breath. Katie claims it's just mouthwash and Bill states it's mixed with something and questions if she's been drinking. Katie assures Bill she has not been drinking.
Katie invites Brooke over to her house to apologize for the other day. Katie informs Brooke about Wyatt and Steffy's wedding which Brooke is generally happy for. Will cries from the other room and Katie leaves to tend to him. Brooke finds a bottle of vodka while Katie is checking on Will. Brooke is disappointed but Katie convinces Brooke to keep it a secret and assures her it's only once in a while. Brooke promises to keep her word. Later, Brooke enters Bill and Katie's while Katie is out.
When Bill tends to Will, Katie pours some alcohol in a small bottle trying to pass it off as water. Bill returns and Brooke asks for a glass of water from the small bottle and tells Bill it smells funny. Bill realizes what's going on and Brooke admits Katie has been drinking again. Katie returns from shopping while Bill scolds her about the alcohol. Katie justifies herself with all the stress she's been going through and blames it on Brooke.
Brooke enters Bill's office to tell him that they need to forget their feelings and respect his marriage to Katie. Bill takes Brooke to the back room which used to be his personal gym and is now a private room with a bed and candles. Brooke rambles about how wrong their relationship is but Bill insists one more time. Brooke unlocks the door and tries to leave but Bill pulls her back. Bill makes out with Brooke and they make love on the bed.
Afterwards, Liam is surprised to find the room unlocked. He looks around the room and finds an earring on the bed. Liam asks Alison about Bill's new room. Alison lies that Bill's been reading up on magazines about napping and made his own "napping room". Bill returns home to Katie and Will who are baking cookies and joking about starting "Spencer's Cookies!". Bill jokes around with Will and tells Katie how much he appreciates her.
As Katie had suspected the entire time, Bill had began an affair with Brooke. Brooke decided to come out to Katie about the affair. Katie told Brooke that she wishes to have nothing to do with either Brooke or Bill. Coming home, Katie was shocked to find that Will was missing, and Bill told her that her care is unsafe for Will to be in, due to mental instability and alcoholism. Katie refused to let that happen, and kept Will.
While Bill was trying to seduce Brooke, Katie begins to organize another divorce, but is having second thoughts about it, and wonders whether she should take the wrong in the situation and give Bill another chance. However, Bill has offered a lavish offer to Brooke - she may have Bill's 12.5% of Forrester Creations if she marries him. After a lot of thinking, Brooke accepted his offer, unbeknownst to Katie.
RJ's Return and Back to Ridge
In 2016, RJ returns at 16, much to his parents' displeasure, he informs them how he moved here from boarding school to live with them. Therefore, Brooke and Ridge allowed him to move back into the Forrester Mansion. However, from the start, RJ encourages his parents to get back together for their family. Brooke informs RJ that she's currently engaged with Bill, much to RJ's dismay. However, the three of them begin to bond through having family dinners and looking through photo albums.
Brooke and Ridge start to feel that sentimental spark again. RJ encourages Ridge to try to woo Brooke back for their family. Ridge tries to win back Brooke but Brooke keeps declining. Ridge tells Brooke that she feels obligated to marry Bill to inherit his 12.5% to kick Quinn out of the company. But Brooke feels that she is truly in love with Bill. Ridge takes Brooke to a cliff above the beach. Ridge shows Brooke a giant heart he and RJ made in the sand for her, with their names in it. Brooke feels deeply touched by this and decides to be with Ridge, ending her engagement to Bill.
RJ encourages Ridge to propose to his mom. RJ, Brooke, and Ridge get to spend Christmas together as a family, declining from going to the Forrester Mansion, to show their disapproval of Eric's relationship with Quinn. Ridge gives Brooke a wrapped present box for Christmas with a ring inside. He proposes to Brooke, making her teary-eyed and happily and she accepts.
Brooke supported Eric when he suffered a brain hemorrhage but couldn't support his marriage to Quinn or his decision to appoint Steffy CEO of Forrester instead of Rick. Brooke wondered what was going on when she caught Ridge and Quinn discussing a secret, especially since Ridge seemed to be less hostile toward Quinn after a design symposium in San Francisco. Meanwhile, Brooke continually discouraged a persistent Bill, who kept trying to convince Brooke that Ridge was going to do her wrong.
Betrayed by Ridge and Marriage to Bill
With Steffy and Liam was getting married in Australia, Brooke happily planned to marry Ridge there, too, and dismissed Katie's claims that she had seen Ridge and Quinn in affectionate exchanges. Brooke came out of denial when she caught Quinn kissing Ridge Down Under; Brooke was determined to tell Eric but honored Ridge and Quinn's pleas to keep it secret as long as they never kissed again.
However, Brooke did call off her wedding to Ridge and stayed behind in Sydney, where she allowed herself to be comforted by Bill. Later, Brooke proposed to Bill and rejected Ridge's attempts at reconciliation. The day Brooke was set to marry Bill, she seemed tempted by Ridge's offer to marry him instead, but Brooke exchanged vows with Bill, then honeymooned with him in Paris.
Sheila's surprise return and RJ's new girlfriend
Upon arriving home from her honeymoon, Brooke was stunned to learn that Sheila was back in town claiming to be rehabilitated. Brooke gave Sheila a cordial, but somewhat icy reception when Sheila approached her to apologize for her past criminal misdeeds.
Later, Brooke rushed to the hospital upon learning that R.J. sustained a concussion driving Ridge's Camaro and was furious to learn R.J.'s girlfriend, Coco Spectra, had caused the accident texting while behind the wheel. Brooke admitted she'd had a boyfriend in high school who died from distracted driving and issued a stern lecture to R.J. and Coco. Brooke then jetted off with Bill to Monte Carlo for a swimsuit fashion duel between Forrester Creations and Spectra Fashions in which Brooke modeled.
Upon returning home, Brooke was amused by Bill's obsession with replacing Spectra Fashions with a skyscraper and unbeknownst at that time, that was the beginning of the end of the marriage. Then she was shocked to learn that Eric had allowed Sheila to recuperate at his house after she was injured in a catfight with Quinn. Brooke suspected Sheila was milking her concussion and demanded answers from a visiting James, whom Eric had brought in to examine Sheila. Brooke backed down when James insisted Sheila wasn't well enough to move out, but shared with Eric her suspicion that Sheila wanted to steal him from Quinn which he did not heed just like he did not once before about marrying Quinn.
Divorcing Bill
Brooke couldn't understand why Bill had taken a sudden leave of absence from Spencer Publications; when Bill finally confessed he had arranged to burn Spectra down to make way for his building and that Liam had forced him to step down as CEO over it. Brooke is angry at Bill for committing a crime and more furious at her husband while revealed that he punched Liam. Brooke leaves Bill and goes to Forrester Creations and is comforted by Ridge. Brooke never tells Ridge the real reason why she left Bill.
Brooke moved home, to the delight of her sons, but cautioned them it didn't necessarily mean she would reunite with Ridge, who offered Brooke a shoulder to cry on. Steffy convinces Brooke to take Bill back because he apologies for letting her down, and that she wants the Spencer family to stay together.
Brooke softened upon hearing Bill had made up with Liam, but reinforced her decision to leave Bill when she heard he had endangered Liam's life by demolishing Spectra while Liam was still inside. Shortly thereafter, they divorced which spurned a dark time in Bill's life to where he made a lot of mistakes that would eventually hurt a lot of people.
Thorne's return and her engagement to Ridge
Brooke offered ex-husband and brother of Ridge, Thorne a place to stay when he came home from Paris, and was surprised when he kissed her and suggested she marry him instead of tying the knot with Ridge again. However, Brooke accepted Ridge's proposal and insisted that Thorne respect it. Thorne did and soon started dating Katie, her sister and eventually married her while Ridge and Brooke got married while they were dating.
Hope's return to LA and marriage to Ridge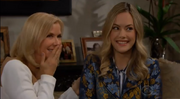 Ridge decided to surprise Brooke and he convinced Hope to move back to Los Angeles. Brooke was thrilled to see her daughter back. Soon after this Brooke, Ridge and Hope found out that Liam and Steffy are separated and Liam lives in a hotel room because Steffy and Bill slept together. Ridge blamed Bill and he called Steffy's mother Taylor Hayes to inform her that Bill raped Steffy even if his daughter assured him that it was consensual. Hope started to help Steffy and get Liam back and Brooke became worried. Hope confessed to her mother that she will always love Liam that there is a baby on the way. Brooke and Ridge's wedding arrived. Steffy was sad during the ceremony as Liam refused to join her. Soon after Hope encouraged Liam to go to a doctor's appointment with his estranged wife and Brooke was proud of Hope. Hope continued to support Steffy and Liam for some time until one day she changed her mind after seeing Liam having a mental breakdown when he believed that he shot his father Bill Spencer Jr. for sleeping with his wife. Hope decided that what Steffy and Bill did to Liam harmed him too much and started fighting for him. At first Brooke discouraged Hope from trying to get back with Liam, who was still legally married to Steffy, but that changed when Liam proposed to Hope and annulled his marriage to Steffy. Liam convinced Brooke that he is serious about marrying Hope. Steffy ran into Brooke's house and saw Hope in a wedding dress. She found out that Liam annulled their marriage and called Hope a disgrace. Brooke came to the rescue and told Steffy that the only disgrace is the woman that slept with her husbands father. During Hope's and Liam's wedding Liam's brother Wyatt Spencer confessed that Bill and Steffy do not have an affair. Liam initially wanted to forgive Steffy for cheating and go back to her and their daughter, but he proposed to Hope after he heard that Steffy and Bill had an affair. Once Liam learned the truth everything changed. The same day Steffy gave birth to Kelly Spencer and Liam decided to stay with Steffy and their child. Brooke comforted her heartbroken daughter.
Hope's pregnancy
Hope told Brooke that she made a pregnancy test and she thinks that she is pregnant with Liam's baby as they made love the night Liam proposed to her. Brooke and Hope go to the doctor and it's confirmed that Hope is in fact expecting Liam's child. Brooke is thrilled for her daughter and assured her that everything will be fine. Hope revealed the truth to Liam and Brooke to Ridge. Ridge didn't take it well because his daughter Steffy was already planning a future with Liam and Kelly. He said that Liam will stay with Steffy and he is worried for Hope, but Brooke said that Liam could still choose Hope as now he also has a family with her. Liam started waffling. He told Steffy the truth and told her that he is in no position to get married right now. He asked Hope to wait while he is living with Steffy and Kelly and he revealed to Wyatt that he has no idea which girl he is going to choose. Brooke noticed that it takes a long time and she had a discussion with Liam. She told him that he can't trust Steffy and that Hope would never do what his ex wife did to him. Shortly after Steffy caught Liam and Hope kissing and decided to leave the race for Liam's heart. One day Hope came to Brooke's office and showed her that she's wearing Steffy's engagement ring. Hope and Brooke wasn't thrilled because it didn't come from Liam however soon after Liam proposed to Hope with a different ring. Brooke was happy for the two.
Hope and Liam's marriage and Conflict with Taylor
Hope invited Steffy to her wedding. She accepted and took her mother Taylor Hayes with her. Brooke wasn't happy to hear that Taylor will be coming. Shortly before the reception Taylor went to see Liam and tried to convince him to go back to her daughter. Brooke overheard it and asked Taylor to leave, but she decided to stay. During the reception Taylor went to talk with Brooke in the kitchen where she initiated a food fight with Brooke destroying Hope's and Liam's wedding cake. The food fight was stopped by Hope and Steffy. The two expect their mothers to apologize to the guests for their behavior and that's what they do. Taylor is unable to accept that Steffy and Liam aren't together and she blames Hope for it. She confronts a pregnant Hope and accuses her of taking advantage of Bill's scheming. She said that Hope is guilty of making herself available to Liam. Taylor screams and Liam noticed it. Liam, knowing that Taylor was the one who shot his father in the back, gets scared for Hope. He defends his wife and later tells Hope what Taylor did to his dad. Taylor hears Brooke telling Steffy that soon Liam's full attention will be on Hope and their newborn baby and she wants her to accept it. Taylor is livid when she hears it and yells at Brooke. Hope hears Taylor shouting that she hates Brooke more than anyone else. She's scared for her mother's safety as she knows that Taylor shot Bill. Hope stops the fight between Brooke and Taylor and suggest that Taylor should leave town. Brooke finds out that Taylor was the one that almost killed Bill and she confronts her about it and about her allowing Ridge to be arrested for her crime. Taylor explains that she only wanted to protect her child. She was on her knees in front of Brooke begging her to not call the police. Brooke agrees to keep quiet for Ridge's and Steffy's sake. Then Steffy decided to reveal to Ridge what Taylor did and they both supported her. Steffy organized a party at her home where Reese Buckingham, Zoe Buckingham's father. Both him and Taylor hit it off. During the party Taylor blames Brooke and Hope for Steffy's broken family. Wyatt Spencer who is a guest at the party defends the Logan women while Reese believes Taylor. The two even kissed at one point. Brooke was shocked when she found out that Taylor moved into Steffy's home. Both Brooke and Hope don't want Taylor to live in the home where Beth, Hope's daughter will soon be spending a lot of time. Steffy doesn't accept Hope's request and doesn't agree with her her when Hope suggests that Taylor could move to a home close by. Liam takes Steffy's side and convinces Hope to allow Taylor to be in Beth's life. Taylor is saddened over Hope's words and considers leaving town, but Steffy stops her and tells her that she will adopt a child to give Kelly a sibling. Taylor decides to help Steffy and shares with Reese Steffy's plan to adopt. She tells him that money is not an issue for her unknowingly planting an idea in Reese's mind. What Taylor doesn't know is that Reese has a huge gambling debt and is desperate because people that he owes money to threatened his daughter's life.
Losing her granddaughter Beth
Hope and Liam are planning to go for a baby moon after getting a thumbs up from the doctor. Hope wants to spend some time with Liam before the baby comes. When they are minutes before leaving the house Steffy calls Liam and informs him that Kelly has a fever. Hope encourages Liam to see his daughter and to take another flight to the destination of their honey moon. Shortly after Hope arrived in Catalina she feels that she is going to give birth early. She calls Liam, but he is unable to travel because of the sudden weather change. Hope arrives in the only available clinic where Reese Buckingham is the only staff member. Hope passes out and Reese uses it to steal Hope's baby. When Hope wakes up Liam, Brooke, Ridge and Bill are all there as they arrived in Bill's private helicopter. Hope is devastated when Liam informs her that Beth has died. Reese places another woman's dead baby in Hope's arms and tells her that it's her daughter. Everyone is supporting Hope and Liam during the funeral.
Meeting Storm's long lost daughter Flo
One day Brooke and the rest of the Logan's found out that their brother Storm has a daughter he knew nothing about. All the Logans welcome Flo Fulton to the family not knowing that she helped Reese Buckingham to sell Hope's baby to Taylor and Steffy. Flo posed as Beth's mother in front of the two women. Flo was feeling guilty and wanted to reveal the truth several times, but Reese, his daughter, Zoe, Thomas and even her own mother stopped her every time with Thomas even threatening her life on many occasions.
Witnessing Taylor kissing Ridge and being against Hope and Thomas' relationship
Brooke and everyone welcomed Thomas Forrester and his son Douglas Forrester at Eric's home after Caroline Spencer II died suddenly because of a blood clot. When Taylor saw how easily Hope and Douglas was bonding she realized that it would be perfect if Thomas and Hope could get together as she needs a child after losing Beth and Douglas needs a mother after losing Caroline. She told Ridge about it and Brooke overheard it. Brooke was furious with Taylor. Soon Taylor was about to leave town with her daughter Steffy, but before leaving, she kissed Ridge and told him that she missed him. Brooke witnessed it and confronted her rival about kissing her husband and trying to destroy Hope's marriage. Taylor was adamant that Hope used Steffy's and Liam's problems to steal Liam for herself. Brooke reminded Taylor that Steffy had a part in destroying her marriage and told her that she will protect Hope during the biggest grief of her life.
Brooke didn't like that Thomas started showing that he is romantically interested in Hope. Brooke warned Liam who told her that he won't let Hope go. She also encouraged Hope to work on her marriage with Liam, but Thomas emotionally manipulated Hope and her son behind the scenes. He even wrote a fake letter from Caroline and drugged Liam Spencer in order for him to end up in Steffy's bed which no one has ever discovered his part in drugging Liam. Hope cracked and decided that Liam should be a full time father for Kelly and Steffy's adoptive daughter Phoebe that she felt a strong bond with. She decided to become Thomas's wife and Douglas's new mother because she loved Douglas so much and wanted to be his mother. Brooke was horrified while Ridge and Steffy were happy for Hope and Thomas. Hope wasn't able to consummate the marriage which seriously annoyed Thomas so he was planning on drugging her in order for them to finally have sex. When he found out that Liam knew about Phoebe being Beth, he tried to take a helicopter to take Hope far away, but Liam stopped them. Liam and Thomas fought and Thomas ran off when Hope realized that Beth was alive and the part that Thomas played in keeping her daughter from her and her reuniting with Liam. Hope and Liam fell into each other's arms and later they went to Steffy's house to see their child and prepare to share the news with Steffy.
Finding out that Beth is alive
When Brooke and Ridge found out about Beth being alive they were furious with Flo Logan and Zoe Buckingham. Ridge called the police on Flo and she ends up being arrested while Zoe is fired from Forrester Creations. The two are deeply shocked that Thomas knew the truth for months and hid it just to get Hope for himself. Brooke and Ridge rush to Steffy's home where Hope and Liam told Steffy that the child she adopted was their daughter Beth. Steffy didn't want to give the child back and said that Hope could be a kind of a mother to Beth, but she should remain with her. Brooke was defending Hope's right to take Beth while Ridge was on Steffy's side. At one point, Steffy decided that she can't fight the truth any longer. Hope, Liam, Brooke and Beth left and Ridge stayed with Steffy and comforted her when she cried in his arms.
Shauna Fulton tried to find excuses for her daughter Flo, but Brooke and the rest of the Logan's didn't buy it. When Detective Sanchez tried to find Thomas and ask him about Emma Barber's death, Brooke suspected her step son, but Ridge assures her that Thomas has nothing to do with it.
War with Thomas and Katie's health scare
During the next few months, Thomas' obsession for Hope would not go away, Brooke worried about what he might do so he could be with Hope. She didn't like him using his son in order to manipulate Hope. She didn't want her daughter's life to be strained when she was finally happy, happier than she had ever been in her life. One day Brooke finds out that Thomas was looking for Hope and asking about her whereabouts and that Steffy's nanny told him where Hope would be. She drove straight over to Steffy's house to protect Hope and when she gets there, she spots a heated argument between Hope and Thomas at the cliff house. Brooke tells Thomas to leave Hope alone and he was holding Hope's arms very tight and wouldn't let go, but when he doesn't want to let go of her, she pushes him and he falls off the cliff. Brooke and Hope were shocked to see that Thomas fell and Ridge was terrified at the thought of losing yet another child. He was angry at Brooke for almost killing his child. At the hospital Brooke tells an unconscious Thomas that she will never forgive him for what he has put her daughter through. When Thomas wakes up from the coma, he assures Detective Sanchez that it was an accident and Brooke was relieved. Thomas apologizes to his relatives for the harm done and explains that he only wanted to provide Douglas with a family. Ridge suggests to his astonished wife to thank Thomas for not handing her over to the police, even though it was an accident and she didn't mean for him to fall off a cliff, she just wanted him to let go of her daughter. Brooke replied that her stepson will still have to pay for hurting Hope. Bill and Liam were on Brooke's side and also wanted Thomas to pay. Spencer wanted to work with Brooke to bring Thomas to justice, but she didn't want to conspire with him behind Ridge's back.
Brooke is shocked when Ridge informed her that he allowed Flo to be released to protect Thomas from possible jail time. Brooke demanded for her step son to suffer the consequences of his actions, while her husband wanted his son to rebuild his relationship with Douglas, the son he abused while he tried to force him to keep quiet about Beth. Brooke said she does not want to see Ridge's son in her house, and she intends to separate Thomas from his son, even at the cost of applying for a restraining order. An agitated Ridge left in the middle of an argument because he didn't want to face the truth.
Brooke was annoyed when Shauna asked for forgiveness on behalf of Flo. She threw the Fulton woman out the door and demanded that she and Flo stay away from her family. Ridge returns the next day and reveals that he spent the night at the Bikini Bar after getting too drunk. They come to an agreement, but still disagree on Thomas. Brooke had no idea that Ridge was drinking with Shauna by his side and that she kissed him when he passed out.
Brooke is horrified when she finds out that her younger sister Katie Logan ended up in the hospital and needs a new kidney. Sadly only Donna Logan is a match for Katie, but she is unable to be a donor because of her past health condition.
Thomas gets out of the hospital and goes to Brooke's residence. The two ended up fighting and Thomas called Brooke a sl*t. The Logan woman slapped him and threw him out the door. Thomas then vows to get rid of the Logans.
In October 2019, Brooke discovers that Ridge was not alone at Bikini and spent the night with Shauna. He swore nothing happened between them. Brooke wanted her husband to side with her, but he didn't intend to turn his back on Thomas as he wanted to help him recover. Brooke refused to forgive her stepson and asked Ridge to order Thomas to surrender parental rights over Douglas to Hope and Liam. Ridge was furious and went to live at Steffy's for a while.
Brooke confronted Shauna for kissing Ridge and insulted her while Shauna responded by saying that she knows about her numerous controversial romances even though it was hypocritical because she had, had numerous ones herself.
Katie's condition worsens and she started saying goodbye to her loved ones. At the last minute, an anonymous donor appeared and Katie had her kidney transplant. Ridge showed up at the hospital to support Brooke. When Katie regained consciousness, she wanted to know the donor's identity. Everyone was shocked to discover that Flo had given Katie her kidney. Brooke and Hope still didn't forgive Florence, despite her sacrifice.
Ridge and Brooke had another big fight after Brooke made it clear that she doesn't want Thomas anywhere near Douglas and Forrester Creations as well. Ridge criticized Brooke's behavior and went to live at his father's mansion with Thomas and Douglas. Brooke is disappointed that Ridge isn't on her side and gives her wedding band to Ridge hoping that it will make him think. Hope tells Brooke that she will try to use Thomas' obsession to make him sign the adoption papers. when Hope came back home from her "mission" she told a very shocked Brooke that Thomas demanded sex in exchange for giving Hope the parental rights. Brooke told her daughter to just stay away from Thomas, but she was determined to get Douglas away from his abusive father.
Brooke and Ridge both say that they miss each other, but can't live together because of their children's conflict. Soon Brooke is horrified when a crying Hope confesses that she pushed Thomas away and he fell into acid. Hope tells Ridge that Thomas has died, but Brooke stops her daughter from telling Ridge anything more. When Ridge goes to look for Thomas, Brooke tells Hope that she is a chemist and she knows that nobody will ever be able to find out what has happened to Thomas. Hope told her mother that she has to tell the truth, but Brooke didn't want her daughter to lose everything for an accidental death of a man that hurt her so much. In the end, Hope convinced Brooke that she has to do the right thing. Hope wanted some time before she called the police and went to the cabin where she cried and said goodbye to her life with Liam, Beth and Douglas. Suddenly Thomas appeared and gave Hope a speech about "good people doing bad things" hoping that she will realize why he had made some mistakes in the past, even though there was a huge difference in what she did and what he did. When Ridge finds out that Brooke thought that Thomas died and wanted to hide it from him to protect Hope, he was very angry and decided to leave Brooke.
Ridge cheating on Brooke with Shauna and Thomas continues to cause problems for Hope
After some time, Ridge wanted to make things work with Brooke, but she was furious when she found out that he and Shauna was living under the same roof. She was certain that Quinn Forrester invited Shauna to live at Eric's mansion on purpose to play matchmaker. Brooke went to Eric's mansion to demand from him, to leave Quinn and accused her of encouraging her friend to make a play on Ridge (which Quinn did in fact do). Ridge asks Brooke to forgive Thomas in order to save their marriage, but she refused. The two of them signed the divorce papers, but Ridge didn't file them as he wasn't sure what to do at this point. Eric comforted Brooke.
When Thomas and Hope started to work together at Forrester Creations, Brooke again tried to convince her husband that his son is no up to no good. Thomas tried to make everyone believe that he is now interested in Zoe Buckingham. Zoe got her job back thanks to Thomas and Ridge bought that his son's obsession with Hope had finally ended. Brooke and Liam are both sure that Thomas is only using Zoe, but Hope, Ridge and Steffy want to believe that he is sincere.
Brooke found out that Shauna and Ridge were kissing a few times during his stay at Eric's. She confronted the woman and slapped her. Quinn wanted to protect her friend and slapped Brooke back. Eric stopped the women from fighting. Brooke once more asked Eric to leave Quinn, but he stood by his wife and calmed Brooke down. Eric decided to send Shauna away so as to not allow Ridge and Brooke's marriage to suffer anymore.
Liam expects Hope to stop working with Thomas and when she refuses, he goes to Steffy's house to spend time with her and his daughter Kelly. Thomas asked his sister to scheme with him so he could get Hope and she could get Liam back. He told her that when he sends her a signal to her phone, she has to kiss Liam and Hope will see them and they will break up for good. Thomas sent a signal to Steffy's phone when Hope was approaching and she kissed him. Hope saw it and broke things off with Liam. Brooke demanded for Steffy to stay away from Hope and Liam. She then strongly encouraged Liam to go back to her daughter. Ridge doesn't believe Brooke that Thomas is using Zoe to get closer to Hope. She also believed that Thomas is manipulating a confused Douglas who has ambivalent feelings for Zoe which Thomas was in fact doing by scaring Douglas that if he won't convince Hope to be with them, he will lose her and Zoe will replace her. Liam lived with Steffy for several weeks, but when he didn't commit to her and was talking about Hope all the time, she decided to come clean about helping Thomas by kissing him that day that Hope saw them and then broke things off with Liam. Hope found out the truth also and all of them agreed that Thomas is in fact using Zoe and is still obsessed with Hope. Thomas proposed to Zoe because he wanted to make Hope jealous. At their wedding, Hope appears in a wedding dress and then Thomas's true intentions came out. He wanted to leave Zoe for Hope at the altar. Everyone was shocked that Thomas tried to fool everyone again and he was heartbroken when he realized that Hope doesn't really want him.
Kissing Bill behind Ridge's back, and being exposed by Quinn
In March 2020, Brooke thanked Bill for his support and admitted that she feels alone in her fight with Thomas. Bill kisses her and she doesn't push him away. They both admit that they got carried away and agree that it cannot happen again and that no one can find out about it and decides to keep it a secret from her husband Ridge. What they didn't know is that Shauna Fulton recorded them and showed this video to Quinn who already wanted to get revenge on Brooke. Shauna said that she doesn't want to hurt Ridge, but Quinn had other plans and she downloaded the video. Brooke and Bill only shared a moment in the Logan cabin because Bill tells Brooke he will always protect her and Hope from Thomas. Things take an unexpected turn when Bill kisses Brooke and she doesn't push him away and instead kisses him back. Brooke and Bill decided to keep their kiss a secret from everyone. Quinn fumed after finding out about this. Brooke slapped Shauna for kissing Ridge; Quinn struck back by smacking Brooke to the ground and essentially declared war on her after Brooke went to Eric and tried to get him to divorce Quinn. Remembering Brooke's alcoholic history, Quinn spiked her orange juice with vodka, but was advised by Ridge's son, Thomas Forrester, who disapproved of Ridge's marriage to Brooke, not to do it again because it would mean Ridge would run to Brooke's rescue. Quinn was intrigued when Thomas suggested they team up to get Brooke out of Ridge's life, but no plan between them ever materialized. Quinn couldn't believe her luck when Shauna showed her a video of Brooke kissing Bill. Although Shauna decided to delete the video, Quinn sent it to herself first and uploaded it to a digital picture frame Ridge had bought for a reunion party he was throwing with Brooke. After Brooke and Bill's kiss was exposed at the party, Quinn gleefully admitted her part in it and gloated to Brooke that Shauna was the better woman for Ridge.
Drunk Ridge cheating on Brooke and marrying Shauna in Vegas
Quinn encouraged Ridge to go after Shauna, who was packing to move back to Las Vegas. When Ridge was drunk Shauna who was encouraged by Quinn sent a fake text to Ridge's lawyer Carter Walton and told him to file the divorce papers. Carter, believing it was a text from Ridge filed he papers. After it happened Shauna took a drunk Ridge to a wedding chapel and they got married. Ridge didn't remember that he married Shauna and he tried to make things right with Brooke when he came back to LA, but then Shauna returned to town and announced that she and Ridge are legally married. Forrester still wanted to remain with Brooke and told her about his "drunk mistake", but soon he found out that Brooke told Bill that she will always love him. Brooke tried to explain to Ridge that it's the same as him having love for Taylor, but didn't buy it and went to Shauna. Quinn continually rubbed the marriage in Brooke's face, telling Shauna to be quiet about how Quinn had gotten Shauna to send a fraudulent text for Carter to file Ridge and Brooke's divorce papers and this leads Ridge and Shauna to a wedding chapel. Since Ridge had been too drunk to remember his Vegas ceremony, Quinn pushed for a renewal ceremony. Ridge agreed to do it for Shauna. Brooke was absolutely heartbroken.
Quinn and Shauna's scheme exposed, Bridge together again and Brooke's war with Quinn
Quinn was got hit with a double whammy when Shauna confessed everything to Ridge first and Eric overheard the extent of Quinn's scheme for himself. Eric asked Quinn to leave his house. Brooke and Ridge spoke to Carter who explained to them that they are still married because it wasn't Ridge who sent the text to him. The two were overjoyed to hear that they are still husband and wife.
After some time Eric, encouraged by Shauna, invited Quinn back into his life. Brooke and Ridge were not thrilled. Quinn was back in Eric's life, but not in his bedroom which pushed her into the arms of another man. When Brooke heard from Paris Buckingham that Quinn and Carter Walton had an affair she stopped Eric's and Quinn's vow renewal ceremony and broke the news to her father in law. Eric was furious and again asked Quinn to leave his life. Brooke and Ridge also made sure to keep Quinn away from Eric and Forrester Creations.
One day Eric invited Quinn back into his life and told her that he can't have sex with her because he suffers from an erectile dysfunction. After some time he invited Carter and asked him and Quinn to have an intimate relationship together while Quinn is still his wife because he can't satisfy Quinn's needs. At first the two refused, but ended up having a sexual relationship. Ridge hired Justin Barber to spy on Quinn and he found out that Quinn and Carter are sleeping together. Brooke and Ridge were shocked when Eric told them it was his idea.
Soon Eric discovered that he doesn't have problems with his erection when he embraced Brooke's sister Donna Logan. He ran to Quinn believing that he is cured just to discover that he doesn't have an erectile disorder, but just can't get aroused by Quinn anymore. Brooke found out and encouraged her sister to go after Eric. She also went to talk to Eric and tried to convince him to divorce Quinn and go back to her sister. Quinn found out that Eric got aroused by Donna and her heart broke. She was furious and went to confront Donna threatening that she will eliminate her if she doesn't leave Eric alone. Quinn asked Eric to stop all contact with Donna and he agreed to do it. Brooke was disappointed when she heard that Eric decided to fire Donna from Forrester Creations and to stay with his disloyal wife instead of moving on with her sister.
Deacon's return, Brooke's relapse orchestrated by Sheila, and Brooke's secret kiss with Deacon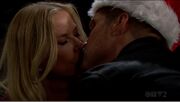 Hope stirred up a hornet's nest when she invited Deacon, who had just been released from jail, to her home, which generated resistance from Liam, Brooke, and Ridge. Hope further dismayed her loved ones by admitting that she had been secretly writing to Deacon the entire time he was in prison. Hope wanted a relationship with her father despite her family's objections and commiserated with Finn, who was also facing backlash from wanting to get to know his birth mother, career criminal Sheila Carter. Hope went against her family's wishes and continued to see Deacon and allowed him to be a part of her life. Ridge is not happy about Hope allowing Deacon to be a part of her life because that means Deacon will always be around Brooke, who had an affair with Deacon at one point. Ridge tells Hope to move away out of the cabin because he knows Deacon being around will cause trouble. Hope invited Deacon over for Christmas which turned out to be a disaster for him and for Brooke. Ridge's worst fears came true, Brooke and Deacon got drunk after Sheila switched Brooke's non-alcoholic drinks with and Brooke ended up kissing Deacon while drunk, and kept it a secret from her husband Ridge Forrester. Brooke (who has an alcoholic past) tells Ridge that she relapsed, after years of being sober and she agrees to go to AA meetings but still hides the fact that she kissed Deacon Sharpe. Taylor Hayes came over to Brooke's house to offer her friendship and professional help, but Brooke told Taylor that everything is fine. Ridge arrived few moments after Taylor leaving and continued to support his wife. He said that she's the most remarkable woman that he has meet and Brooke, riddled with guilt didn't agree with him. In the cabin Douglas Forrester revealed to Hope and Liam that Brooke kissed Santa on new years eve. Hope, wanting to know what is going on went to confront her mother about it. Brooke starts to tell her how it all went down on New Years Eve when she and Deacon drank vodka together. She confessed that at first it was all laughs and giggles, but they started reminiscing about the past and they kissed. She said that Deacon slept in the same bed however they didn't have sex and she expressed her fear that Steffy and Thomas are waiting to get their family with Ridge and Taylor back. Brooke is sure that if Ridge knew the truth she would lose him forever. She doesn't want to lose Ridge over something that she would never do while being sober. Broke asks her daughter to not tell anyone the truth. Hope said she can't keep it from Liam because Douglas told him about what he saw and he is asking questions. Brooke says it's not that she doesn't trust Liam, but she desperately holds on to her marriage. Brooke realized that Douglas knows and he is probably running around telling everyone about it. Hope tries to assure Brooke that Douglas told only them, but she reminds her daughter that he is around Ridge, Taylor, Steffy and Thomas all the time. Hope reminds Brooke that she and Ridge have forgiven each other for far worse things. Brooke learns that Douglas is at Steffy's house spending time with his family and she panics. She asks Hope to call Thomas and bring him back. When Thomas brings him to the cabin, Brooke asks to speak to Douglas alone and tells Douglas to forget about Christmas, but Douglas reminds her it was New Years Eve. She tells Douglas "the past is in the past" in an effort to try to make him forget about what happened on New Years Eve but Douglas later remembers what he really saw on that night, Douglas tells his father Thomas that he didn't really see Brooke kissing Santa, he actually saw her kissing Deacon. Brooke, unaware that Steffy and Thomas know the truth about her kissing Deacon, tries to move on with her life. She is attending AA meetings and Ridge is there to support her. She is still tormented by that night. While Brooke and Ridge shared heartwarming moments Steffy and Thomas illegally obtained footage from Brooke's security system with Charlie Webber's help. They saw Deacon leaving Brooke's house in the morning and without knowing that Brooke and Deacon didn't have sex they assumed that it happened and shared this information with their mother.
Brooke's decision to come clean to Ridge about her kiss with Deacon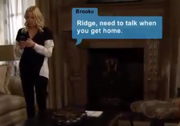 Brooke told Ridge that he deserves better than the woman she was the night she relapsed. Ridge asked Hope to convince Brooke to stop blaming herself. Brooke said that she still doesn't understand the choices that she made that night. Ridge said that there is nothing that they can't go through as long as they are together. Brooke asked what if she isn't the woman he thinks that he is. Ridge received a text from Taylor (as she decides that she has to be the one to tell him the truth) and had to go out. When Ridge left Brooke told Hope that she has to tell Ridge the truth no matter how painful it will be. She expressed that she feels more guilty each time Ridge encourages her. Hope tells her mother that she supports her decision to come clean and she thinks that it's a very brave thing to do. She bets that Ridge will understand and will forgive her. Meanwhile in the Cliff house Steffy tells Taylor that that have to reveal the truth to Ridge as soon as possible before Brooke will find out that they are on to something and create some excuses for herself. Taylor says that she has no desire to break up Brooke's marriage, but Steffy said that Brooke is doing that all on her own. Taylor agrees. Brooke sent a text to Ridge informing him that they need to talk when he comes back home and she has flashbacks of her mistake with Deacon when Steffy enters her house. Brooke hears the door and when she looks at the entrance she see's Steffy. Steffy said that she wants to talk about her father who is an amazing man. She reminds Brooke about her history with her dad and sarcastically smiles when she mentions the word "destiny" that Brooke often used as a reference to her and Ridge. She told Brooke that Ridge was defending her for all her scandals and betrayals. Brooke is shocked and asks Steffy where is it coming from and then she tells her that her father deserves someone who is committed to him and only him and that will never be her. Ridge arrived at Steffy's home where Taylor was already waiting for him. Taylor said that she always had Ridge's best interest in mind and she wouldn't be a friend if she would keep it from him. Ridge asked if the kids are fine because he can handle anything else. Taylor said that Ridge's loyalty to Brooke has always been a thing of wonder. Ridge asked why are they talking about Brooke. Taylor said that his loyalty is displaced and proceeds to reveal to Ridge what Brooke did on New Years Eve. When Taylor told Ridge that Brooke betrayed him with Deacon Ridge initially didn't want to believe in it and acted defensive, but Taylor said that someone saw the two and that it was someone that would never lie, their grandson Douglas Forrester. She also told him about the footage from the security camera and Ridge decided to go home and ask Brooke about it. Meanwhile Steffy still confronts Brooke about her past. Brooke tells Steffy that Ridge will be coming home and she would appreciate if Steffy could leave before he comes home. When Ridge arrived Brooke said that there is something that they need to talk about and that it's something she should tell him a long time ago. She explained to him that for all these days she wasn't feeling bad only about her relapse, but more has happened that night. Brooke said that Deacon came back because he left his phone and he was there when Ridge informed her that he won't be able to make it. She said that he was there also when she got upset that he won't be coming home for new years eve and she started drinking vodka and behaving like not herself. Brooke admitted that she and Deacon kissed. Brooke was shocked when Ridge said that he knows because Taylor told him and that she also said that Deacon stayed the night. He asked if she and Deacon did anything other than the kiss at which Brooke told him that nothing happened but that Deacon did sleep on top of the covers on the same, unbeknownst to her till she woke up. Ridge then tells her that he needs air and leaves and he goes to see Deacon and punches him, unbeknownst to Brooke at this time meanwhile Taylor visits Brooke and confronts her about her actions, but Brooke tells her that she owes an explanation to Ridge and not her.
Ridge walking out on Brooke and cheating on her with Taylor
Brooke shows up where Deacon works where Ridge and Deacon are in a violent fight but just before she gets there, she calls out to Ridge, giving him the advantage over Deacon so she walks in, on him throwing a glass container at Deacon. He goes to beat on Deacon again and Brooke rushes to Deacon and tells Ridge that it was her because she doesn't know why she started drinking in the first place and instead of asking her husband Ridge if he's okay, she asks Deacon if he's okay instead because he was the one on the floor, not Ridge. Ridge was towering over him and was just about to start hitting him again when Brooke rushed to him and asked if he was okay. Brooke later tells her daughter, Hope that she was just trying to get them to stop fighting. Ridge tells her that he can't take it anymore and leaves Brooke in the supply closet with Deacon. She starts crying, asking Ridge to not leave, but he goes straight to Steffy's home where Steffy, Taylor and Thomas saw him. Steffy and Thomas again started encouraging Ridge to leave Brooke for their mother and Thomas hid Ridge's phone because he saw that Brooke is calling. Brooke tried to see Ridge at Steffy's home, but Thomas stopped her. She went back home and told Hope and Liam about Thomas not letting her in and having Ridge's phone meanwhile Ridge asked Taylor if he can go back home to her and they shared a kiss.
Brooke is worried about Steffy and Thomas putting ideas in Ridge's head and tells Hope and Liam that she has to do something. Brooke asked Liam if he could do anything to help her and wanted him to go to Steffy's home and use visiting Kelly as an excuse. Brooke wanted Liam to speak to Ridge, but Hope tried to comfort her that Ridge won't be throwing their entire marriage away over one drunk kiss. Brooke replied that he could and she doesn't want it to happen so she wants Liam to talk to her husband and tells him to make up a lie about "wanting to see Kelly". Liam agrees to do it and leaves.
Brooke told Hope that Taylor has waited years for an opportunity like this and she will use this to get Ridge back. Hope reminded her mother that Ridge loves her. Brooke asked why is Ridge still at Steffy's if that's the case. Hope thought he might need to blow off some steam, but Brooke said that the more, he is with Steffy, Thomas and Taylor the longer he is there, they will put pressure on him to leave her. Hope said that she feels partially responsible for what she is going through, but Brooke blamed herself for letting Deacon spend time with them. Hope said that maybe she should have respected Ridge's wishes where Deacon is concerned, but Brooke didn't want Hope to feel guilty. Brooke told Hope that she sympathizes with her need to know her father because Stephen wasn't there when she was growing up either. Hope said that she will own her part in what has happened. Brooke started questioning why she defended Deacon to Ridge meanwhile Ridge decided to stay with Taylor and took his wedding band off and spends the night in Taylor's room in a chair.
Eric comes over to see Brooke after she calls and asks him to. She explains what has happened and was hoping that Ridge stayed at his house the night before and that he has talked to him but Eric alas, says that he hasn't seen Ridge. Brooke says she knows what that means and where he spent the night.
Over at Steffy's house, Ridge tells Taylor, Steffy, and Thomas that he is going over to Brooke's and he's going to tell her that their marriage is over. He shows up at Brooke's and she hugs him and tells him that she knew he'd come home. He doesn't hug her back and they begin to talk about what has happened. He tells her that he loves her but he can't be with her anymore. They talk awhile and then he tells her goodbye and that she will always be his Logan and leaves. Brooke then breaks down and cries.
The next week, Ridge goes to see Brooke and to make sure that she is alright and once again, tells her that he will always love her. He also tells her that he's worried about her. She tries to convince him that she is fine but he doesn't seem to believe her.
The fight for Ridge's heart
After several days of reflection, Brooke tells her daughter, Hope and her husband, Liam that she is going to fight for Ridge. Brooke felt that some outside forces made her drink and tried to find out who messed with her. Meanwhile Steffy Forrester finds out the truth about what really happened to Brooke and decided to confront Sheila, unbeknownst to Brooke. Sheila meets Steffy at her bequest and she ends up shooting Steffy after she accidently shot her own son, Steffy's husband Finn Finnegan when he jumped in front of Steffy, taking the first bullet himself because he jumped in front of Steffy trying to protect her. Finn "died" and Steffy was fighting for her life at the hospital. Brooke went to check on Steffy and comforted Ridge. They embraced at the hospital, but soon didn't agree about Steffy's recovery. The next day Steffy woke up believing that Brooke's son in law Liam is still her husband. Taylor and Ridge were against telling Steffy the truth and wanted Liam to keep on pretending while Brooke and Liam's real wife Hope thought it was best to tell Steffy the truth. Brooke mentioned how difficult the situation is for Steffy's children and how confused they will be if this continues, but Taylor said that nobody is going to tell Steffy anything. Bridget Forrester, Brooke's oldest daughter who was also Steffy's neurologist said that Steffy should remember on her own and that it might happen as Bradley Baker is questioning Steffy about the shooting right now. A couple of days later, Bridget said that Steffy's test results showed significant improvement so she could be told the truth now. Thomas, Taylor, Ridge and Liam gathered around Steffy and told her the truth. Steffy was heartbroken when she realized that her husband was "dead". Brooke comforted Ridge at the hospital and asked him to come home to her, but he refused at that time because he wanted to focus on his daughter.
Brooke finds out that she has been manipulated by Sheila
After Sheila confessed to Ridge that she was the one that caused Brooke to drink and that Thomas knew about it, Ridge went to see Brooke and told her about what Sheila had done but didn't mention his son, Thomas' part in it. He also shared with her that Sheila is the one who "killed" Finn and injured Steffy. Brooke was shocked and hoped that Ridge will come back home after finding out, but Ridge said that he can't do it just yet and that he will also not stay at Steffy's with Taylor. Ridge decided to stay at Eric's. Brooke shared the news with Hope and Liam and expressed that she believes that she and Ridge will be back together again. Brooke went to visit Sheila in jail and told her off. Sheila was aggressive towards Brooke and tried to attack her. After the altercation, Sheila also threatened her. Both Brooke and Taylor visited Ridge at Eric's house and fought for his affection. At one point Brooke decided to tell Ridge that she won't allow Deacon to come to her property in hopes that he will come back home. Ridge was happy to hear it, but didn't make his decision yet. Hope and Deacon were not as happy when Brooke revealed to them of her decision. Deacon tried to convince Brooke to think it over and Hope accepted her mothers decision. Soon Ridge told Brooke that Sheila escaped jail and was checking in on her to make sure that she was safe.
Crimes and Misdeeds
Hid Ridge Forrester's love letter for Caroline Spencer on Caroline and Thorne Forrester's wedding day (1987).
Slept with Ridge Forrester thinking Rick Forrester was going back to Stephanie Forrester (1991)
Cheated on Eric Forrester with Ridge Forrester (1992).
Slapped

Steve Crown

(1993)
Hid the fact that Taylor Hamilton was alive (1994-95).
Kidnapped her children, Rick Forrester and Bridget Forrester, and fled to Barbados (1996).
Teamed up with Thorne Forrester to keep Ridge Forrester and Taylor Hamilton apart, lying about Thomas Forrester's paternity (1998).
Changed the time of her wedding to prevent Taylor Hayes from telling Ridge Forrester about Thomas Forrester's paternity (1998).
Tried to seduce a committed Deacon Sharpe, but only ended up kissing him (2001).
Attacked Amber Moore because Bridget is with Deacon and Amber could not get her back home (2001)
Dumped spaghetti sauce down Tricia Quick's shirt (November 2002).
Slept with her daughter, Bridget Forrester's husband, Deacon Sharpe; as well as having a daughter, Hope Logan with him (2001-2002).
Slapped Stephanie Douglas (2002).
Cheated on Ridge Forrester with Nick Marone just after Ridge was presumed dead (2003)
Strangled Stephanie Forrester with a feather boa (2003). https://www.youtube.com/watch?v=MT7BoBSDcSo
Slapped Amber Moore (2005).
Pulled Stephanie Forrester's breathing tube from ventilator and dared her to die because she knew that Stephanie was faking her heart condition (2005). https://www.youtube.com/watch?v=MIlttK07_f4
Fired a shot at Stephanie Forrester using the gun Stephanie gave her to shoot herself (2005) https://www.youtube.com/watch?v=H7E7ydmi1rg
Paid Amber Moore to walk out on her son, Rick Forrester.
Trapped her son, Rick Forrester into kissing another girl to break up his relationship with Amber Moore.
Slept with her daughter, Bridget Forrester's husband, Nick Marone.
Slapped Ashley Abbott (2007). https://www.youtube.com/watch?v=xtI4BuAF3QA
Slept in her car, leaving her children R.J. Forrester and Hope Logan alone at home, while Brooke was drunk (2007). https://www.youtube.com/watch?v=SUuNK5DMsWY
Slapped Taylor Hayes (2008, 2010, 2012).
Had a mud fight with Taylor Hayes after being provoked by her. https://www.youtube.com/watch?v=cLt455qTj5w
Slapped Katie Logan for sleeping with Nick Marone (2008).
Accidentally slept with her daughter, Hope Logan's boyfriend, Oliver Jones; because she thought he was her husband, Ridge Forrester. (2010).
Brawled with Taylor Hayes in a pond after Taylor Hayes pushed her in it. (2010). https://www.youtube.com/watch?v=03SJnN-zXVM
Kept Liam Spencer's refusal to annul his marriage to Steffy a secret from Hope (2012)
Lied to Ridge Forrester about texting Deacon Sharpe (2012).
Slept with her sister, Katie Logan's husband, Bill Spencer Jr. (2013).
Slapped Katie Logan (July 2013). https://www.youtube.com/watch?v=b8ZqOswAhw0
Slapped Ridge Forrester (2013). https://www.youtube.com/watch?v=KIUGVKGbi4k
Slapped Bill Spencer Jr. (2013).
Obstructed justice by hiding Bill Spencer's drunk driving accident from the police (2013).
Switched legal papers Bill Spencer Jr. used to dupe Katie Logan with a pile of leaves (2013).
Blackmailed her sister Katie Logan into returning control of Spencer Publications to Bill Spencer Jr. (2014).
Kissed Bill Spencer Jr. (2016).
Had another affair with Bill Spencer Jr., lying to her sister Katie Logan (2016).
Participated in a cake fight with Taylor Hayes which Taylor started, in which they ended up destroying Hope's wedding cake (2018). https://www.youtube.com/watch?v=V9LOTTsbEJI&t=4s
Pushed Taylor Hayes (2019).
Disapproved of Hope Logan's marriage to Thomas Forrester because she knew that Hope was vulnerable after losing her child and she didn't love Thomas. (2019).
Unintentionally pushed Thomas Forrester off a cliff when she saw him grabbing her daughter, Hope (2019).
Pushed Shauna Fulton (2019).
Yelled at Shauna Fulton and kicked her out of her house (2019).
Slapped Thomas Forrester (2019).
Tried to have Douglas Forrester taken away from his father, Thomas Forrester (2019).
Slapped Shauna Fulton (2019, 2020). https://www.youtube.com/watch?v=RXHUuhxEAUk
Called her niece Flo Fulton a bitch for taking a part in selling her granddaughter Beth (2019).
Kissed Bill Spencer Jr. while being married to Ridge Forrester after Ridge cheated on her with Shauna Fulton and didn't support her in her conflict with Thomas after he hurt Hope by not telling her that her child is alive. 2020).
Kept her kiss with Bill Spencer Jr. a secret from her husband Ridge Forrester (2020)
Purposely broke the digital picture frame that Ridge Forrester bought for her after Quinn put a picture in it so that she could expose Brooke's kiss with Bill to Ridge because she wanted to break them up (2020).
Went against her husband Ridge Forrester's wishes and allowed Deacon Sharpe to be a part of Hope Spencer's life (2021)
Encouraged her sister Donna Logan to make a move on Eric Forrester while he is married to Quinn Forrester because she thought that Donna will be better for him than Quinn who lied to Eric and cheated on him with Carter Walton (2021)
Encouraged Eric Forrester to leave his wife Quinn Forrester and be with Donna Logan even though Eric already forgave Quinn for cheating (2021) https://www.youtube.com/watch?v=ICb0K8tmiNQ
Kissed Deacon Sharpe while drunk when Sheila switched the labels on the champagne bottles and she thought she was drinking the non alcoholic one she ordered (2021) https://www.youtube.com/watch?v=HpEOOw0Hh6g
Kept her kiss with Deacon Sharpe a secret from her husband Ridge Forrester for nearly 2 months (2022)
Made a pact with Hope Logan and Liam Spencer to keep her kiss with Deacon a secret (2022)
Tried to convince Douglas Forrester to forget about "her kissing Santa" (Deacon) on New Years Eve. (2022)
Talked Liam Spencer into going over to Steffy's house and lying about "wanting to see Kelly" in an effort to speak to Ridge Forrester on her behalf since Thomas was hiding Ridge's phone and refusing to let her speak with Ridge because he said that he believed that Ridge needed a break from Brooke after the drunk kiss she shared with Deacon. (2022)
Maladies and Injuries
See Also