Alexandria "Aly" Forrester is a character on The Bold and the Beautiful. She was portrayed by Ashlyn Pearce from 2013-2015 after being aged to a teenager, taking over from child actress Harley Graham.
Storylines
Conception, Birth, and Childhood
Alexandria is the daughter of Thorne Forrester and Darla Einstein. In 2003, through a misunderstanding with his ex-wife, Macy Alexander, regarding her estranged husband, Lorenzo Barelli, Thorne got drunk one night and slept with Macy's best friend and adoptive sister, Darla, though he thought he was making love with Macy. Their one-night stand practically destroyed Darla's relationship with Macy and she planned to have the child aborted, but Thorne talked Darla out of it and agreed to raise the child with her. Later that year, Macy died after being taken off life support after suffering head trauma and Darla and Thorne named their daughter Alexandria in her memory. Thorne and Darla later got married and eventually gave birth to their daughter.
Death of Darla
Darla got a call from her niece, Phoebe Forrester, who got stranded on a foggy Pacific Coast Highway while on her way to the party. While helping her change a flat tire, Darla slipped and fell into the path of an oncoming car, driven by a drunken Taylor Hamilton, Phoebe's mom. Darla later died from her injuries, devastating Thorne and Aly, but were both eventually comforted by Taylor, unaware that she was the driver.
In 2007, Thorne and Taylor began dating, even after he had found out that Taylor was the driver that ran over Darla, but he eventually forgave her when he found out from an eyewitness that it was an accident. They were engaged to be married, which Aly was happy about. However, during a play date with Brooke Logan's daughter, Hope Logan, Hope innocently revealed to Aly that a classmate told her that Taylor killed Darla. At first she didn't believe Hope, she eventually found out the truth from her dad and Taylor. Angry, she ran away and wandered off to the spot on the PCH where her mom had died. Taylor, who was driving on the same highway, suddenly saw Aly through the heavy fog, but was completely sober enough to stop her car from hitting the little girl. Aly angrily asked how her dad could marry Taylor, the woman who killed her mom. Her animosity towards Taylor increased so much, she blacked out pictures of Taylor with black crayon and on the day of the wedding, ripped and cut Taylor's bridal gown to shreds. Thorne and Taylor eventually called off the wedding, realizing that Aly was never going to accept their relationship. Taylor eventually moved on and married Nick Marone, while Thorne continued to raise his daughter as a single father. 
Return to L.A.
Alexandria returns in late 2013 as a teenager, having dropped out of college and decides she wants to follow in the footsteps of her father and grandmother Sally Spectra after a failed interview with a law firm. Her grandfather, Eric Forrester , decides to name her Hope's new protege. As Eric and Thorne leave the office, Aly explains to Hope about her deviation from practicing law and witnesses Hope kissing both Liam Spencer and Wyatt Spencer, enthusiastically telling Hope that she definitely wants to shadow her. Later, Thorne tells Aly that after multiple times of getting increasing prices from a realtor, he sold their home, devastating Aly as she felt that the house was the only place she really felt connected to her mom. She is then delighted when Eric offers her and Thorne to move in with him at the Forrester mansion. Aly watched Wyatt and Hope hold hands while hiding behind a lamp. Alexandria has implied she would like two men surrounding her all the time. After the Forrester's Thanksgiving, after Hope walked off, Alexandria told Liam that despite that he two-timed Hope and Steffy for years, Hope shouldn't be doing that to him. Aly then said he's funny and cute implying a crush.
Alexandria then sent a picture of Wyatt kissing Hope to Liam through her phone. Aly went to his house and apologized feeling guilty which he forgave her and they played tennis. Aly then tells Thorne that Hope's not the way she used to be and told Liam it's not fair for her to do this to him either. Her father, Thorne had soon moved to Paris while Aly resides in L.A.
Wyatt's mother, Quinn Fuller, that she can tell she's nuts about Liam and after knowing Hope just broke up with Liam choosing Wyatt, called Spencer Publications . Adele told her Liam isn't working tonight.  Quinn remembered Liam's having dinner tonight at the Bikini, a local tiki bar and told Aly to meet him there. Alexandria and Liam had dinner together.
Aly's Dark Side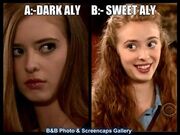 In 2014, Aly and Thorne traveled to Paris and continued to work at Forrester International. Eric told them through video chat that Hope and Brooke would be flying over there for a business trip. 
Aly asked if Liam was coming and Eric said he wasn't. Aly asked if Wyatt was coming and Eric said he was and Aly spoke angry negative words about him that he's bad news for Hope which worried both Eric and Thorne. Eric told this to Pam and Eric mentioned Aly's anger management issues as a kid and constant bullying. Brooke arrived and met with Thorne and Aly. Aly immediately asked if she could see Hope which she did. Thorne told Brooke that Aly apparently doesn't like Wyatt. Brooke was concerned and Thorne brought up the anger management issues and bullying. He said Aly thinks he's bad news for Hope. He said he took her here to keep an eye on her and didn't want her alone in L.A. He also said he couldn't have her and Ridge and Brooke's wedding which didn't happen.  Brooke told him that Hope and the little one's don't know about Aly's problem. Wyatt and Hope were making out and Alexandria busted in the room yelling at Wyatt to get his hands of her. They were confused and Aly told them she thinks Wyatt is bad news for Hope, the fashion line, and the company. Aly also told Hope Wyatt turned her into a hypocrite and he ruined her message. Taylor arrived in L.A. and met up again with Eric. Eric told her about Aly disliking Wyatt and that he's very worried. Taylor brought up the death of Darla and her relationship to Aly. 
Taylor stated she deals with patients like this all the time and Aly could go in a downward spiral. Wyatt showed Thorne, Brooke, Hope, Aly, and Thomas his presentation for the fashion line. It was putting Stephanie Douglas's jewelry in the line. This impressed everybody else but Aly. Aly lashed out on Wyatt stating that putting her grandmother's jewels in a fashion line was wrong. Thorne told Brooke that Hope's message helped her a lot through high school and that she has violent outbursts throughout high school. After Aly watch Hope make out with Wyatt a second time today, Hope went away, and Aly slid into the room. She told Wyatt she thinks he is bad for Hope, the fashion line, and the business; and to leave her family alone. Wyatt stated he is part of the family and Aly compared him to a popular high school jock who gets all the cheerleaders and Wyatt denied that. She stated she was bullied as being nerdy and self-absorbed in high school. Wyatt said she wasn't and she said he was. Aly threatened to fire him. Hope asked what was up with Aly. Brooke told he in time Aly will get to know Wyatt and like him better.
Aly found out about Wyatt's publicity stunt at the jewel heist and after fighting with Hope ran out to call the police on Wyatt. Wyatt's mother, Quinn Fuller , ran after her and strangled her over the edge but Aly struggled out of it. Aly blurted out to Eric about it which stunned Eric and made him furious. Rick Forrester, Hope, Quinn, Wyatt, Charlie Webber, and Pam all hid this from him. Aly told Eric that Quinn strangled her. Eric agreed to keep Wyatt in the company. 
Wyatt with Hope's permission wanted to have Hope launch her own lengerie line labeled "Hope's Bedroom", following after Hope's scandalous mother, Brooke Logan's, Brooke's Bedroom. Aly was strictly against this because of Hope's reputation and message. On the contrary, Eric, Quinn, and a few others supported it. Aly had a private talk with Hope and convinced Hope not to but Hope made it clear she might when she's ready but not now.
Romance with Oliver
During a brief talk with Liam, Aly claimed that she never had a boyfriend, and Liam said that at the right moment she would know. Forrester Creations 's photographer, Oliver Jones, was taking photos of Aly. Oliver kept complimenting her which made Aly feel special although Oliver already had eyes on Maya Avant who was engaged to Carter Walton. Aly made it clear that she had to go but Oliver asked her which one she liked the best. Aly said she doesn't like pictures of herself because she thinks of herself as average unlike the other beautiful Forrester women. Ridge Forrester decided to take over Forrester again by firing Oliver because of his below average shots and tried to kick Rick out of his presidency. Eric decided to side with Rick after Brooke meddled with the situation and Oliver was rehired. Oliver claimed because his last name isn't Forrester, there's not a definite chance he'll stay. Oliver offered to take Aly out for lunch. At the Bikini Bar, they had lunch with Maya and Carter in the same restaurant. Aly ordered a hot green tea which Oliver accidentally spilled all over her hand and wiped up and then kissed her hand. Aly went to her room and told this to Darla as a ghost. Darla supported it. Oliver came to her room to return what she left at Bikini. Aly also came to check up on her and she was very nervous, this being her first kiss and boyfriend. They ended up making out and when she heard Pam, she told him to go in the closet in which he left afterward.
Maya questions Oliver's attraction towards Aly while recording him on his phone. Oliver admitted she will help him stay in the company and she's smart and pretty enough so he'll put up with her. Oliver just left as Carter walked in and questioned Maya. Maya played the recording. Carter claims it does sound bad but it's taken out of context. Carter continues to stick up for Oliver.
Meanwhile, Oliver shows up at the Forrester Mansion looking for Aly. No one answers the door so he goes out back and sees Aly sunbathing in a swimsuit. He calls her Miss F. and she is very embarrassed and insists she changes but he tells her that she looks good and kisses her. He then takes his shirt off and asks her if he can go somewhere to change. She asks why and he tells her he wants to do an underwater line. He gets in trunks and Aly and Oliver swims underwater filming each other and kiss. They take a picture of them wet and Oliver claims that this is something Forrester has never done before and he believes even Ridge will be impressed.
During a meeting at Forrester, the company decided to once again try and relaunch the very successful Brooke's Bedroom Line, but with a new model as Brooke has decided she has reached the end of modelling days. Oliver then suggested that Aly should be the spokesperson for the line, leaving everyone in the room, including Aly, stunned. As the others try to ensure Aly of what exactly she had to be modelling, Aly spoke up for herself and said that although she was intrigued that Oliver suggested her, she politely turns it down due to her beliefs. Afterward, she has some girl-talk with Caroline and she figures it out that Aly has a crush on Oliver and promises not to say a word to anyone around the office.
Aly then goes down to the photo studio and talks to Oliver. She begins telling him about how hard her life has been since her mom's death. She confided in Oliver that she went into therapy for her anger issues and because of it, she was a constant target from bullies at her school. Aly goes on to tell Oliver that she still blames Taylor for her mom's death, but also was flabbergasted that Taylor then romantically pursued her father, Thorne. Oliver comforts her and tells her that Taylor is no longer part of her or her father's life. However, in Paris, two people are shown making love behind a blue curtain and is later revealed to be Thorne and Taylor.
Intensified Hatred and Forgiving Taylor
Thorne and Taylor fly back to L.A. as a couple. After, a quick chat with Pam, Taylor and Thorne hugged as Oliver who was secretly dating Aly, saw.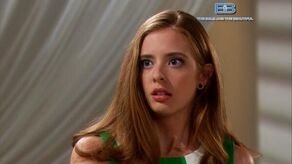 Oliver confronted Thorne that he saw them hug and looked like they were a couple. Thorne implied that they were and Oliver told him that Aly cannot know. Taylor went to see Aly and snook up behind her and made Aly jump and turn around when Taylor said her name. Aly took the Medieval Axe that Pam had left for Oliver's photo shoot from Medieval Night and threatened to kill Taylor as Taylor screamed. Oliver and Thorne realized that Taylor has been gone a while and could be with Aly and rushed down. Aly decided to put down the axe before they came and didn't believe Thorne and Taylor were really a couple. Aly told Thorne that Taylor is crazy but Thorne told her that they were in a relationship. Aly couldn't handle them dating and Thorne agreed to stop dating Taylor for her. Thorne arranged a flight to take Taylor back to Paris while he would resign from running international to head os shipping in the basement. Oliver suggested to Aly to forgive Taylor and Aly initially couldn't. Before Taylor was going to leave, Aly asked her how to forgive her. Aly asked Taylor about what happened the night she killed her mother and Taylor described it in exact detail and started to cry. Aly saw how sorry she was and forgave Taylor hugging her and they made up. Aly allowed Thorne to see Taylor if it makes him happy meaning they would both remain in Los Angeles. Thorne and Taylor were greatly happy and Thorne was very grateful of Oliver.  
Bill and Brooke traveled to the Middle East to get married. Quinn, sent Ridge a picture of her and him in bed for Ridge to stop the wedding. Brooke was convinced that Bill was loyal to her the entire time they were apart (even though they weren't together when this event took place). Ridge flew to the Middle East to stop the wedding. After Bill and Brooke said their "I-Do's", Ridge arrives and yells" Logan".  Ridge shows them the picture which shocks Brooke. Ridge punches Bill to the ground and ran off with Brooke pulling her by the hand. Ridge took Brooke into the helicopter, Bill nodded to the pilot. The chopper flew up when Bill said into his walkee-talkee "Cool him off". The pilot swayed the chopper as Ridge felt his arm and on the sleeve had a Spencer Publications symbol and a black face turned around as Ridge recognized Justin to be the pilot. Ridge fell into the Persian Gulf. Brooke was freaking out. Katie and Erica heard the news and flew to Dubai. Thorne was later called to show up. thorne supported Katie who was engaged to Ridge. Word got out and after Liam made the accusation that Quinn may be the reason Ridge is dead. Rick fired Quinn and Wyatt from the company. Everybody thought Ridge was dead when Brooke found Ridge walking alone on the beach. Back in L.A., at Ridge's welcoming back party, they all were told that Ridge has some amnesia. Aly asked Thorne if he was still seeing Taylor and he said yes. Aly said that was cool.
Aly then tells Hope she's with Oliver which Hope's really happy for her since they're both so sweet. Thorne saw Oliver and Aly hugging and told Aly they need her downstairs. Thorne questioned Oliver about his intentions because he is a lot older than Aly. Oliver told him that his intentions are good and they both agreed that he is good for Aly and Aly is good for him. Aly came back up quickly and told Thorne they didn't need her downstairs. She quickly realized he just wanted to talk to Oliver. Thorne approved of them.
At a business metting at Forrester, Maya got jealous when Caroline was flirting with Rick as well as Aly with Oliver. Hope told Maya that she has lost energy in her photos and asked if anything was bothering her. While posing in a photo shoot with Oliver Maya was very jealous looking and had flashbacks of her and Rick. Maya pointed out that Oliver will be on the inside because he's with a Forrester and she almost was when she was with Rick. Maya pointed out that Caroline was terrible towards her. Maya pointed out all of the expensive things the Forrester's have. Oliver asked her if she was angry about their relationship or jealous. Maya left and entered the steam room when Rick was in there alone and massaged his back for him. Rick intitially thought it was Caroline but was shocked when he turned around and it was Maya. Rick told Caroline he wasn't alone in the steam room. Caroline wondered who would be in Rick in the steam room and then thought of...Myrna. Maya came and played them the recording of Oliver talking about Aly.  Caroline was ticked off at Maya but Rick was astonished at Oliver. Rick and Caroline talked it over and Caroline understood Oliver's side. Rick confronted Aly after their medieval night, and played the recording questioning his intentions. Oliver told them that he genuinely like Aly. They decided not to play it unless they have to for Aly's sake. Rick kept his eye on Oliver. Oliver and Maya got in an argument about this. Oliver told this to Aly who didn't know if she could trust him anymore. Rick told Carter that Maya hit on him in the steam room. Carter asked Maya who admit it. Carter was angry and broke up with Maya. Oliver decided to tell Aly himself about the recording. Aly was heartbroken and didn't know if he was lying to her like before. Aly told Pam and Pam was a little more understanding than Aly and Aly, Charlie, and Oliver all went to Medieval night together. Aly was still sad and unenjoying the show. Oliver snuck in because the show didn't have a yellow knight so Oliver put on the costume and went on the horse. He threw Aly a carnation and lifted up his helmet and they all realized he was Oliver. Oliver clumsily had to fight the other knight and fell down. Aly ran down and told the knight not to hurt him. They asked for the reason and Aly said love. Oliver and Aly remained together and the ghost of Darla gave Oliver a carnation to give to Aly.
Ivy Forrester filmed the balcony of Forrester and caught Hope and Wyatt hugging on her tablet after they had broken up and Hope went back to Liam. Aly told her cousin Ivy that it's nice to have somebody her age around. Aly said Ivy needs to get a boyfriend. Ivy said Oliver seems nice and Aly got defensive telling her he's her first boyfriend. Aly brought up Ivy working with Wyatt for the HFTF line. Ivy said she hopes Hope's not just stringing the Spencer brothers along and she thinks Hope's a lot like her mother, Brooke. Aly claimed she's not and Ivy showed her the video and told her about the diamond. 
Aly then started designs for a shoe line called "Aly's". When Rick gained irrevicable control with his girlfriend, Maya, Rick treated Ivy and Aly horribly as well as the rest of the Forrester employees. He made Maya move into Aly's room, even though the Forrester Mansion, had plenty of spare guest rooms, and made Aly be their servant, which Aly complied for the shoe line.
Steffy, Liam, and Ridge were able to take over Forrester with their and Bill's shares. Ivy admit to Ivy she's nervous with Steffy being back, considering the last time they tried to take over, Steffy came onto Liam. Steffy and Liam were congratulating with champagne when Aly saw Steffy kiss Liam. Aly came by to confront Steffy about throwing herself at Liam. Steffy claimed it was a congratulatory kiss. Aly warned Steffy to leave Ivy and Liam's relationship alone. Aly claimed Ivy is a good model for Forrester Creations with morals. Meanwhile, Ivy told Liam she was encouraging Wyatt to ask Steffy out. Wyatt stated any man would fall in love with Steffy because she's incredibly intelligent and beautiful.
Breaking Point
Ivy informed Aly that her and Liam had a quickie wedding so she wouldn't be deported but now they're getting divorced because they're not ready for marriage and Liam still has feelings for Steffy. Aly went to confront Steffy who was having Liam feel her lingerie for the line. Aly snapped at Steffy claiming they replaced a tyrant with a slut. Liam stated Aly's out of line but Aly kept trying to convince Liam that he can't do this to Ivy and he married her because he loves her. Liam stated Aly's out of line. Liam left and Steffy changed back into her dress. Aly wouldn't drop it and Steffy mentioned Aly's "issues". Aly stated her issue is that Steffy's mother killed her mother. Steffy was shocked and stated Aly forgave her mother because she was there. Aly stated she was persuaded to say the words but she could never forgive Taylor for killing her mother. Steffy took the situation delicately and explained it was an accident. Aly blasted both of them by saying Taylor and Steffy are both sluts and use their sexuality to get whatever they want. As Steffy was trying to help Aly, Aly envisioned Aly saying the words "drunken mother" and "get rid of her". Steffy tried snapping Aly out of it. Steffy just figured they should stay away from each other. As Steffy was trying to work things out with Aly, Ridge stopped in to mention the meeting is in ten minutes. Aly asked if she could come and Ridge allowed her to. Ridge announced that Hope For The Future is over which offended Aly. Ridge announced to everybody the new line "California Freedom" which uses a lot of the morals and dignity of Hope For The Future but encourages women to be free with lines including lingerie and swimwear. Aly stated she'd expect this from Steffy but not Ridge. Aly asked if Steffy was going to model for the lingerie and Aly snapped at ridge for letting his daughter being viewed in underwear. Aly went off about the morals that her grandmother and grandfather instilled in this company and how they're being forgotten. Everybody else agreed it was a good idea and tried to placate Aly. Aly ended the meeting with irrelevantly bashing Steffy for killing Darla. Steffy tried to get through to Aly once again.
At the Forrester's Fourth of July party, Aly became hateful of Steffy and Maya for wearing bathing suits. Aly snapped at Oliver for allegedly checking out Steffy's body. Aly saw Darla tell Aly to get rid of Steffy again and her glow darkened into a sadistic looking dark glow. Aly snapped at Steffy for exploiting her sexuality in a public place. Steffy stated people wear bathing suits and their dad's grew up here, it's not even public. In Aly's room, on a shelf were four dolls with Stephanie, Eric, Thorne, and Aly's pictures pasted on the head. Aly was on her bed rocking holding Darla's doll where she saw Darla once more.
Caroline, Ridge, Steffy, Rick and Maya held another meeting for Forrester's new line, California Freedom which Aly attended. Aly was being very hostile towards Steffy and Maya for embracing their sexuality the way Maya and Rick treated her and upset that Ridge allowed a new line involving lingerie and swimsuits. Maya genuinely apologized for the past. Aly stated "No wonder. Maya doesn't wanna talk about the past". Steffy stated if she's just going to criticize everything, maybe she should just go back to Thorne in Paris. Steffy told Aly "You're my cousin, and I love you, but why would we want you to stay?" Aly stated "Uncle Ridge said I could stay". Ridge explained he said she can stay if she behaved. Aly got teary eyed and stated if she feels something's wrong, she has to speak out and she wants to help with the shoe line. Ridge stated "Then you know what you have to do".
Aly went to her room and pulled out a cork board filled with pictures of Hope on it. She took out another one with pictures of Steffy and Maya crosses out and scribbled on and over. Aly, on her bed, scribbled over a bunch of photos of Steffy, and cut a couple with scissors, one with a red X. Aly stated to Steffy and Liam she'll have a new attitude here. Steffy was impressed while Liam was shocked. Aly went back to her room and was having a breakdown while Maya was talking about herself explaining how you can't let hatred, anger, and depression consume you.
Death
Aly watches the California Freedom fashion show in disgust of the transgendered women and the loose clothing. Steffy tries being nice to Aly and involving her but Aly is trying to hold back her hatred. Steffy tries to involve Aly by asking her to have a drink with Wyatt, Ivy, Liam, and her but Aly states she's not 21 yet. Steffy said she's sorry that she forgot but she tried. Darla appeared bashing Steffy and Taylor for alcohol and telling Aly she's glad she didn't accept and give in. Darla convinces Aly that she has to end this tonight.
Aly pops Steffy's tires to her car and lurks behind. At the after party, Ivy goes up to Aly's room to find her and is shocked to find the collage on Steffy and Maya pictures crossed out and scribbled on. Ivy shows Wyatt and Liam who are worried. Steffy gets in her car to go to the Forrester after party as Aly drives behind her and follows after. Steffy's car hits a flat and she can't believe it. Steffy gets out and gets her tire iron from her trunk and starts cranking at the tire. Aly is watching with her car parked behind her. Aly keeps hearing Darla's voice and has flashbacks of the accident. Aly pulls forward and drives close up to Steffy and Steffy yells in fear. Aly stops the car right in front of her. Steffy is scared and yells at her. Steffy pulls Aly out of her car and the two argue. Steffy realizes Aly was the one who popped her tire. Aly takes the tire iron and swings at Steffy who dodges the swings and tries to placate Aly. Steffy grabbed the tire iron from Aly. Steffy and Aly both fell to the ground. Aly picked up a rock and threatened to kill Steffy. Ivy was pulling up in her car and was shocked to see Aly and Steffy. Steffy hit Aly with the tire iron and she fell and hit her head on a rock, making her unconscious. Steffy cried out of sorrow and Ivy cried and Steffy explained what happened and that Aly attacked her. The paramedics came and tried to revive Aly and presumed her dead when she had no pulse.
Crimes Committed
Maladies and Injuries
Community content is available under
CC-BY-SA
unless otherwise noted.